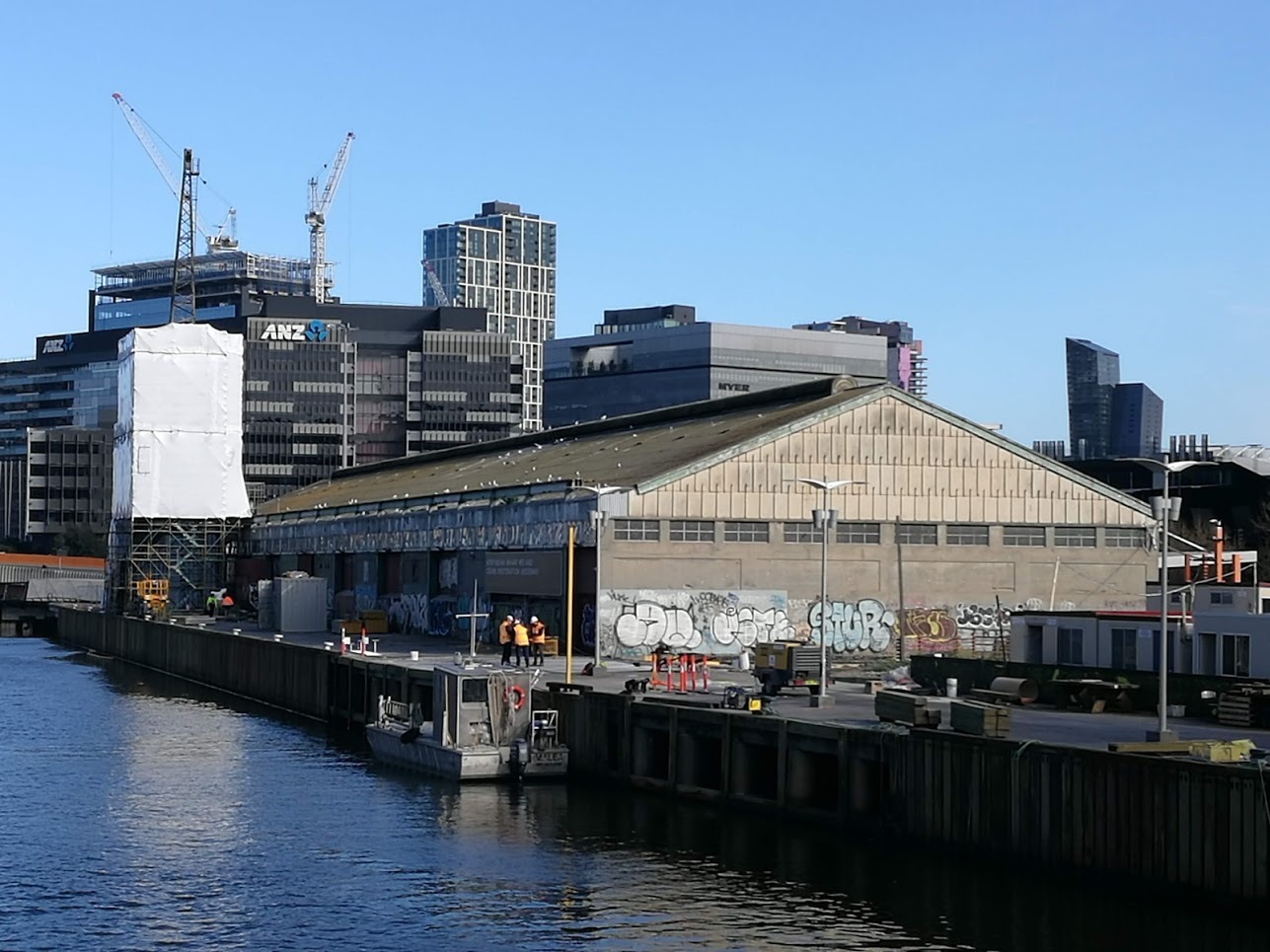 Records
Heritage listed Goods Shed No 5 is on the cusp of renewal. It will soon be incorporated into Seafarers – a Riverlee development designed by Fender Katsalidis. About time, say some.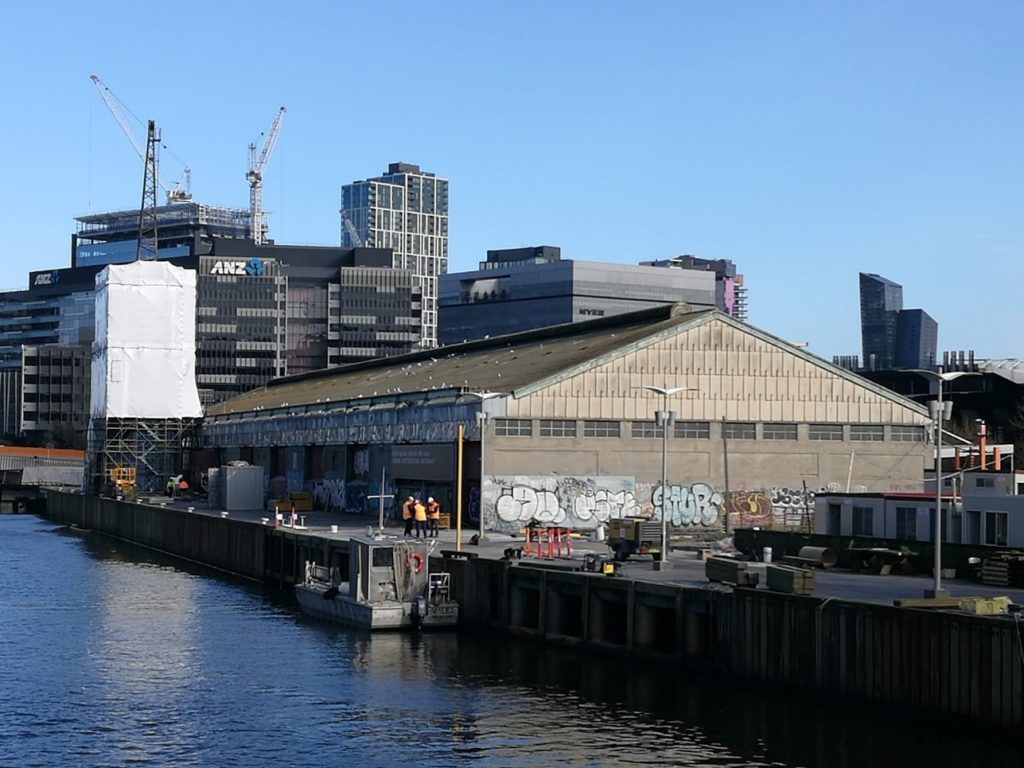 But there's something about that decaying remnant that kindles historical imagination even more than the faithfully restored sheds on South Wharf opposite. Trying to get a feel for times past in preparation for a Jane's Walk for Open House Melbourne, I read and re-read Under the Hook, interviews with waterside workers conducted by Wendy Lowenstein and Tom Hills between 1978 and 1980.
Some of the early interviews recall work practices that are hard to believe, others that are hard to understand.
Loading a ship in the pre-container era required great skill to prevent ships rolling at sea.
John Morrison said "There's no such thing as unskilled labour. All labour, all real labour, demands skill. Take a standing break, a wall of cargo. Say the ship is being loaded here. She's loading half a hold for Singapore here, and in Sydney she's loading half a hold for Jakarta. Now the half that she picks up here has to stand up on the trip to Sydney with half the hold empty and when they take out half a hold in Jakarta, the rest mustn't fall down. Its got to be stacked so that if the ship pitches it wont collapse or slide out. There's a special technique."
Waiting for work
He went on – "Waterside workers spent a lot of time just waiting for work. In the old days a ship would come in at two or three o'clock in the morning. She'd come in to the river and tie up. Now the word would have gone round. You'd get up in the dark, and you'd go down there, just on the chance of getting a job."
Reading these detailed accounts of the nature of work on the waterfront is compelling enough, but hearing them makes an even stronger impression. Almost forty years ago, Lowenstein's sixty sound reels of interviews on tape were lodged with the National Library of Australia but they have become accessible only recently as the resources to digitise them had not been available.
It is now possible to hear Jack Marotte respond to Lowenstein's question: "Was it a hard job?"
"If you had about four or five hundred bags of wheat on your back in a day, would you call that hard? A 140-pound bag of wheat! Sailing ships were harder because they had the shifting boards all up so the wheat wouldn't shift when the ship rolled."
The shortage of resources is replicated at the National Archives of Australia where budget and staffing cuts mean researchers are not able to access records critical to their projects. Some universities are advising students not to pursue projects that rely on the archives. With the increasing democratisation of history, the deep yet easy access to records through Trove, more people have an expectation of being able to access records online.
The Tune Review of the National Archives of Australia is currently preparing a report after receiving submissions. The introduction to the review on the website says that among "the urgent priorities for the Archives are preserving the unique but at-risk collections that tell the Australian story, including tens of thousands of deteriorating audio visual items that could be lost as soon as 2025".
In a recent talk to the Port Melbourne Historical and Preservation Society, Dr Tracey Pahor paid tribute to the Society's work in taking care of Port Melbourne's stories and sharing them in various ways. She spoke thoughtfully about the role these stories play in creating new communities. But, she added, it's not just any stories, but stories that matter.
The stories from the waterfront about the extreme casualisation of work are just such stories. On footpaths in the City, delivery riders cluster, heads dropped to mobile phones, waiting for the next gig. On the streets of Melbourne, dimly lit riders with big boxes on their backs deliver food. The delivery companies offer flexible work, competitive fees, you can choose when to work, work on your own schedule – sound familiar?
More
The Tune Review of the National Archives of Australia
Dr Tracey Pahor 2016 Understanding Port Melbourne: accounting for, and interrupting, social order in an Australian suburb
Marotte, Jack. & Lowenstein, Wendy.  n.d.,  Jack Marotte interviewed by Wendy Lowenstein for the Melbourne waterside workers collection  http://nla.gov.au/nla.obj-215664929
Wendy Lowenstein and Tom Hills Under the Hook: Melbourne Waterside Workers Remember Working Lives and Class War: 1900 – 1980 Melbourne Bookworkers 1982, pp51, 28, 30