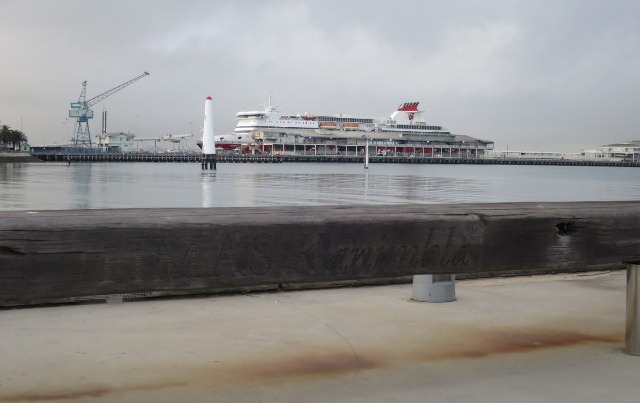 Sharing Stories at Port Melbourne's Piers
Saturday's Piers Festival centred on Station Pier.
Twenty years ago, storyteller and refugee advocate, Arnold Zable wrote about Station Pier
'If there is a site in our city that I would call sacred, it is this pier  …
It was here, in January 1933, that my mother stepped ashore from the French boat the Ville d'Amien, a time when, in Europe anti-Semitism was on the rise and ancient hatreds were beginning to simmer towards a war that would wipe out her entire family. I am alive today because she succeeded in her long battle to find refuge in a new world.'1
The Piers Festival is a celebration of multiculturalism as well as an annual prompt to reflect on migration – what it means for people to leave their home, and how fraught the whole notion of 'home' can be in a new country.
Lella Cariddi, who arrived at Princes Pier with her family on the 21 June 1955, is driven by a sense of urgency to gather migration stories from people who arrived at Port Melbourne's piers. 'Like a  gleaner in search of threads leading to previously untold stories', she has elicited tender memories and explorations from 'memory keepers' across Melbourne.
At Saturday's Festival she organised a session called Nostos Ou Topos (Return Home to No Place): individual stories of displacement and migration and the internal search for home.  Afterwards, some of those memory keepers placed their weighty stories into paper boats and returned them to the sea in a moving ceremony accompanied by Nela Trifkovic (who gave that title to Lella's session) singing a powerful tender song of unrequited love and longing for a home that is no longer home.
Later with a group of walkers we stopped at a place on Princes Pier that holds deep significance. It is where Victoria's post war immigration story began.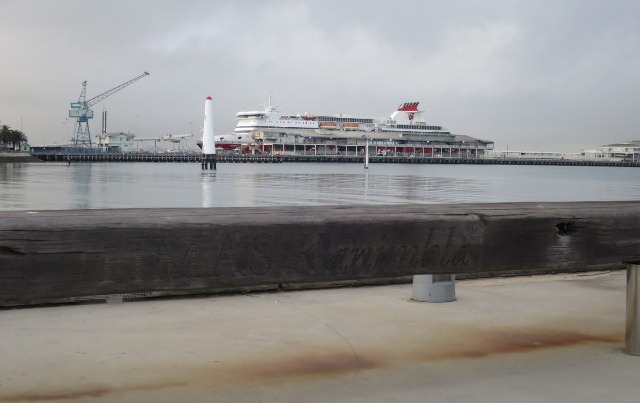 Look closely and you will find the name HMAS Kanimbla etched onto a wooden bench on Princes Pier.
This is the place where on 7 December 1947 the very first displaced persons from camps in Europe, 727 men and 100 women, arrived in Melbourne. Their journeyed from Europe on the American troopship, the  General Heintzelman. In Fremantle, they were transhipped to the Kanimbla.
Arthur Calwell, Australia's first minister for Immigration was at Princes Pier to meet them.  It wasn't front page news, just a short column in the paper under the headline Arrival of 850 Balts: First of many thousands. Reg Macey, then a boy who sold newspapers on the Pier, witnessed this event. It was a Sunday, he remembers.
A series of photographs in the National Archives shows the sequence of the ship's arrival and departure the following day for Bonegilla.
Walking back from Princes Pier after sharing stories on that golden Port Melbourne day, deeply preoccupied with reflection on these themes, I fell into step and conversation with a man also enjoying the warm afternoon. He told me he had been in Australia six years, from Afghanistan, and how much he was enjoying living in safety after forty years at war.
It reminded me of something my Greek near neighbour said to me once 'to live and die in one country – that's a blessing'.
Fanfare for the memory keepers and those who seek out and share their stories.
More
1 Arnold Zable A homage to Station Pier, one of our sacred sites The Age, 31 December 1998
Advertiser, Adelaide, SA  Monday 8 December 1947, page 3 via Trove
Recalling the Journey What Happened at the Pier
Recalling the Journey What Happened at the Pier II
National Archives of Australia, Series 12111, Control symbol 1/1947/3/1   to 1/1947/3/6