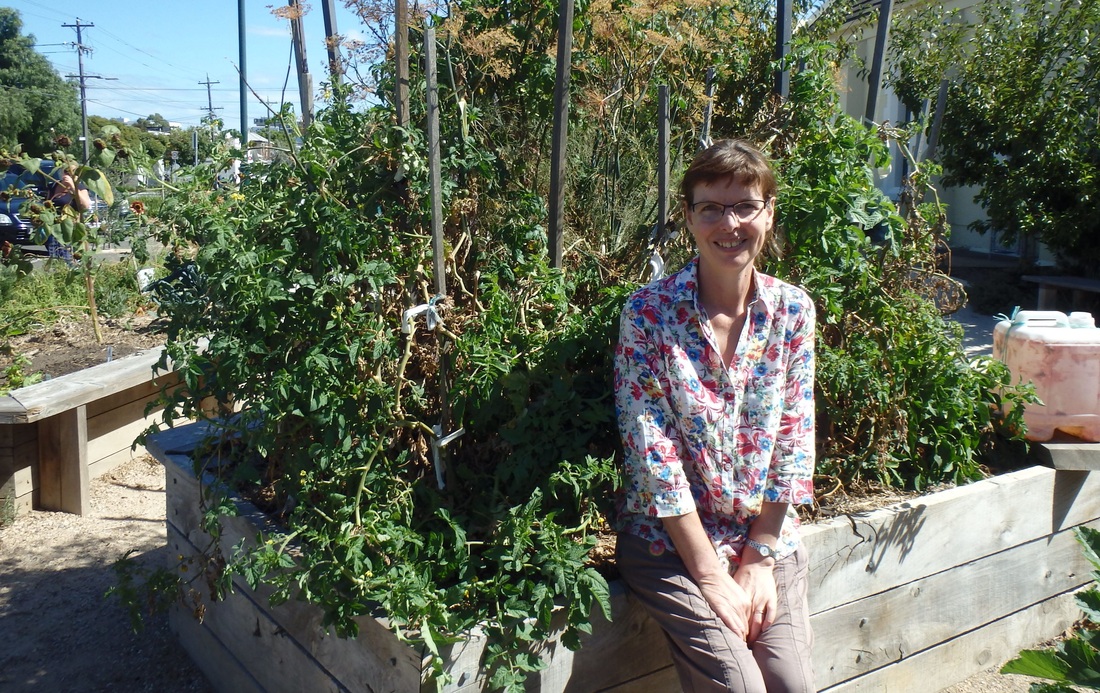 Simply Living
Janet Hoare is the coordinator of the Simply Living Community Garden. She has been a member of the Port Melbourne congregation of the South Port Uniting Church since 1988. With a degree in agricultural science and a father who is a great gardener, she is well qualified to look after the garden.
How did the Simply Living Garden begin?
In 2007 the congregation was given some money to start a project of our choice. We explored what was possible and what we could do with the resources we've got. We worked through different ideas and came up with the idea of a community garden and harvesting water from the roof of the church.
It was a really great way of connecting with the local community and demonstrating as a church that we cared for environment and the community.
It was a way of doing something practical – sharing food, learning skills and recycling through composting.
How did you plan the garden?
We looked at models of community gardens and worked out what would suit our place and our space, and talked to the EcoCentre.
We didn't have the space for individual plots. It had to be a wholly community garden. We didn't want a fence and we couldn't have a fence for heritage reasons anyway.
Caroline and Wendy from the EcoCentre helped us design the garden. We were successful in getting a community grant to get the garden started.
How did you go from planning to implementation?
We built the garden in October 2008 over six working bees. We also had help from a couple of corporate groups, from people who had different associations with the Uniting Church and people who been supported by South Port UnitingCare and wanted to give something back. It was a lovely community exercise.
We had our first harvest in February 2009 – tomatoes and silverbeet. We set up a crop rotation from the start.
How was the garden received in the community?
Really well. We had an open day before we started and invited neighbours over and had a great response. Everyone was very enthusiastic. It was such a plain boring ugly area. They were glad just to see some greenery there.  It's now a space that people enjoy coming to and spending time in.
The day we filled up all the soil in the beds it got to the end of the day and there was one bed we hadn't filled. One of our neighbours, who'd been watching over the fence, came out overnight and filled up the entire bed with a bucket.
How do the children from the kinder find the garden?
That is the best part of our garden! They love it.  I heard one little girl asking her mother 'Can we do this at home?' and her mum saying I'm not really good at gardening' and her responding 'but I'm learning how to do it here!'
Children are our organic pest controllers. They've enthusiastically collected snails and caterpillars.
This year we had hundreds of ladybirds. They started on the bronze fennel, moved to the tomatoes, the zucchini, sunflower and now they're on the lavender. I had the chance to show the children a ladybird hatching.
We deliberately attract the bees by planting blue flowers, like the rosemary. We try to make sure there is always something flowering in the garden that will attract the bees and other beneficial insects.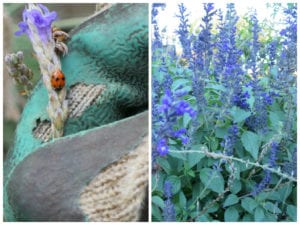 Special moments in the garden?
Alma, who has just turned 98 – picking vegetables for her 'elderly neighbour'.
People just leaving things on the doorstep – seeds or pots.  Or people have planted things in the garden – perhaps with a note asking me to move the plant if it's not in the right spot.
The pleasure people have from planting a seed and watching it grow into something they can harvest and eat.
Have people respected the garden? Has vandalism been a problem?
I think that vandalism has only been minor because there are people around keeping an eye on the garden. It is quite open and visible to the street.
And harvesting from the garden?
Anyone is welcome to pick from the garden, but encouraged to take only as much as they need. Generally people say 'I'll leave it for someone who needs it more than I do.' But apparently there is one lady who causes great angst among the neighbours. They see her taking more than her share.  We also give any spare produce to the food pantry run by South Port UnitingCare.
How does the composting work?
We have three compost bays. The bay closest to the street is the one that people put their material in. At the monthly working bee we turn the compost and move it through the bays before putting it on the garden.
Most donations are kitchen scraps high in nitrogen. We have a closed bin full of 'brown stuff', the carbon, to mix with the 'green stuff'.
People are very thankful to have somewhere useful to put their scraps and not be contributing to landfill.
Final thoughts?
The garden is used by people of all ages in a range of different ways – sitting and enjoying the garden on a summer evening, bringing scraps for the compost or participating in the gardening and cooking activities.  The Port Melbourne Uniting church is really happy to be able to share this with our community.
Here are ways to be involved with the Simply Living Community Garden
Seasonal gardening activities, gloves and tools provided
Every Wednesday 12.00—1.15 pm — Preschool families (school term time)
Every Wednesday 1.30-3.00 pm — Social gardening for beginners to experts (with a cuppa)
Community garden bees  
3rd Saturday every month 10.00—11.00 am
Community compost bays 
Open 24/7 – donate your kitchen scraps into food for the garden
Social cooking using garden produce
Fridays fortnightly 11am-1.30 pm – Kitchen Mates (cost $3, bookings required)
1st Wednesday of the month 1.30-3.00 pm – Grow & Eat (cost $2, bookings required)
Janet Hoare on 9690 1188 or  janet.hoare@southportuniting.org.au.