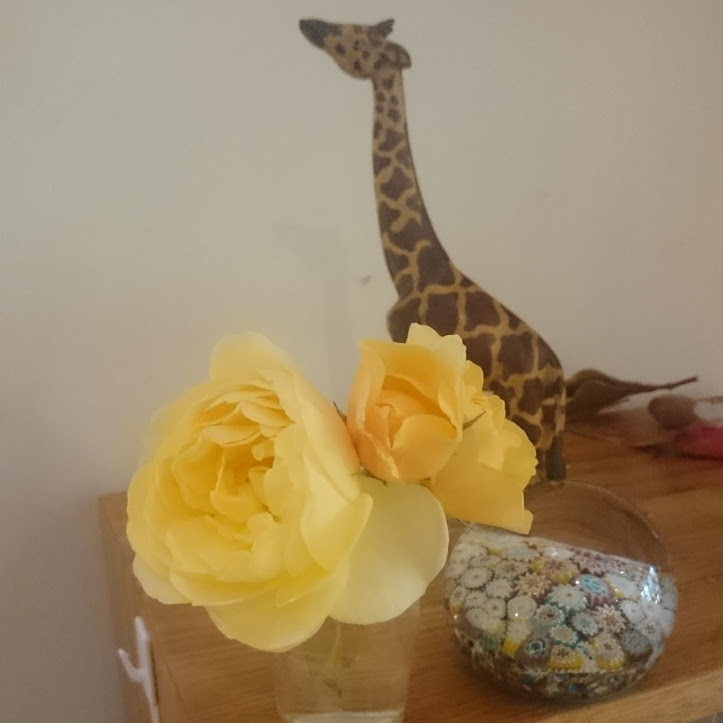 Souvenir
Small smaller smallest is an endearing exhibition at the Emerald Hill Heritage Centre in South Melbourne. People living in Port Phillip were invited 'to share treasured miniatures, knick knacks and ornaments' for an exhibition for Seniors Week.
Stories as tender as new asparagus were told at the exhibition opening. Those small, inanimate objects on display are the repository of worlds of memory, place and feeling. They are the vessels from farthest childhood where memories are still clear and fresh, and reminders of travels in far off places where memory and imagination combine.
Souvenir. Remember.
Souvenir and souvenirs came together sweetly at Small smaller smallest.
Souvenirs have become dissociated from this richness. Instead they are associated with tackiness, cheapness.
Several people said they had spent more on their special object than they intended. They had to buy it. A salt and pepper set featuring lawn bowlers was an irresistible connection to her parents for one contributor.
Salt and pepper combinations offered endless scope for decoration and interpretation. Now these are more likely to be found in op shops and antique shops than on dinner tables.
A guerilla public art installation based on salt and pepper sets appeared briefly on the Port Melbourne foreshore in January 2015 which before disappearing from view.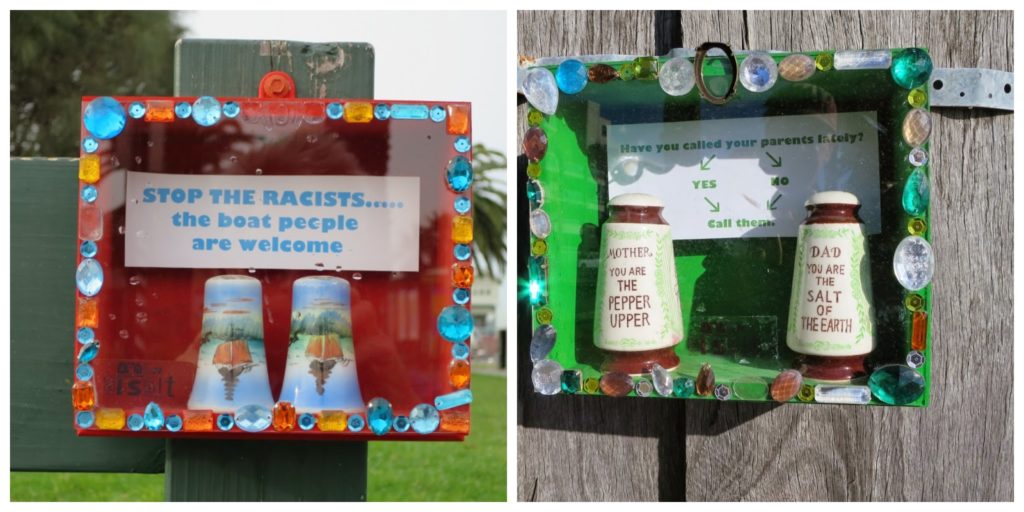 Ornaments do not fit comfortably into the minimal Marie Kondo household and workspace. Such a contrast with the glass doored cabinet dedicated solely to the housing and displaying of ornaments with a back story that we were allowed to look at but not to touch.
Do you have a place for the display of treasured objects? Do you change them from time to time? I contributed this giraffe to the exhibition. It takes me back to my South African birthplace.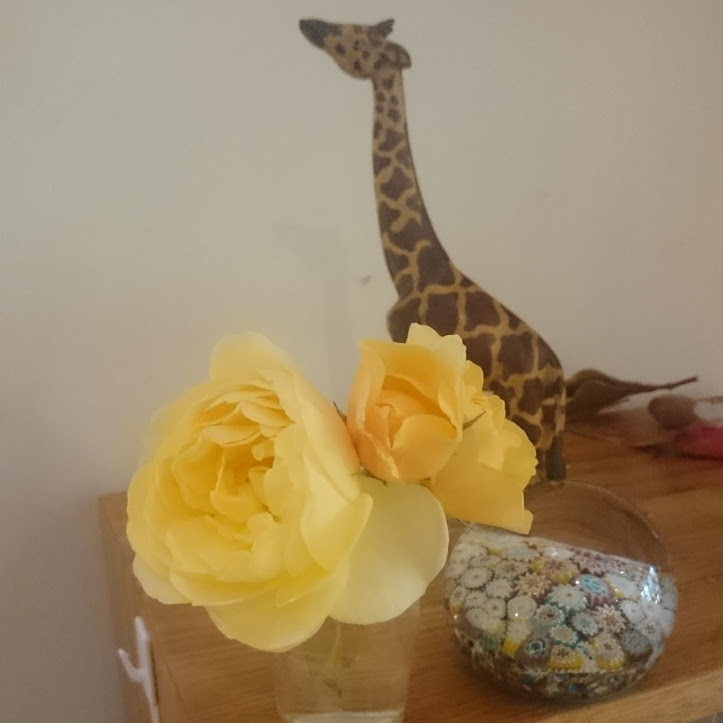 The Mission to Seafarers let supporters know that five seafarers lost their lives and several others were missing when Panamanian cargo ship Jie De sank in Tokyo Bay in Typhoon Hagibis. The crew was made up of men from Myanmar, Vietnam and China.
It's hard to believe that those vast container ships passing on the horizon are still vulnerable to the ocean. Seafarers may also experience day to day loneliness and vulnerability from being away from their families for months, sometimes years at a time, sometimes getting to know their children over the phone.
This is where the Mission to Seafarers helps, and invites us to help too, to become more connected with the lives of seafarers.
The Mission asks us, in early December, to contribute to their Christmas appeal with personal toiletry items, small gifts and some small Australian souvenirs such as fridge magnets, caps, key rings, or perhaps even a small soft kangaroo or koala.
It would give a reason to visit or re-visit the Mission at 717 Flinders St where extensive restoration work has recently been completed. I was apprehensive that the charm and character of the building would be lost in the restoration. Not at all! Electrical wiring that had been visible is now concealed. The floor is now sound. The new carpet is all the shades of the sea. You'd hardly know that the work had been done yet there is an air of freshness through the building.
Notes from an exhibition
Small, smaller, smallest is on until the end of January at the Emerald Hill Heritage Centre, 195 Bank St, South Melbourne
Objects brought from home often when there was little room in the suitcase are poignant reminders of the country, cultural traditions and family left behind and here are matched with souvenirs more recently collected that connect their owners to the here and now, as a happy acknowledgement of home.
Objects collected as mementos of travel and significant experiences catapult us back in time and space to great memories. Precious childhood toys that have miraculously survived into adulthood form a continuum from our past to our present.