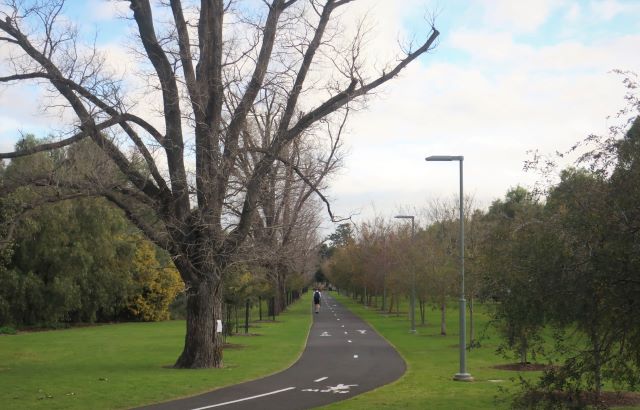 Succession planting
The fatal yellow dot and formal notices appeared on the aged elms in Port Melbourne's Railway Reserves last week announcing their imminent removal. No argument – the remaining trees in the avenue are in terminal decline.
On Tuesday 28 July, the slow work of dismembering the trees, limb by limb, began. It will take a while to remove all those trees.
The tree removal played out against a backdrop of the annual display of cootamundra wattle.
Is it early this year? This perplexing question of seasonality is resolved by checking back on Port Places where their splendid flowering commanded attention in the week of 19 July 2018.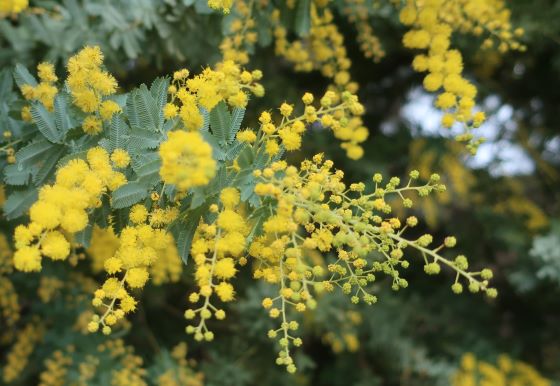 The Cootamundra wattle (Acacia baileyana) is not a local, having a limited range around Cootamundra and Temora in New South Wales. It can be weedy outside its range. The delicate grey pinnate1 foliage contrasts with the golden ball shaped flowers. The trees themselves become a blur of yellow when in full flower.
The avenue of elms on the Evans St side of the shared pathway were removed about 15 years ago and replaced with Chinese elms which are more drought tolerant. Getting a new avenue established has been an ongoing challenge with repeated vandalism of the young trees. New trees are now protected by cages to prevent further vandalism.
Peter Parrington has been doing monthly bird surveys in the Railway Reserves since 2018. He begins at Station Pier on the Station St side, returning on the Evans St side in a 5 km round trip taking about 2 hours. Consistency is the key. Using a template honed over the years on other bird surveys in other places, he records all the birds that he sees without discrimination. In other words, not favouring recording those species he might prefer to see above those he does not – such as the common mynah, for example. He has observed 45 species of birds since beginning the regular survey. He hopes that the recent planting of understorey plants in the extended beds in Turner and Walter Reserves will bring smaller birds back to the Reserves over time.
The Railways Reserves were set aside in 1854 when the Melbourne and Hobsons Bay railway line was built. More than 150 years later in the pandemic, the generous Reserves have never been more appreciated, never been better used. The linear Reserves are tied together as a whole and yet each has its own character. Walter Reserve, named after long serving Port Melbourne Councillor, George Walter, once associated with its elm avenue, is now associated with its annual wattle season taking the spotlight while the younger Chinese elms mature to succeed them.
More
1 pinnate: having leaflets arranged on either side of the stem, typically in pairs opposite each other. having leaflets arranged on either side of the stem, typically in pairs opposite each other.