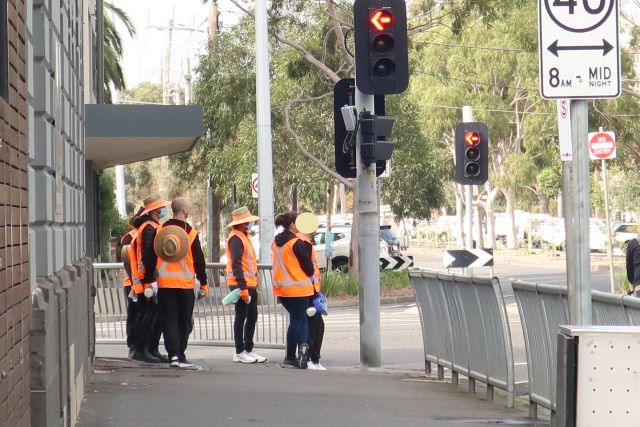 Sustenance
The Great Depression came early to Port Melbourne and affected Port very severely. After the 1928 Waterfront strike many waterside workers did not find work again. Port at that time was a 'difficult, suffering place' in the words of Frank Vincent.
From late 1930, unemployment relief schemes were set up. Sustenance payments were not enough to cover rent leading to regular evictions. By late 1933, sustenance work programmes were underway. Wages, way below award wages, were paid on condition that people worked on nominated schemes.
Fishermans Bend was one of several sustenance projects which included the Shrine, Albert Park Lake and Royal Park. The project at Fishermans Bend was to reclaim the sandy, swampy land which was an impediment to the area's further development. There was resistance to the work. As Jack Porritt recalled 'many worked on the Bend shifting sand from one place to another, while the next group shifted it all back again.1
The conditions at Fishermans Bend were harsh – it was either too wet, too windy or too cold, according to Tom Hills who worked there. There was no shelter, no amenities. The workers' requests for protective clothing such as goggles and boots were dismissed. In August 1935, the unemployed workers went on strike when a dust storm whipped up the sand. The foreman insisted that conditions were acceptable and that they should go back to work but they refused.
Their cause was taken up in state parliament by that champion of working men, J L Murphy. He said that they were 'unfortunate men in desperate circumstances'. The government blamed the strikes on communist influences.
This 'susso' work led on to more purposeful employment generating projects such as building the State Bank houses in Garden City and the new General Motors Holden headquarters in Fishermans Bend.
---
People who lost work because of the COVID-19 pandemic were deployed by Citywide under the Working for Victoria scheme across 18 municipalities, including Port Phillip. According to Citywide, 1,400 employees walked more than 1.3 million kilometres, cleansing street furnishings, urban infrastructure, parks and playground equipment across nearly 6,000 km². The Port Melbourne crew used the newly constructed J L Murphy pavilion, not far from where sustenance workers shifted sand all those years ago, as the base from which to walk the streets of Port sanitising surfaces from benches to traffic lights. That work seems to have concluded now.
The way in which people supported one another in the Depression is part of Port lore. Centre of Full Employment and Equity modelling suggests that Port Melbourne is a low risk job loss community3. Nevertheless, there are people who need support which is offered through local organisations such as the SouthPort Community Centre, the Father Bob Maguire Foundation and callouts through Port Melbourne Focus facebook page.
This week the Federal Government's changes to the Jobkeeper and Jobseeker schemes will come into effect. The Jobseeker fortnightly coronavirus supplement will be cut from $550 to $250. Further hardship is widely anticipated.
In neighbouring South Melbourne, international students and other people not eligible for Jobseeker, line up for food relief from Planetshakers Empower charity.
More
1They can carry me out, Memories of Port Melbourne (1991) p19
2Citywide Working for Victoria teams walk 1.3 million kms in coronavirus cleansing blitz across metro Melbourne communities. 28 July 2020
3See CofFEE Employment Vulnerability Index – Profile for Port Melbourne, VIC to see how Port Melbourne compares to Victoria and the nation as a whole