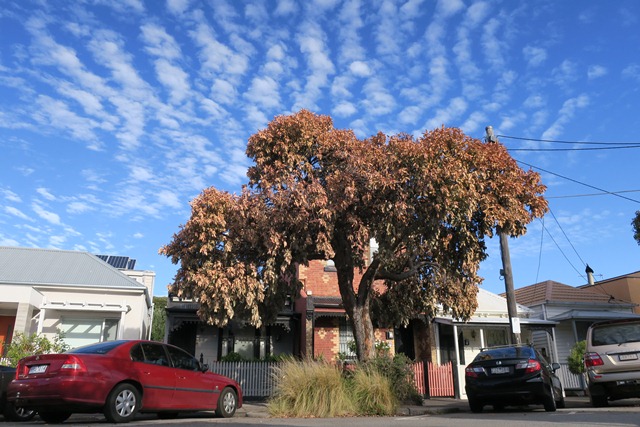 Talking trees
The yellow dot and official notice only confirms what we know. The tree is dead. And so are two others in Cruikshank St, Port Melbourne.
The Bureau of Meteorology confirms what we feel. February was a very dry month. Only 1.6mm of rain fell at Olympic Park, our nearest monitoring station. At most stations, rainfall was less than 10% of what is expected in February.
The trees that have died in this street were Corymbia ficifolia, the Western Australian flowering gum – the toughest of the tough.
Piles of mulch are on standby in elm edged reserves around Port Phillip while the leaves of the plane trees are crisped around the edges.
Planning for trees in Fishermans Bend
Fishermans Bend in future will be abundantly treed if the draft Framework is successfully implemented.
Trees clean and cool the air, regulate temperatures, support water quality, and manage flow. They look pretty, and they deliver measurable mental and physical health benefits to concrete-fatigued city dwellers. Whatever the question, trees are the answer. Jennifer Keesmaat  1
The framework proposes
Additional tree planting to deliver 50% tree canopy coverage2 in public spaces by 2050. Tree and plant selection will consider future climates
A diversity of tree species will be planted to create a resilient urban forest
Design and construct new streets to support the growth of existing and new healthy large trees, including irrigation with recycled water
In addition, the framework plan aims to underground power lines, enabling trees to thrive and cool the streets and the new neighbourhoods.
To get an idea of what this will mean, look no further than Williamstown Road where the power lines were undergrounded as part of the upgrade of Interactive's facility. No more distortion or disfigured trees to accommodate the high voltage power lines.
Roads will become active streets
Normanby Road will house thousands of new residents in future. At present it is a hostile environment to scrappy elms and cyclists. It will be transformed in the future Fishermans Bend " into an active street that is attractively landscaped, pedestrian friendly and which provides a key cycling connection through the precinct."
Next Friday, the 23 March, is National Eucalypt Day. Do you have a favourite eucalypt tree in Port?
More
1 The City of Melbourne's target for canopy cover is to go from 22% to 40% by 2040
2  tweets from Jennifer Keesmaat, former Chief Planner, City of Toronto. Distinguished Visitor in Residence, Geography and Planning, University of Toronto.
City of Melbourne Urban Forest Strategy
Draft Fishermans Bend Framework  objective 4.1
National Eucalypt Day #EucBeaut18