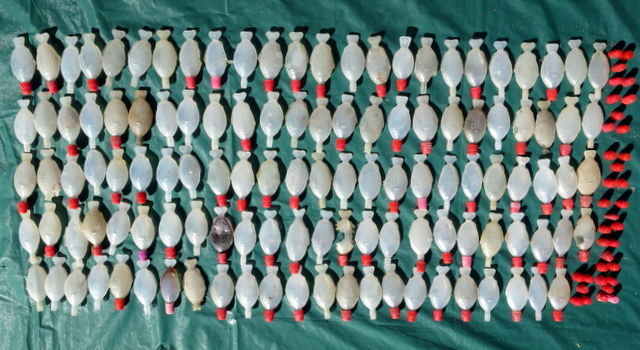 The 2014 collection
Each week this year, I have spent some time on the Yarra River bank near the Westgate Bridge getting to know that place.
Not having the patience for fishing or just sitting, picking up litter has given me a reason to be there.  On this small section of river beach, I have used the drastically simple Two Hands method – whatever litter you can pick up with your own two hands in 30 minutes.
To satisfy a collecting and ordering instinct,  I have assembled over the course of the year, a collection of the little soya sauce bottles that come with sushi. In this small space, I have collected 119 of these little bottles.
There have been some positives on litter and river and bay health in 2014
The Cleaner Yarra Cleaner Bay initiative brings together all the agencies, issues and projects concerned with river and bay health in a strong visual website. It has put together the first scorecard for the river and the bay.  Forecasts for suitability for swimming are given daily over summer. This valuable initiative should be built upon.
Neil Blake, Port Phillip Baykeeper, was awarded by the former Premier and the Victorian Coastal Council for his work on litter and micro plastic pollution. The awards were not only well deserved recognition of decades of contribution but heightened awareness of the issues for which he is such a champion
Fourteen Beach Patrol groups now cover bay beaches from Williamstown to Bon Beach picking up litter. 3207 Beach Patrol, the second group to be established,  has been going strong all year with committed regulars and new people joining each month.
New litter bins have been installed by the Port of Melbourne Corporation on the river bank
More raingardens are catching plastic and other litter before it enters the Bay
The profoundest negative is the proliferation of plastic in the marine environment, estimated recently at 5 trillion pieces.
What to do? I follow the prescriptions of the Two Hands Project and the Plastic Pollution Coalition
2 hands – 30 minutes clean up your world – Anytime, anywhere
No excuse for single use
Meanwhile I have come  'to love the River like no other place'*
Next year, I am tossing up whether to collect cigarette lighters or earplugs – two other very common items on this little section of beach.
*Tony Birch: Melbourne Now 2014