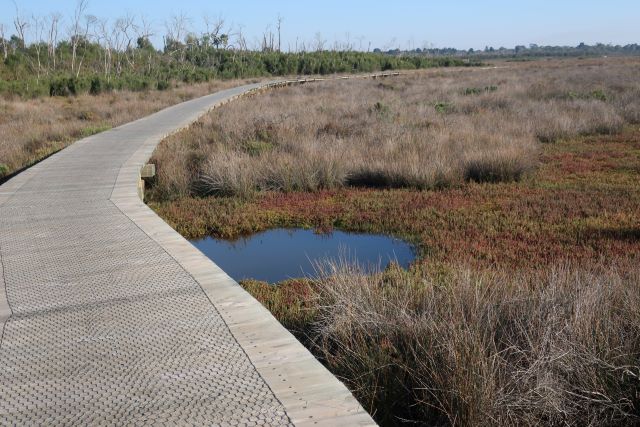 The Bird Issue
Migratory birds are leaving our shores now to breed in the Northern Hemisphere. Their epic journeys will be acknowledged and celebrated on World Migratory Bird Day on 8 May.
Their flight path on the East Asian-Australasian Flyway covers 23 countries. The habitat on which they depend, including in Australia, continues to come under sustained pressure for Port and residential development. 36 species of migratory shorebirds fly annually to breed in the northern hemisphere above the Arctic Circle and return to Australia and New Zealand for their non-breeding, or overwintering, season.
Artist Kate Gorringe-Smith has committed her energy and her art to these shorebirds – for their extraordinary endurance as well as their extreme vulnerability. Since 2017 she has coordinated the Overwintering Project. She invites print makers to create a work responding to the shorebird habitat closest to them. The artists contribute two prints: one for exhibition and one for sale for $200. The Overwintering Project has so far raised $23,000 for Birdlife Australia's Waderbird Study Group. Each artist engages as deeply and fully as Kate herself, getting in to 'the shoes' of the birds and their experience. All Kate's practice is about getting people engaged with and interested in shorebirds. 'I am driven by them, and for them', she says.
For her own contribution to the Overwintering Western Port exhibition, Kate brings to light and life the Eastern Curlew, the most endangered of all the shorebirds. The Eastern Curlew flies 25,000 km each year. It neither soars nor glides, flapping all the way.
Why this deep fascination with shorebirds?
I first came across Gorringe-Smith's work at the Immigration Museum in 2016. Visitors were invited to write on the back of an ink stamped disc printed with a shorebird about their experience of migration. Deeply heart felt messages mingled together in this very accessible public project.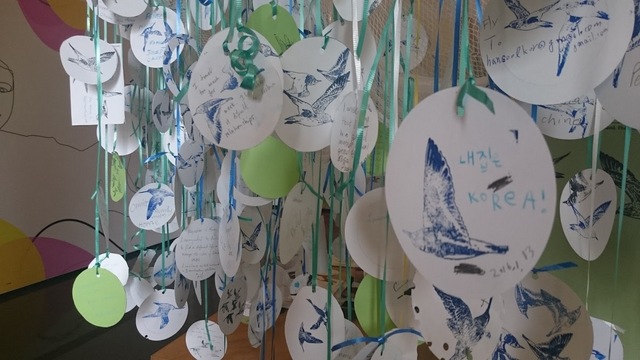 As Kate says 'Migratory shorebirds are a beautiful and rich metaphor for human migration. Like immigrants … shorebirds always feel the pull of their two homes. But unlike us, they are literally bound to fly forever between their breeding grounds in Alaska and Siberia and their summer home on the shores of Australia and New Zealand. No sooner are they in one hemisphere than they feel the pull of the other. It is a mythic existence of repetition and endurance that universalizes both the emotional and physical hardships, and the great and abiding hope, of migration.'
Kate also works extensively with schools, forming an especially rich connection with the community of Hobsons Bay on the western shoreline of Port Phillip Bay. Children get to know the shorebirds, their shapes and stories.
While creating beautiful and moving work herself, Kate is also the capable coordinator, administrator and inspiration of the Overwintering Project. Even while one exhibition is on display, the next one is in preparation. She has worked with artists, communities and galleries all around Australia, wherever shorebird habitat is found.
---
Orange-bellied parrots are one of Australia's most critically endangered birds. In 2008, there were only 35 adult birds. They have a shorter, but nonetheless impressive migration, flying from their breeding grounds at Melaleuca in south western Tasmania to overwinter on Victoria and South Australia's coasts. At the end of the 2020-2021 breeding season, 192 birds were counted at Melaleuca. The birds have already begun their migration across Bass Strait. It is hoped that they will inter-mingle with captive released birds to form more robust and resilient flocks. Volunteers will be on the lookout for the parrots that have made a successful migration.
The Orange-bellied parrot is far from secure but this is the most optimistic the recovery team have been for many years.
---
In November 2013, Port Melbourne's beaches were littered with dead Short-tailed shearwaters. A wreck, as it is sometimes known. At the time it was said to be natural, or at least not unusual, given the immense flight that the shearwaters make from waters off Siberia, Alaska and Japan. Their abundance was considered reassurance. Since then, investigation of some of the dead birds has found that many of the shearwaters had ingested pumice stone and plastic. Recent published research by an inter-disciplinary team of CSIRO scientists has revealed that those shearwaters were starving even before they ingested the pumice stone from an underwater volcano which erupted on their flight path as they were returning to Australia.
---
On 1st May, the Australian Government announced that Australian citizens returning from India would face a fine or a jail term.
More
Find out more about The Overwintering Project: Mapping Sanctuary
Listen to Kate Gorringe-Smith speak about the project at the Mornington Peninsula Gallery. Overwintering: Western Port is on until the 23 May.
CSIRO Pumice the key to solving seabird mass death mystery 25 March 2021