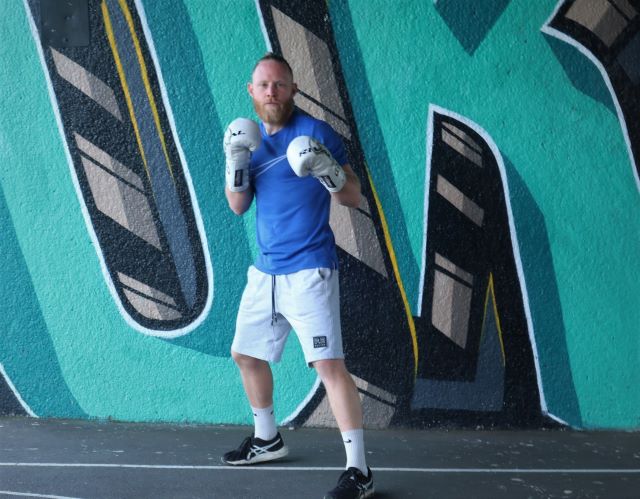 The Boxer
Over the prolonged lock down the Graham St underpass in Port Melbourne has become an outdoor gym. The concrete supporting pillars create discrete spaces occupied by a moving parade of personal trainers and their clients.
But most steady of all, and always present, has been the boxer. From early morning to evening, Cameron Ravendra-Eyes is out there, light on his feet, always moving, training people in boxing. Cameron is cheery, friendly and utterly dedicated to the sport.
Cameron grew up in the area, attending Albert Park Primary and Secondary schools. He was introduced to boxing by one of his teachers in late secondary school. Even at age fourteen, he was pretty determined, travelling across town to train in Collingwood. He was only sixteen when he had his first amateur fight. In his professional career, he competed nine times – winning eight and losing one. Sensitive to the impacts of repeated concussion, he retired when he was twenty eight.
Boxing has a bad name, he said, but it has been very helpful to him and to other young people experiencing stress or anger. The boxing community has been very supportive to him throughout his career.
He brings everything he's learned through his career to his training approach for all levels. 'You've got to respect the sport', he says. It's all about form, all about technique, not just throwing punches around. He works first on the fundamentals – the stance and using the whole body.
Port's most talented boxer was Norm Gent, born in Montague. At various fights he was said to have displayed 'a perfect temperament' matched with 'magnificent footwork'. He was also described as a 'scientific boxer'. His biggest fight was against African American Freddie Dawson at the West Melbourne stadium on 7 July 1950 attended by 10,000 people. It was reported that Dawson was more confident from the opening bell, and Gent was knocked out in the fifth round.
More well known locally was Reg 'Ox' Earle, a larger than life cravat wearing truck driver – a Port identity and two-up organiser. A fight took place between Ox Earle and Lennie Faye behind the Fire Station on Williamstown Rd in 1949. A crowd of around 200 people turned out to watch, the crowd itself forming the ring. Earle lost the fight.
The Graham St overpass was built to facilitate access to the Westgate Bridge and to overcome the bottleneck caused by the double opening railway gates on Graham St. It displaced a lively local community of shops and a pub, the Foresters Arms, with a drab and desolate place well illustrated in this photograph.
For many years, the Council fought an unwinnable and expensive war of attrition with graffiti and tagging of the underpass. In 2014, a crime prevention grant enabled Council to engage street artists to transform the place. Over time, fresh tags and new art appear. Carparking has been removed, though some remains. It just seems to work as an outdoor gym alongside the modest but well used skatepark which re-opened this week.
From an interview with Cameron Ravendra-Eyes on the bench at Graham St on 22 October 2020
More about Cameron Ravendra-Eyes and his career
30 amateur fights, 9 professional fights with 8 wins and 1 loss
won the Victorian state title in the welter weight and super lightweight divisions
Cameron also holds a Masters degree in Exercise Science.
You'll find Cameron in action on instagram at eagle_health_and_performance
 Sources: Photograph of Norm Gent n.d.,  Portrait of boxer Norm Gent [picture]  <http://nla.gov.au/nla.obj-148611554>