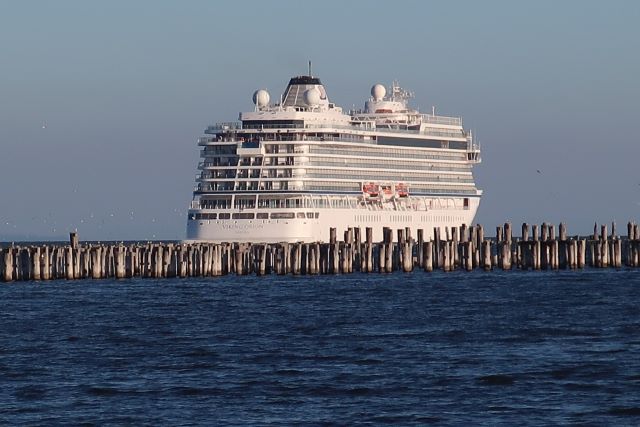 The First Quarter 2020
Conventionally, avoiding that complicated word 'normally', I post a summary of Port Places at the end of the first quarter of each year. Such an arbitrary marking of time is less useful when life as we know it has been ruptured by the impact of the coronavirus.
A State of Emergency was declared in Victoria on 16th March. Stage 2 restrictions were introduced on the 23rd, and Stage 3 on the 30th. Each stage was accompanied by tighter restrictions on social distancing.
These measures have been markedly successful in reducing the spread of corona virus in Victoria with only 1 new infection recorded on 23 April. The total number of coronavirus (COVID-19) cases in Victoria is 1,337.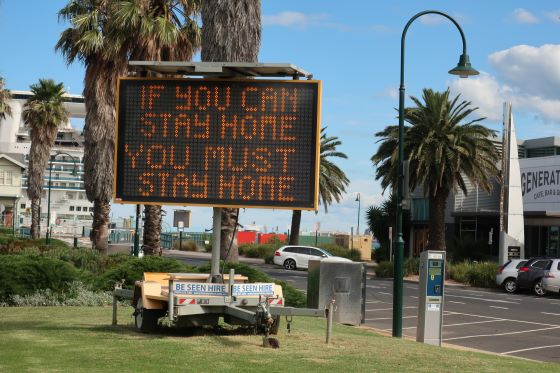 Nevertheless, these quarterly summaries have proved useful in retrospect in resolving such wonderings as: was there more rain last year? what was there before that development? when did that event occur? So I will proceed with this delayed first quarter-COVID-19 hybrid knowing that the second quarter on 'the other side' will be markedly different to the first.
---
Do you remember that time long ago when we were kept indoors, not to isolate, but to protect ourselves from the smoke from the bush fires in New South Wales and Victoria and when cruise ships were just there in the background of everyday life?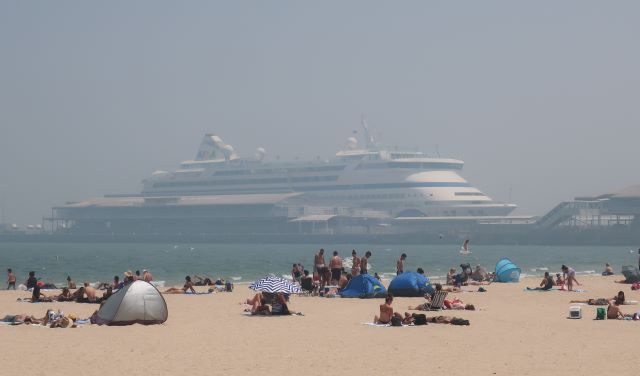 Station Pier
After discharging all passengers on 19 March, the Golden Princess finally departed Station Pier at 6 a.m. on 6 April. The Golden Princess is in the same 'family' as the Ruby Princess, now the subject of a commission of inquiry and a criminal investigation by the N.S.W police after almost 2,700 passengers were allowed to disembark in Sydney, despite more than a dozen people on board being tested for COVID-19. The ship finally left Port Kembla on 23 April.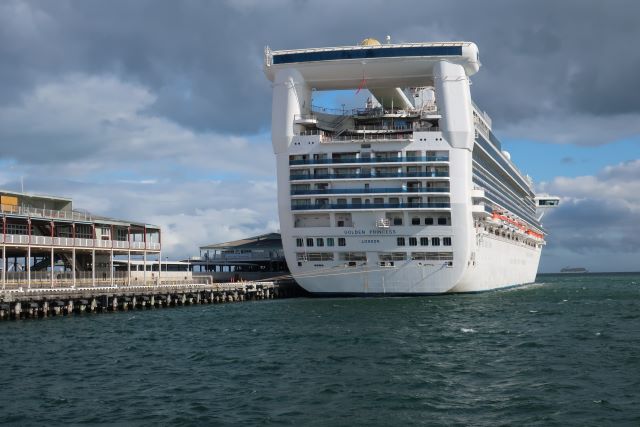 It was a relief to have Station Pier back to just the comings and goings of the Spirit of Tasmania. On the 23 April, TT Lines announced that it will be shifting to Corio Quay, north of Geelong in 2022.
Port Melbourne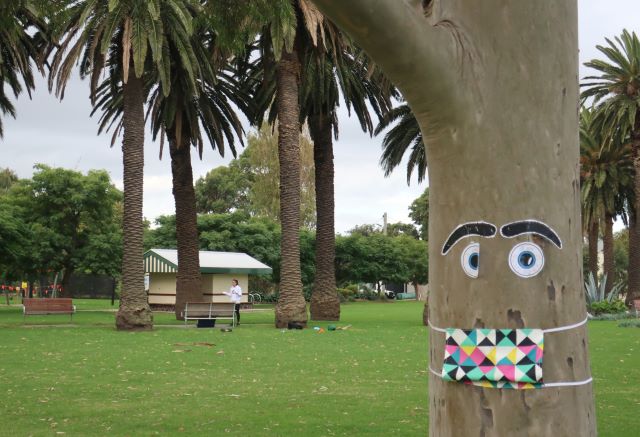 Port's generous parks and open spaces have never been better used or more appreciated. Edwards Park is much favoured for personal training. Group sessions under Stage 2 became two person sessions in Stage 3. The foreshore path is like a treadmill in constant motion from St Kilda to the end of Sandridge Beach. The 1.5 metre physical distancing has become the norm for most people though flouted by a few.
The cooped up and the restless emerge in the late afternoon to promenade along the foreshore and on Princes Pier greeting one another with more warmth than formerly in Port's version of La Passeggiata.
---
In Fishermans Bend
Observations from Easter weekend explorations
Montague
Thistlethwaite St, north of Montague St, is the focus of activity in Montague.
Iurada's 'The Shed', designed by Jackson Clement Burrows, (corner Ferrars and Thistlethwaite St) was completed in this quarter. Looks like there's a nice corner space for a cafe.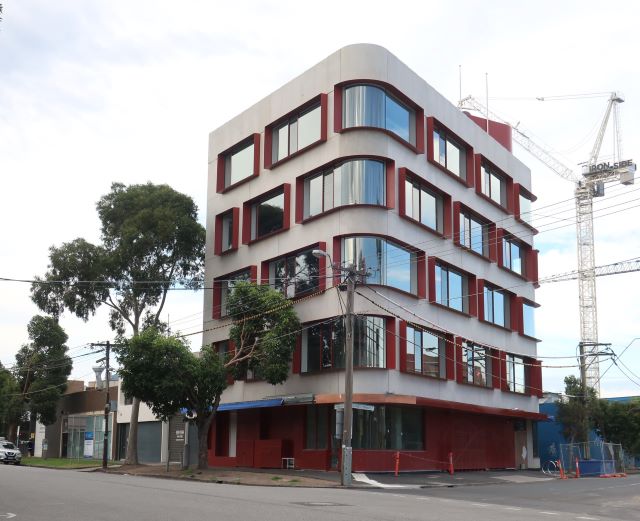 On the opposite corner, Montague Square is under construction while the crane indicates two further developments underway: South and Lilix.
The Photography Studies College (PSC) moved from City Rd in to 37 – 47 Thistlethwaite hardly anticipating that they would be transitioning to online learning within 2 weeks of moving in.
The Golden Fleece, a gathering place for the emerging community of Montague, has temporarily become a pop up bottleshop trying to attract the attention of the reduced number of drivers on Montague St.
Normanby Rd
Normanby Rd is almost like a precinct in itself with nearly every site associated with a planning application – many of them going back to 2015 and still unresolved.
Two forty storey developments, immediately opposite each other, are under construction in Normanby Rd – Oakwood and The Normanby. Both projects include hotels. The planning permits were issued before the Fishermans Bend Framework was adopted in 2018.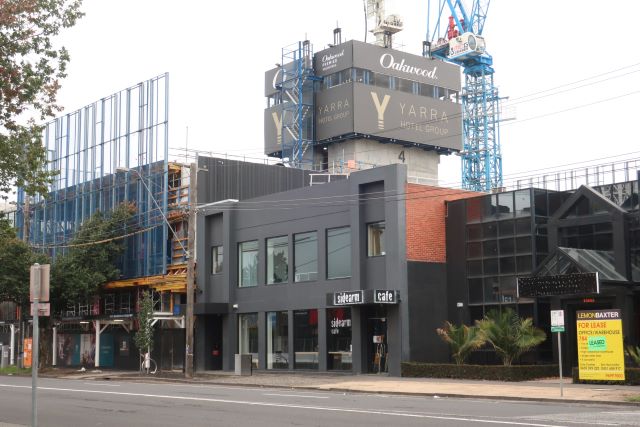 A Standing Advisory Committee appointed by the Minister for Planning attempts to resolve these outstanding development applications between expectations under the old planning regime with the more stringent requirements of the Fishermans Bend Framework. Proponents argue that these previously approved developments, such as Oakwood and Normanby, set the precedent, while the Fishermans Bend taskforce stands firm on the framework. The Committee will make recommendations to the Minister on these applications, aiming to achieve some coherence and consistency for Normanby Rd.
Sandridge
Musk architecture's Soap Factory is an interesting approach to the adaptive re-use of this 1920s part of the former Lever & Kitchen factory.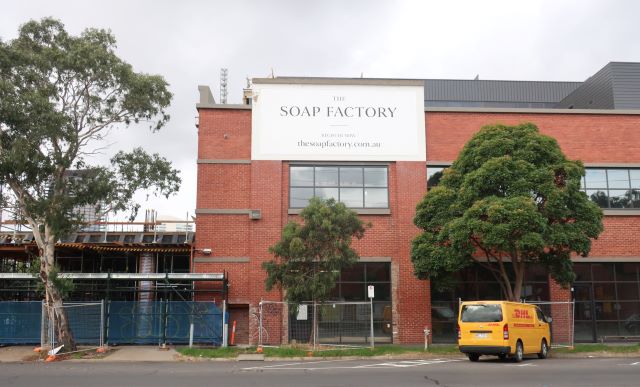 Wirraway
People have started moving in to the P.M. development (320 – 322 Plummer St) as finishing touches are applied. Neat footpaths and landscaping have miraculously appeared from the construction site.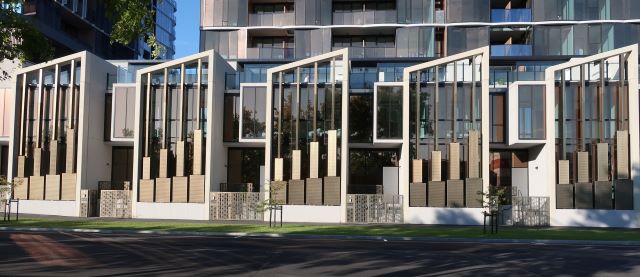 The extent of the heritage fabric to be retained at the former Rootes factory is revealed as everything else on site has been demolished. The remnants of the factory deteriorate.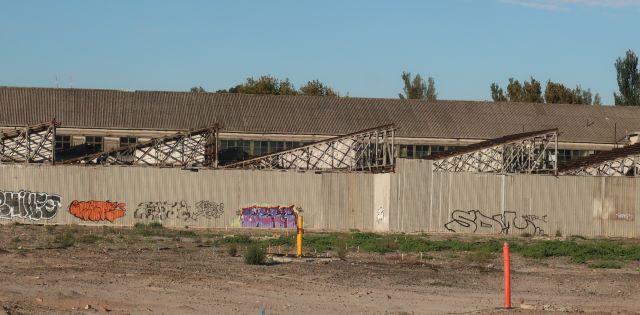 The Fishermans Bend Secondary School is under construction on the corner of Plummer and Graham Sts. The design of the school references Port's maritime and industrial heritage.
Biofilta's staff in Rocklea Drive are run off their feet meeting the pandemic fuelled appetite for growing vegetables. Biofilta has held a steady vision for many years of making urban farming accessible to as many people as possible. The foodcube is a result of years of testing and prototyping. All that preparation has meant they were absolutely primed and ready for this moment. The food cube assists people, for some of their food at least, to go from 'food miles to food metres'.
The Employment Precinct
In February, General Motors announced that it would be walking away from the Holden brand by 2021.
As hospitality venues closed down as required under emergency restrictions, St Ali coffee roasters adapted their business to making hand sanitiser and secured the ongoing employment of 72 people.
---
The South Melbourne Market has turned itself inside out to meet the changing requirements of the pandemic. Many stallholders are now offering their goods online and a collection service is offered.
The Market has gone from convivial, almost overcrowded, to quiet, purposeful, highly regulated shopping. No dwelling.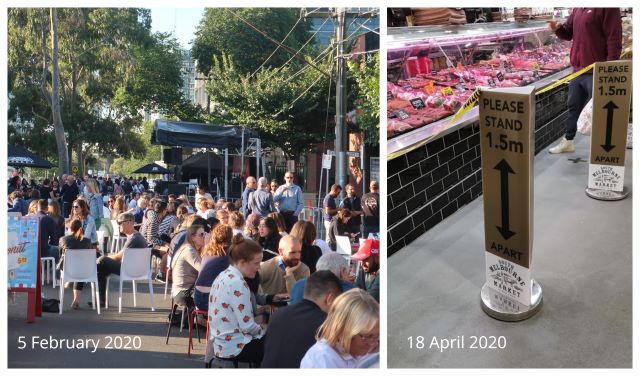 ---
The gift of time
More time has allowed closer observation of local places. Pelicans and dolphins in the Bay delighted foreshore walkers in late April.
The time of isolation has been made more bearable by green grass and contented trees following rain in April. The Corymbia ficifolias, under such stress last year, are having a second flush of flowers.
The protracted autumn offers endless scope for marvel as each leaf responds uniquely to the cooling days.