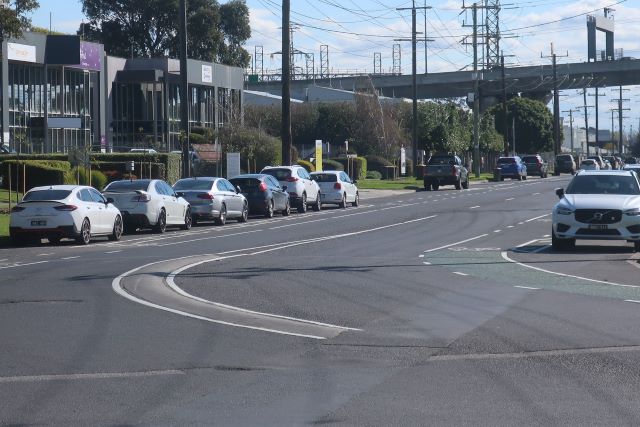 The Future of Transport and Fishermans Bend
When the heritage listed murals in the GMH Social Centre were painted in 1945 by employee Eileen Robertson, the first all Australian car had not yet been built at Fishermans Bend. By early 1948, Port Melbourne people would have seen the early prototype Holden 48 215 leaving GMH headquarters in Salmon St on test drives.
The title History of Transport given to the murals is a bit of a misnomer as the mural to the right of the stage imagines the future of transport, featuring fast trains and aeroplanes that still looks futuristic today.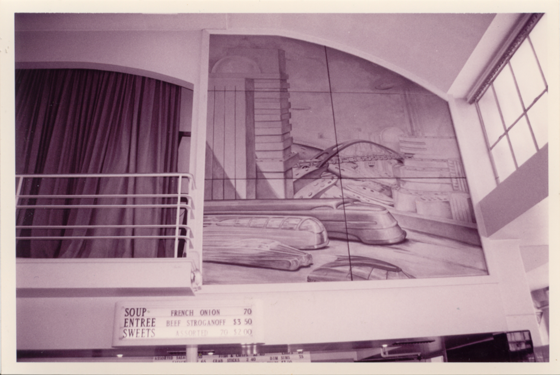 Even though cars are no longer manufactured in Fishermans Bend, or anywhere else in Australia, the GMH site remains a potent symbol of innovation and possibility for Australian manufacturing. This theme has been picked up in the policy document Advanced Manufacturing – the Fishermans Bend opportunity released in early September. The policy seeks to re-ignite the excitement, the connections and the inventiveness that characterised Fishermans Bend at various periods and create places that stimulate an environment that facilitates manufacturing in the 21st century.
---
Just a stone's throw away from the GMH site, on the corner of Turner and Douglas Sts, is the headquarters of the Australian Road Research Board (ARRB), a national research facility. Its wide ranging research extends from investigating the use of recycled materials in road building to leading conversations about the future of mobility.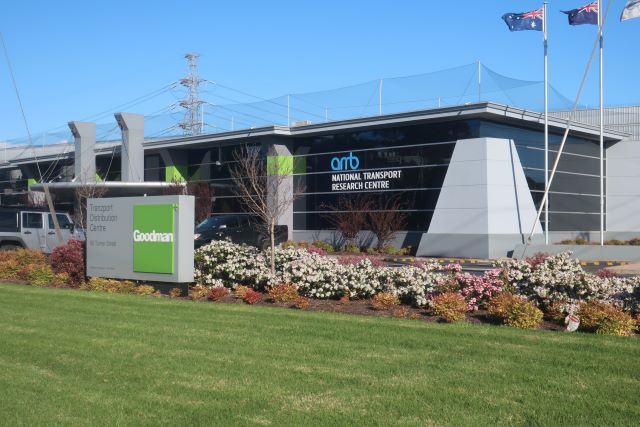 Even though electric car sales in Australia accounted for a mere 0.7 per cent of the overall market in 20201, over time Australia's vehicle fleet will transition to electric vehicles – though much more slowly than in many European countries — since the policy settings in Australia are so unfavourable. Australia is likely to be one of the last refuges for internal combustion engine cars for which there is no longer any market in Europe.
Many significant issues remain to be resolved around autonomous vehicles – about safety, ethics and insurance – and ARBB contributes to the debate. Nevertheless, it is likely that over time cars will increasingly incorporate more autonomous features such as alerting drivers to road conditions and crashes. The nearby Victorian International Container Terminal at Webb Dock is fully automated. The trucks carrying the containers are not, but experiments of autonomous long distance truck transport are being conducted on some routes in America.
Perhaps autonomous vehicles will be trialled at the GMH site where once Eileen Robertson imagined the future of transport.
---
A benefit of lockdown and being confined to a 5km radius has been freedom from traffic congestion. But if, in future, as the population of Fishermans Bend increases, every person who lived or worked in Fishermans Bend drove a private vehicle, even if it was electric, impossible congestion would result. It would compromise the operation of the Port of Melbourne and the cement industry both of which have a medium term future in Fishermans Bend. It would also not contribute to the qualities of the place that is envisaged at Fishermans Bend. There are only a few ways out of Fishermans Bend which in pre-Covid times led to bottlenecks at intersections at Normanby Rd and the Westgate Freeway.
---
That is why active transport – walking, cycling and a tram and later a train – is the foundation of the future of transport in Fishermans Bend. And this is where Turner St becomes so important.
Turner St will be the principal walking and cycling route south of the freeway, says the policy.
Turner Street's most striking attribute is its width – 30m in some places, 40m in others. It's a 1.2km straight connection between Ingles St and Salmon St. It is the proposed route for the tram which will connect to the University of Melbourne campus at the former GMH site. All that width can be re-configured with space for walking, cycling and a tram as imagined in an earlier post on Port Places.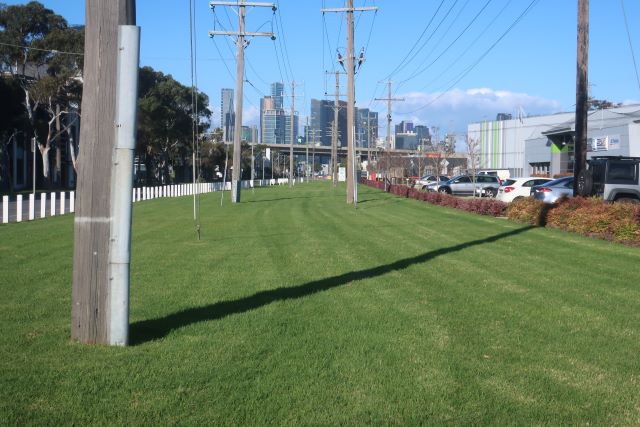 At present Fishermans Bend, south of the freeway, is extremely hostile to walking and cycling. Cement trucks travelling at speed and cyclists are not a good mix. The blocks are long. There are no footpaths in places. It's a long way round the Lorimer St/Todd Rd bend. When Turner St cuts through the GMH site to Todd Rd, it will open up to Westgate Park and the River.
Work has begun.
In recent weeks trees have been planted at very regular intervals along Turner St between Ingles St and the Bolte Bridge. On the Port Melbourne, Westgate freeway, side – twenty eight Melia azedarach or White cedar trees. These semi-deciduous trees thrive elsewhere in Fishermans Bend, with mature specimens in Bertie, Fennell and Woodruff Sts. At this season, the trees are displaying their yellowish-tan coloured globe shaped fruits but in summer the trees will provide welcome shade along Turner St. Both the Melias and the thirty three Geijera parviflora (Wilga Tree), planted on the River side, have been chosen by the City of Melbourne for their resilience to future climate.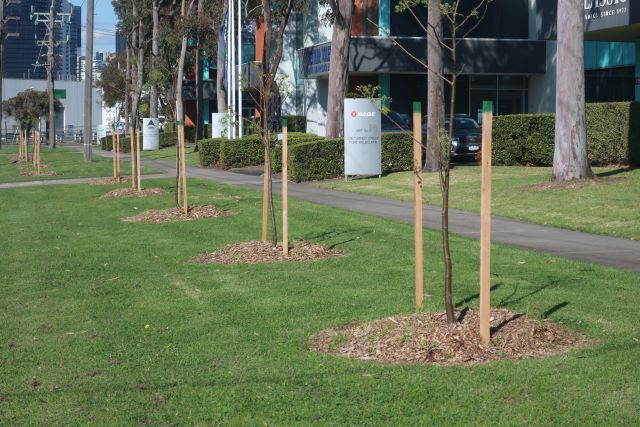 The planting plan being delivered this month was informed by an urban forest workshop breakfast hosted by the City of Melbourne in Fishermans Bend in 2015, attended by Port Places. Six years later it is being delivered. It is a satisfying validation of a participatory process leading to a plan, a strategy and delivery.
More
ARRB National Transport Research Centre
ARRB webinar Exploring the Safety and Ethics of Connected and Automated Vehicles
Advancing Manufacturing – the Fishermans Bend opportunity
Contribute to the City of Melbourne's survey on Gateway to the GMH site Participate Melbourne
1Stephen Corby How many electric cars are there in Australia? carsguide 21 April 2021