test
The High Line
'In the midst of national confusion, cities are rolling up their sleeves on sustainability'  Cr Arron Wood
I am visiting New York for the first time. After attending countless forums on the future of cities, I am seeing projects and places with my own eyes that I have heard about at just such events. The City of Melbourne and New York are two of the C40 cities leading sustainable action on climate change around the world.
We chose to stay near the High Line so as to be able to visit often and at different times. I first got excited about the High Line when I heard Robert Hammond, one of the founders of Friends of the High Line speak in Melbourne. The High Line is a public park built on a historic freight rail line elevated above the streets on Manhattan's West Side.
Eating  breakfast on the High Line. Ambling along the High Line at evening. It's open till 11 pm in summer.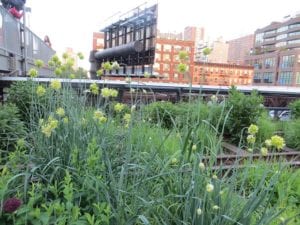 The High Line expresses many aspects of the Living Building Challenge explained by Caroline Pidcock at  the recent 'A cool future for a hot Melbourne'.  She spoke of buildings and projects that not only minimise harm but are restorative and regenerative. Projects that take meaning from their place and yet transform it.  Projects that bring nature into the heart of the city. The Living Future Challenge puts out the challenge to bring about beauty.  It is here.