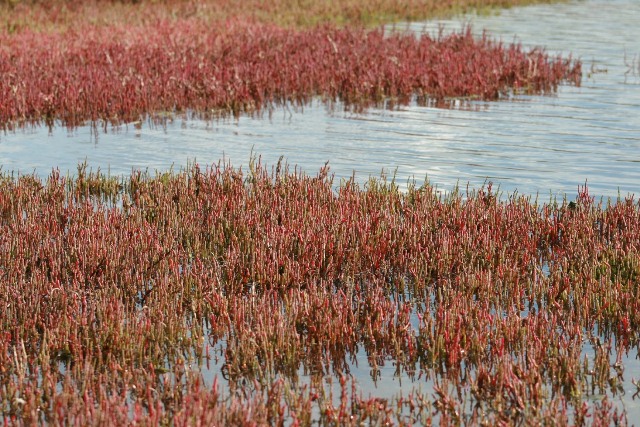 The last weekend in July
The last weekend in July is Open House Melbourne and National Tree Day – a clash or a convergence of the built and the natural environment?
A convergence for me at the Banksia apartments in Docklands where tours were being offered. There were queues and time was limited so I exploreed around the ground level. And around it was. There is not a straight line or a rectangle anywhere – either in the building or in the NewQuay Park. The shape of the building moderates the notorious Docklands wind and gives all new residents access to views. The building sits in a landscape of banksias growing towards a mini urban forest.
A beautiful screen, not solid, conceals the entry to the building and creates an edge to the Park. The screen was created by sculptor Robert Bridgewater to represent Beaded samphire or Beaded glasswort which, the Open House entry says, grows nearby on Moonee Ponds Creek.
That might suggest that Beaded samphire is growing abundantly at the nearby Creek but where the Moonee Ponds Creek makes its way into the Yarra under the Bolte Bridge it is a sad affair. Somehow saltmarsh plants, knowing their place, grow along the litter strewn neglected waterway, separated by an abrupt yet invisible line from the designed and abundantly  landscaped Ron Barassi snr Park.
Of all Melbourne's historically abused waterways, the Moonee Ponds Creek has suffered the most – re-routed, re-engineered, covered over with concrete. Its the diverted concrete drain under the Gateway ("Cheese Sticks") at the entry to the Tullamarine Freeway.
That is set to change with the Cities of Moonee Valley and Moreland developing a plan to bring the Chain of Ponds back to life. Consultation has begun to support imagining the Moonee Ponds Creek, not as a barren concrete drain, but as a natural waterway running through lush green parkland."
On the same weekend as I was circling the Banksia apartments, needle in a haystack volunteers were scouring sites for Orange-bellied parrots in the annual winter surveys. Beaded glasswort is a favoured food of the Orange-bellied parrot. The results of the surveys are not yet in.
There's been some heartening news about the Orange-bellied parrot over the last few months. Captive bred birds released at and near Werribee Treatment Plant are flocking together and being sighted regularly.
More
Banksia apartments McBride Charles Ryan
DELWP 31 July 2018 Barwon South West Orange-bellied parrot update