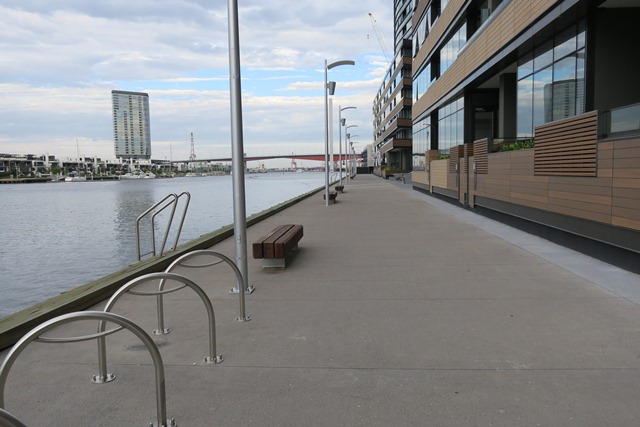 The place for a park?
From upstairs at Library at the Dock there is a slice of a view of outside. The trees in Buluk Park are tossed around by the notorious Docklands winds and flutter the tai chi instructor's silken clothes. But the Shadow Trees barely move. This work by artist Sally Smart was commissioned by the City of Melbourne to mark a place that was, until recently, unthinkable – where Bourke and Collins Street meet.  The citation says that Shadow Trees reference the site's former abundance of bird and plant life, and its life as a working dock. But to me, this public artwork locks up the trees and birds as artefacts of the past rather than drawing on these historical references as possibilities to inspire the future.
Beyond the Library, Collins Street extends onto Collins Wharf.
The original masterplan for Collins Wharf proposed buildings 35 metres tall on the south side and 12 metres tall on the north side. But the unique location with water frontage to both Victoria Harbour and the Yarra River was irresistable. An updated plan for 5 towers of 85m was resolutely opposed by the City of Melbourne in September 2016. Former Councillor Stephen Mayne said that it would create a 'forest of towers' that would overshadow the Yarra River. The plan was subsequently approved by the Minister for Planning with an Eco Park that would include a floating wetland.
The first stages of Collins Wharf have now been completed. The Yarra promenade, part of the public space promise, feels uncomfortably narrow. There is no buffer to the home-offices making it feel semi-private.  The hard edges and absence of nature feel stark.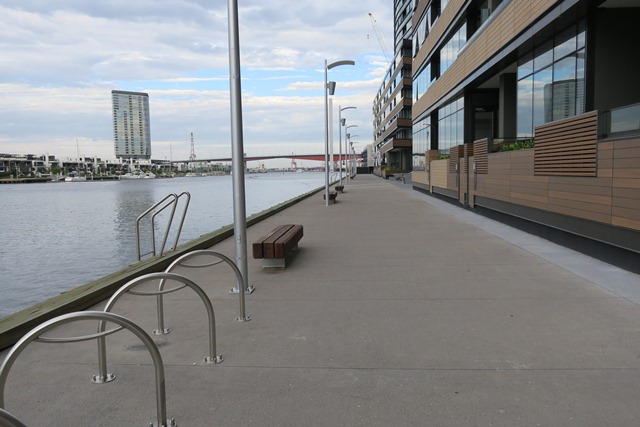 Beyond the Library are the shrinking wild places of Docklands where grass grows in the railway tracks and the concrete crumbles. The condemned wharves are fenced off, and Lend Lease's compounds grow. The pier timbers harvested so long ago in Gippsland are stacked in a heap revealing the marine life that clung fast to the piles.
Walk on.
Past the Alma Doepel, past the Enterprize, past the decayed but heritage protected Port Control Tower to the very end of the wharf, where you feel you can almost touch the Bolte Bridge. This is the proposed site for the Eco Park and floating wetland.
Take a look at Cox's map of 1864 to get a sense of the extent of the former wetland in this area – known as Batman's swamp or West Melbourne swamp – a low lying  area that received drainage from the creeks to the north. The wetland is totally erased now.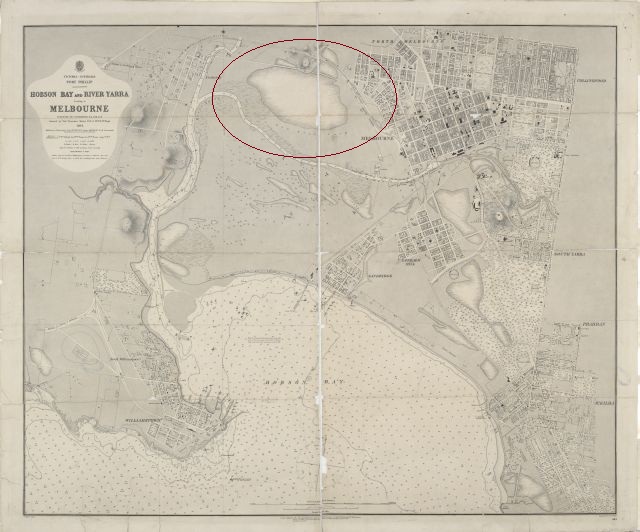 Much is expected of this open space and its floating wetland. Cox's map gives us a sense of the scale of the wetlands lost, and there is much restitution to make.
More
Richard Wynne Park space and 3,000 jobs at Collins Wharf Development 8 March 2017
Dr David Sornig Erasure of Melbourne's wetlands, State Library of Victoria
Melbourne City Collection  Shadow Trees by Sally Smart