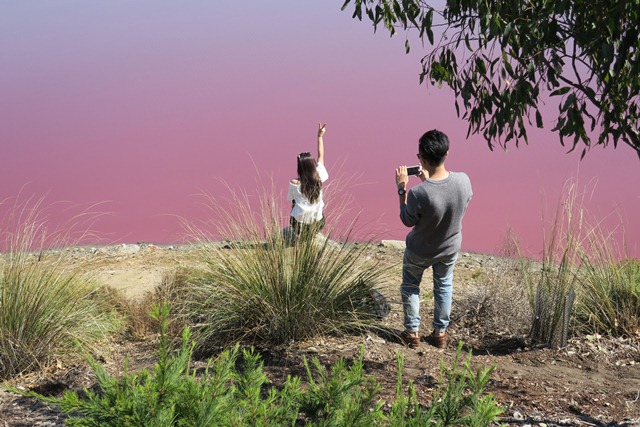 The Power of Pink
The workings of algae, salt and temperature have caused a visitor boom to Westgate Park.
On 7 March, Parks Victoria posted on facebook
Westgate Park's salt lake has turned pink again this season: a natural phenomenon in response to very high salt levels, high temperatures, sunlight and lack of rainfall. Algae growing in the salt crust at the bottom of the lake produces the red pigment (beta carotene) as part of its photosynthesis process and in response to the extremely high salt levels.
The story was picked up on news channels locally and overseas. By the end of the day on 15 March, just over a week later, the post had been shared  2,562 times and there were 2.2K comments.
Guided unerringly by their mobile phones, people made their way from all directions to the pink lake in Westgate Park. The usually almost empty buses on Sunday timetables were busy. Normally quiet Westgate Park overflowed with visitors. The carpark was South Melbourne Market at Christmas time busy.
Selfies with the lake in the background were the order of the day. People walked around the lake, not usually traversed,  looking for the best angle and perspective.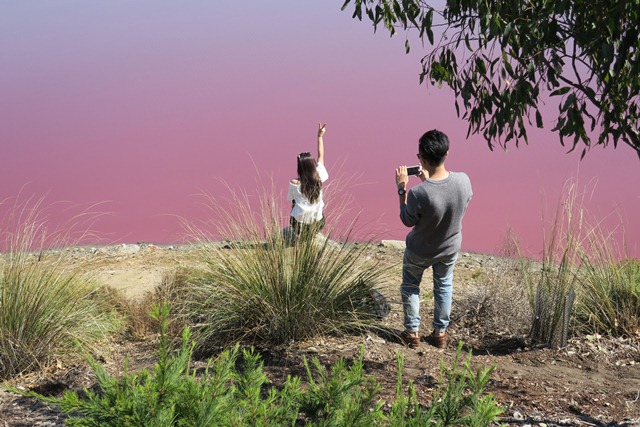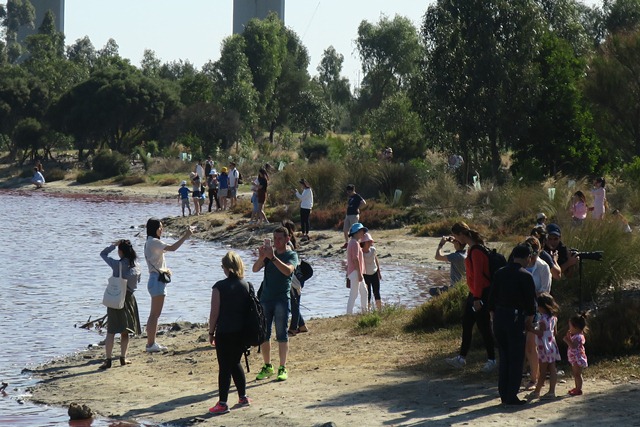 The pink lake phenomenon has shown the inadequacy of visitor facilities at Westgate Park and given an insight into the level of visitation that might be expected in the future as Fishermans Bend is developed.
When I paid my own pilgrimage to the pink lake today, Black-winged Stilts were flying low back and forth across the lake. Twenty of these birds with six dependent young were counted in the Park on 6 March. The black-winged Stilt is a social species, usually found in small groups. They feed mainly on aquatic insects.  They wade in shallow water, and seize prey on or near the surface.
Their legs are are also a beautiful shade of pink – long and delicate – a bit like the twigs on new shoots of some eucalyptus.
With a maximum temperature today of 33.20 at 5.45pm and further warm weather forecast, it looks likely that the pink will become more intense over coming days.
The lake is expected to return to its usual colour when the weather cools and there is some rain.
More
Daniel Connellan Why is this lake pink //Melbourne Westgate Lake
Sci Show Pink lake mystery solved
Public Transport to Westgate Park
Best Bus 237