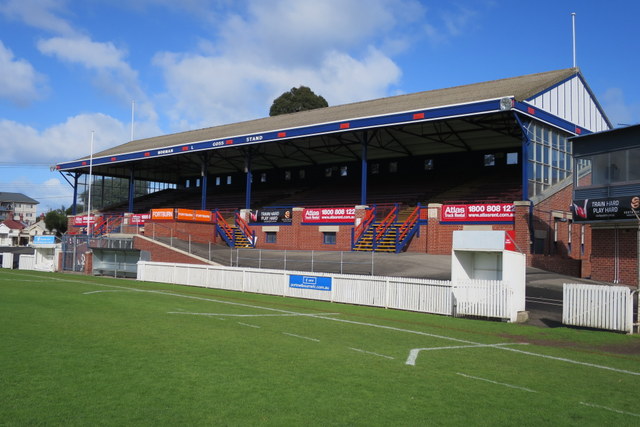 The Red & The Blue
September 2015
The Port Melbourne Football Club and Community Facility won the sustainability award at the Australian Timber Design Awards on 18 September.
Saturday 30 May 2015
Official Opening of the North Port Oval redevelopment project*, 
'It is a significant day in the life of our Club', said President Peter Bromley. Not since 1928 when the grandstand was built had such a major project taken place at North Port Oval.
The grandstand looked proud with its freshly repainted red and blue Port Melbourne signature colours highlighted by the sun.
Initiated ten years ago when the Club, the AFL, Sport and Recreation Victoria and the Port Phillip Council made funding commitments, the project encountered challenges every inch of the way.  Dealing with contamination in a seating embankment leaked resources earmarked for the club rooms. Of course, everybody would have preferred to see the hard won dollars go on to the facilities themselves.
'Respect' is an attitude and an attribute often sought in planning and architecture – most often recognised by its absence. But the new administration and function centre achieves it.  The 1928 grandstand remains the dominant presence of the ground.  References are taken from it and re-worked in the modest yet elegant design. The V form of the roof of the grandstand and  in the V of the VFL itself is referenced in several ways in the new building.
It is discreet, functional and elegant in a bold yet simple way. The timber elements on the façade fold like origami to conceal the administration rooms behind while leaving maximum space for windows along the length of the building for watching the game.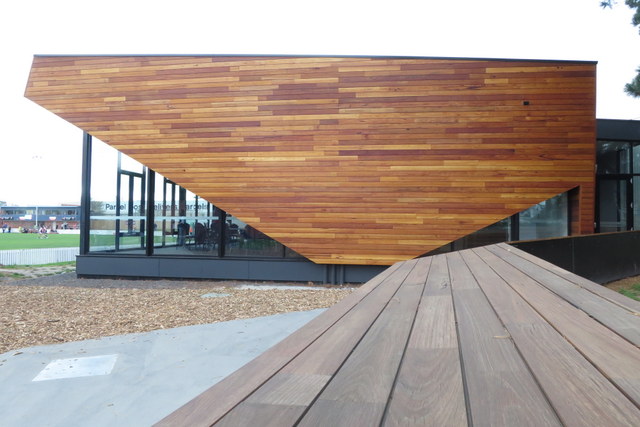 Even as we viewed heritage film footage and asserted the Club's proud history going back to 1874, people's thoughts were turning to Fishermans Bend and the future. The chosen name 'Sandridge Events Centre' positions the Club in the Sandridge precinct of Fishermans Bend.
It was at North Port Oval that I first heard the saying that 'a champion team will always beat a team of champions'.
The complexity and challenges of the working relationships and funding combinations that brought this project to completion will be just like a practice match for assembling the teams and the funding to create the community infrastructure needed in Fishermans Bend.
* the North Port Oval redevelopment project consisted of a refurbishment of the grandstand (including painting),  creating new change rooms, construction of a perimeter path around the ground, and the new function and events centre
More
For fabulous pictures of the new building, scroll through the images on k20 Architecture's website
North Port Oval redevelopment, City of Port Phillip project page
Sustainability features include
low energy light fittings, sustainable plywood linings, efficient use of material resources by minimising internal linings and using plywood in place of plasterboard. Environmentally considered flooring including: modular carpet made from PET bottles – 90% post-consumer recycled content backing and is 100% recyclable, fully recyclable and low VOC fibres, carpet certified by CRI, Green Label Plus, engineered flooring for durability whilst utilising a sustainable resource, specially coated low maintenance, low VOC, 100% recyclable, vinyl flooring to reduce the embodied energy, use of natural resources and chemical cleaners over the life of the product. (source: k20 Architecture)