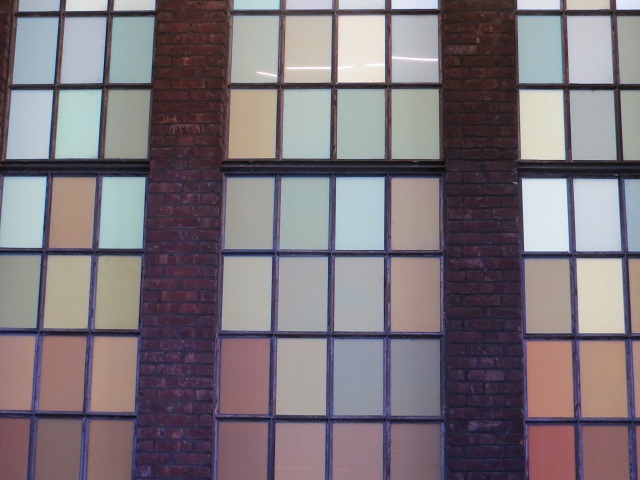 The Rivers
Across 11th Avenue and six lanes of traffic is the Hudson River. It is mighty.
The Hudson River's original name was Muhheakantuck and we know the Yarra River as the Birrarung, the river of mists.
Muhheakantuck means that the river flows both ways whereas the Yarra is sometimes said to flow upside down.
The extensive and beautiful artwork The River Flows Both Ways of glass panes embedded in the railway infrastructure of the High Line gives a sense of the colours of the Hudson River. The light plays through each pane just as the light changes on the river – making it tantalising hard to capture. The colour of each pane was derived from one pixel of colour from 700 minutes of photographs taken from a tug on the Hudson River near the High Line. From left to right and top to brown bottom, the colours of the river can be read.
The brown-ness of the Yarra River is so fondly sung in Frank Jones's My Brown Yarra (starts at .40).
Another favourite Yarra work is The River Runs Through it by Mark Stoner in Melbourne's Docklands. It interprets the interaction between river and city.
'The Hudson River was, and still is, an active route for the transportation of goods into Manhattan', says the interpretation accompanying the artwork.
So too the River Yarra.