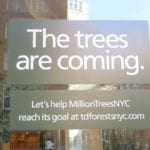 Its early summer in New York and all the trees are in full fresh leaf. Its quite hot – 29 degrees – but the heat is moderated by the shade of many trees. I had not thought of New York in tree terms before, but now I learn that New York has 5.2 million trees – on sidewalks, in parks and in private gardens. ­­
New York also has an initiative to involve people in planting one million trees within a decade. This public private program invites businesses, health and educational institutions and individual households to get involved in planting these trees.
The City of Melbourne has also mapped every tree in its urban forest, according to their location, type and life expectancy. You can even send an email to your favourite tree. They aim to increase the City's tree canopy from 22% to 40% by 2040.
Meanwhile, it is cooling and soothing to be shaded by New York's beautiful trees.