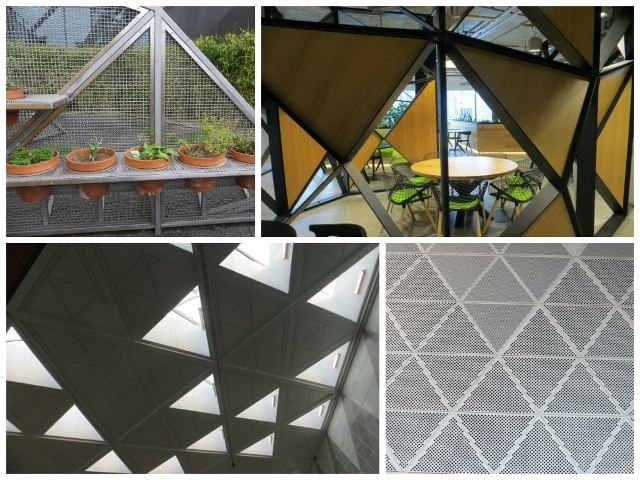 The Triangle
We travelled to the less explored Dock lands for Open House Melbourne to see NAB's new building at 700 Bourke Street. The triangle is 'the primary visual motif' of this development expressed in myriad ways on the triangular site.
Well connected by a pedestrian street between Southern Cross Station and Etihad Stadium, it has views down river towards the Bolte Bridge and into the Stadium.  The principal entrance is off the pedestrian street. Cars enter from the level below.
The efficient and well organised tours addressed themes of wellbeing, sustainability, and design as well as the way the building supports the philosophy of working. While my main interest was in the sustainable features of the 6 star green star building which include (but are far from limited to) chilled beam cooling, natural light,  reduced energy and water consumption and re-use of materials, the workplace arrangements were even more interesting. Easy opportunities for collaboration are created with a great variety of collective workspaces. Nobody has an assigned work space. There is an emphasis on personal responsibility,motivation and understanding of roles to ensure work gets done. There are places for sociability and places  for quiet working. Flexibility is fundamental. At the end of each working day, the employee clears the desk and stores its contents in a personal locker. The  guides, all NAB employees volunteering for the day, were very positive about the work environment.
The 6,000 plants in the building create good indoor air quality. Herbs and bamboo feature in the outdoor area on the 14th floor where there are even more attractive seating places.
Open House Melbourne creates rare opportunities to go into the heart of places you would normally not have access to.  If you can get there tomorrow, do – otherwise explore 700 Bourke Street at Woods Bagots website.