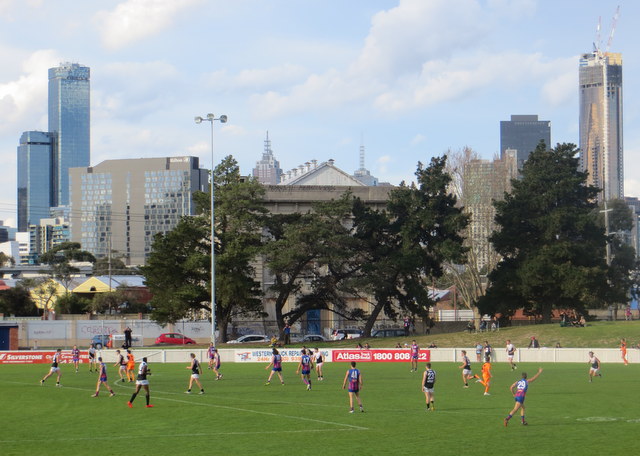 The view from the Norm Goss stand
Fred Cook was signing copies of Paul Amy's Fabulous Fred: the strife and times of Fred Cook at North Port Oval today.
Amy's book has prompted many reminiscences about Cook's fabulous football career. YouTube clips show not only his spectacular goals but Port in those days. Cook kicked 1,238 goals for Port in a career that began at the Borough in 1971.
Port Melbourne's spacious lead over North Ballarat gave lots of time to look up from the game to contemplate Melbourne's skyline. The Norm Goss stand offers 180 degree views. Prima Pearl* shimmers to the east making the Rialto, built in 1986, look quite squat. To the west, Mirvac's Marina YE takes shape at Yarra's Edge.
In 1977 Fred Cook kicked 167 goals. The crowds were thick on the ground and dense in the stands. Winfield was advertised around the ground.
The recently released Fishermans Bend Strategic Framework Plan gives a glimpse of the future.
North Port Oval is nominated as a key open space in Fishermans Bend in the Strategic Framework Plan. It will be a barometer from which to monitor the changes ahead at  Montague and Fishermans Bend.
Urban Melbourne provides a list of more than 20 towers of 200m or more that are either planned or under construction in Melbourne. There are likely to be more to add to that list with height being 'discretionary' in much of the Fishermans Bend Strategic Framework Plan. (Since the legend is hard to read, the grey areas are discretionary).
Port Melbourne 24.20.164 def North Ballarat 7.11.53
*Prima Pearl, 31 Queesnbridge Street will be 72 levels, 254 m.