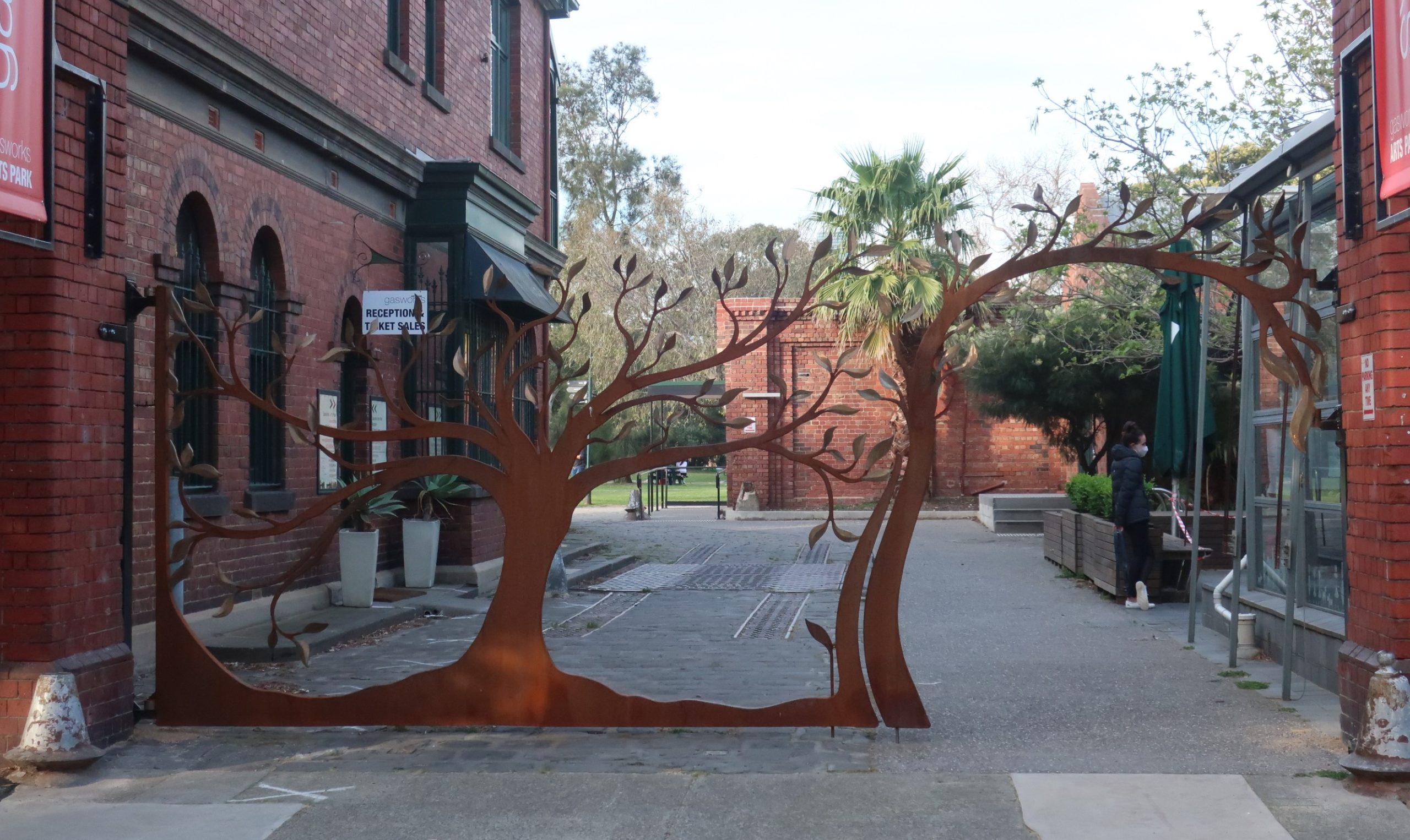 Through the gate
Artist Benjamin Storch was glad to create a work especially for the Park where he has his studio. He has been at work in the studio for some time hammering those leaves into subtlety so they'll catch the light and fabricating the tree. It is quite different from his other work as a tour of his website shows. Hanging such a heavy object on the old brick wall required careful engineering attention – a cooperative task between the artist and engineers at he City of Port Phillip. The tree gate was created with the intention of weathering as the seasons do. It was craned into place and installed on a wintry day in July. The gate is always open to pedestrians and can be opened as required for vehicles.
Although the gallery at Gasworks is closed for now, online platform Smartify has opened up new ways of interacting with the current exhibition, Place Makings.
Artist Rosalind Price, usually an avid traveller, traveled instead in the coastal strip between Albert Park Lake and the Bay 'finding and foraging' and then assembling and reconfiguring found materials.
Smartify gives a rich appreciation of her work. Price narrates her own exhibition, her clear, quiet yet playful voice conveying interesting insights on our place.
She weaves our mixed botanical heritage, exotic and indigenous, into forms and shapes. She works with the properties and qualities of the 'stuff' she gathers – does it bend, does it yield? Sometimes the material itself challenges any preconception of it – the tough structure of the canary palm lends itself to form while the pliable grass refuses to assume a tower shape.
Some of her material was gathered from the Canterbury Road urban forest planted in the 1970s by visionary urban forester Brian Carter, local leaders and school children. Many people have discovered this secret parallel bushland universe alongside Canterbury Road during lockdown. Price also draws on the materials discarded around building sites in a suburb continually being remade.
Smartify has enabled many more people to engage with the exhibition than would have happened in person. Rosalind Price has received written responses to the exhibition from as far afield as Nepal and Germany. She says "It's pleasing to hear that one's own day-to-day experience resonates with people in another countries. It shows how connected we all are – especially through love of the natural world – and how the specifics of one particular place can have relevance anywhere."
Janet Bolitho is on the Board of Gasworks Foundation which provided the funding for the gate.
More
Place makings by Rosalind Price, 1 to 31 October, at Gasworks on Smartify
Gasworks curator Tracey McIrvine interviews Ben Storch creator of the gate.
Benjamin Storch Fluid forms in metal
Brian Carter, Pioneer of the Urban Forest