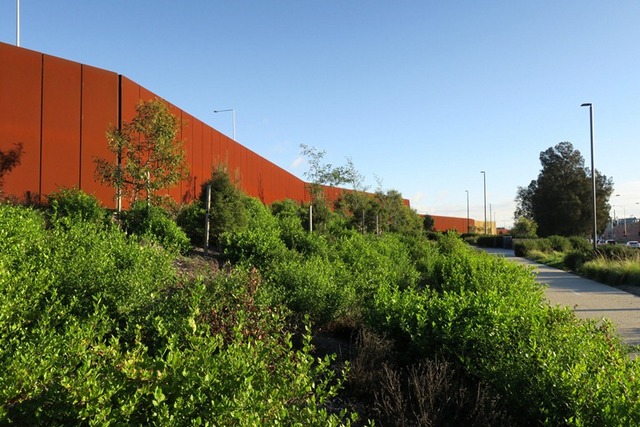 Todd Road Linear Park in Port Melbourne
Closed and open? Yes, both at once.
The closure of Williamstown Road to Port bound traffic marks both the symbolic and practical completion of the Todd Road linear park in Port Melbourne.
The idea of a landscaped ribbon of open space surrounding an expanded Webb Dock was advanced in community consultation on the Port's capacity project in 2012. The finishing touches are being applied.
Todd Road linear park is landscaping at scale. Such treatments are more often glimpsed at freeway speed rather than experienced on foot. But here that scale has been brought to bear in favour of pedestrians and cyclists, usually squeezed for space.
They are offered not just one generous shared path, but two, which will assist in dispersing people as the path's popularity increases. The inner path is well buffered from the heavy traffic using Todd Road.
The 3m shared path sits in a flowerbed of indigenous grasses and flowers planted according to a species palette of locally indigenous plants developed in close consultation with Friends of Westgate Park.
The corten noise wall soaks up the sun and is curing into deep tones of rusty red.
The path's crossings of  the major roads exiting the Port are well signalised with pedestrian and cycle lamps and audio tactile features. The pedestrian crossing from the Garden City to the Port side has been vastly improved for safety with the pedestrian push button at hand height.
And anticipating the critics …
Of course the full impact of Port traffic has yet to be felt. And yes, there will be challenges with managing graffiti and landscape. And sadly, those trips down Williamstown Road to the river will only be trips down memory lane. Perhaps the planting could have been random, less block like.
But . . .
With a shortage of open space raised as a persistent concern in a future Fishermans Bend, the Todd Road linear park offers an example of how safe, comfortable arrangements for walking and cycling flanked with biodiverse plantings can link people and places.
Port Places aims to avoid jargon but sometimes it hits the spot. At workshops people are often asked the question 'what does success look like?' – a question which often taxes my imagination.
And then I knew that I had seen it here.
A man and his four year old daughter were walking back from a picnic in Westgate Park to Port Melbourne hand in hand along the path.
And did I hear, or was that my success imagining, a blue wren in the undergrowth?
This would not have happened before the introduction of this path which links the pleasure of the Port Melbourne foreshore with Westgate Park, the river and the west beyond.
More
The Webb Dock linear park is part of this same project. Read about it here.