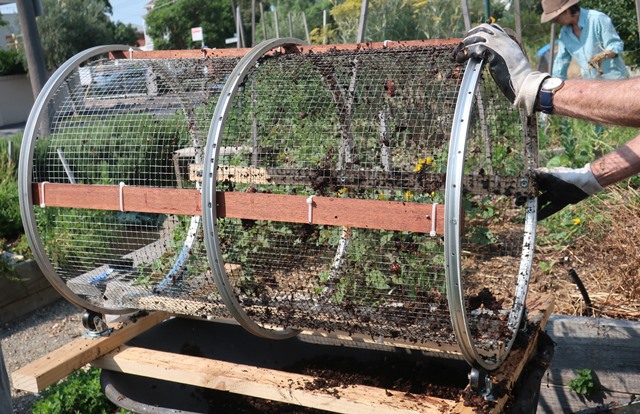 Transformation
Port Places is devoted to stories of the transformation of places of the lower Yarra – from streets and parks to Fishermans Bend, the biggest urban renewal area in Australia.
The imperative for transformation at every scale and in every facet of society and the economy has been given added urgency by the climate emergency.
How does transformation come about? Who and what are the agents of change?
Today we pare right back to celebrate the almost invisible, and less celebrated, agents of transformation – the detritivores. Detritivores are organisms that feed on and break down dead plant or animal matter. They include worms and fungi as well as bacteria. Without detritivores, things would not break down or decompose.
A growing understanding of the scale of food waste accompanied the concern about waste to landfill that was prompted by the kerbside recycling crisis. There is a growing interest in alternative ways of managing food waste, rather than just putting it in the bin. The Simply Living Community Garden in Nott St, Port Melbourne offers community composting which has attracted many grateful people, especially those living in apartments. The community composting bay is conveniently closest to the street to make it easy for people to drop in their food scraps. A bin containing the 'brown' stuff: paper, dead leaves, and shredded cardboard is placed alongside, so you can cover your scraps with brown material as recommended. All compost recipes stress the importance of the carbon to nitrogen ratio of 25 – 30:1. It's a much higher proportion than you might think. Too much nitrogen, and most food scraps are high in nitrogen, leads to sloppy, smelly compost.
So popular has the community compost become that it has been necessary to lock it down to further contributions from time to time while the detritivores go about their slow and steady work. 100kgs of vegetable scraps per week is not unusual, says tender of the garden, Janet Hoare.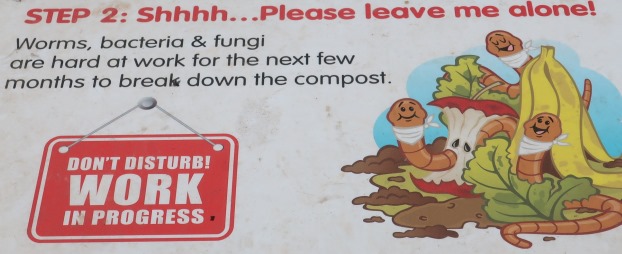 Compost needs care and attention. On the 3rd Saturday of each month, volunteers sieve the compost from the mature bay before spreading it on to the garden beds. This heavy task has recently been made much easier with the assistance of a bicycle wheel compost sifter. Janet commissioned it from the Port Phillip Men's Shed after seeing it demonstrated on Gardening Australia.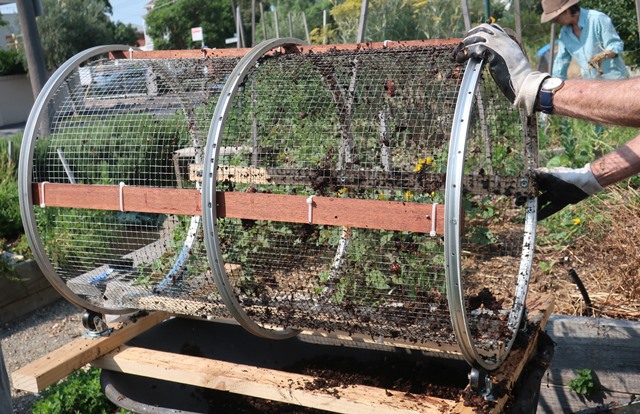 Janet says that the quality of the community's contributions is improving – less stuff is tied up in plastic bags (though some yoghurt still in its plastic cartons was found over the holiday period). Everyone's learning. Helpful signage assists. Think of it layered like lasagne, advises the notice.
The quality of the compost that comes out of the third mature bay depends on what's been put in to the first. Like us, compost does not thrive on a diet of bread and cake. Lots of vegies and fruit cut up small accelerates the decomposition process.
Remove stickers from fruit and vegetables! They remain resolutely unprocessed by the detritivores.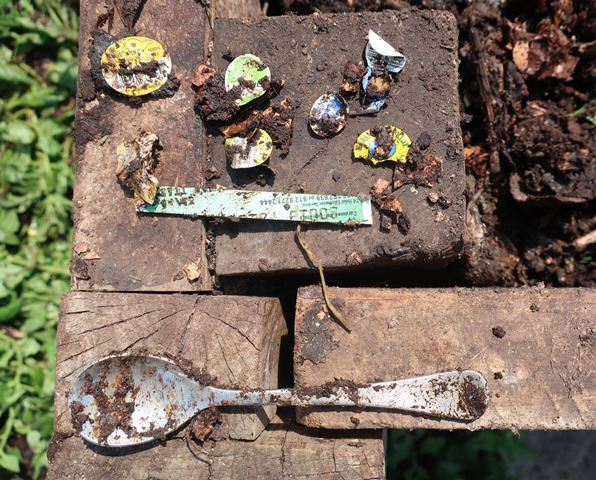 Food waste makes up an average of 35% of metropolitan households waste.
The City of Port Phillip is trialling a limited FOGO (Food and organics) collection in Elwood where larger blocks can more readily accommodate more bins. The City of Yarra is undertaking a similar trial in Abbotsford. In the longer term, hopes are pinned on an AWT, an Alternate Waste Treatment facility, that can process larger volumes of material. This has been under investigation for more than a decade.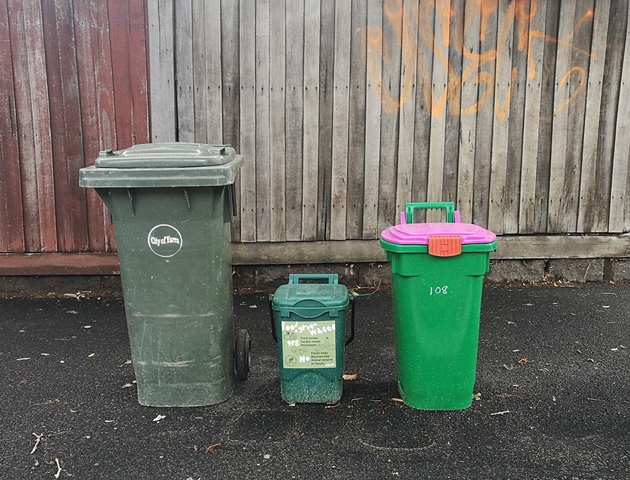 The Simply Living Community Garden is itself a site of transformation. A dull lawn area and carpark has become a productive garden accessible to the community at all hours as well as to the lorikeets. the pollinators and the detritivores.