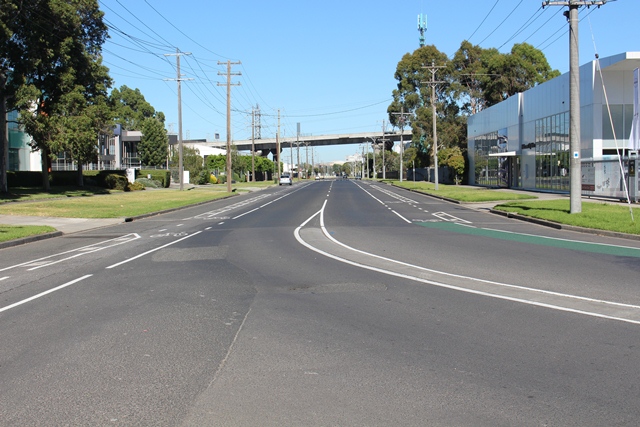 Turner Street, Fishermans Bend
Road Portraits: Turner St
There was no Turner Street when children from the nearby Fishermans Bend Migrant Hostel played there in the fifties. It was like an Enid Blyton story, recalls former hostel resident Robin Nash, where the children constructed an imaginary world out of the mini-islands in the swamp. Their parents would make their way over the informal sandy terrain to work at GMH as General Motors Holden was generally known.
Turner Street is a relatively new street, perhaps constructed in the late '50s. Named after Port Melbourne councillor, Les 'Leaky' Turner (he was a plumber) it cuts across Fishermans Bend like a knife connecting the only two east west streets – Ingles and Salmon Streets.
Right now the roads are few and far between in Fishermans Bend making for a long walk between destinations with no benches, minimal shade and wide nature strips but inadequate footpaths. Those attributes are contra-indicated for walking.
While Turner St is not as wide as Port Melbourne's Railway Reserves, you don't even need to  be an urban dreamer to see the possibility of a tram running down the middle flanked by walking and cycling on either side.
'Make a good street, and you make a good city' (Rob Adams)
The Fishermans Bend Vision has a target of 80% of trips to be made by active transport – that is by walking, riding and public transport. People have laughed out loud on hearing this audacious target which has not been achieved anywhere else in Melbourne – even in the most public transport rich, cycling supporting, City of Yarra.
I want to achieve this target.
Jan Gehl, the globally influential people-centred Danish urban designer, who has done so much to make Melbourne the place it is today, gives insights into how it can be achieved.
At a talk in Melbourne in 2011, he cajoled city planners to be 'be sweet to cycling, be sweet to walking'. Dividing multi-lane streets into space for trees, bike lanes, medians transforms streets from primarily about transportation to places for people. A good public realm and a good public transportation system are 'like brother and sister', he said.