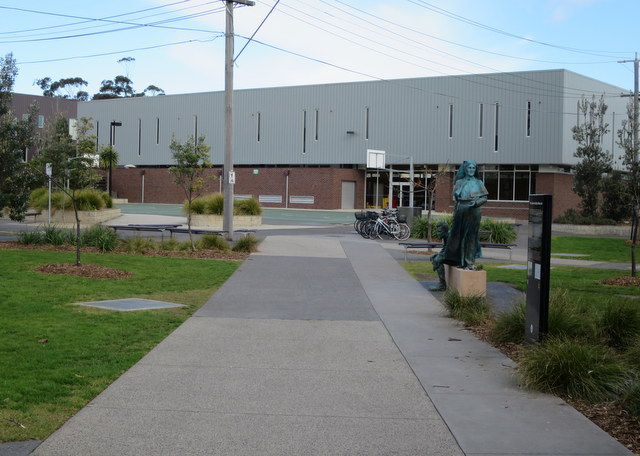 Underfoot
A park where a road used to be
On Saturday 8 August a crowd gathered on the former Foote St roadway for the Lemnos Gallipoli memorial unveiling.
It was fitting to be put in place by elder N'arweet Carolyn Briggs. She took us back to a time before the land was divided by roads, when the Yalukit Willam of the Kulin nation walked here. Her great grandmother, Louisa Briggs lived through the same time as T V Foote, councillor and magistrate.
For over a century, Foote St was a local Albert Park street where people lived with the dust from the neighbouring Gasworks.
In the late 1970s, the Westgate Bridge was nearing completion. The people of Port and South were beginning to grasp the likely impact of traffic through their quiet local neighbourhoods.
In 1975, Minister Meagher announced a major study to look into the traffic difficulties that might affect the residential areas of Port, South and St Kilda. Among the recommendations in the 4 volume report was the route from the Westgate Bridge, exiting onto Graham St and then down Bay St. And that is why to this very day, you must turn right from Graham St into Bay St rather than proceed straight along Graham St. The report also said that 'It is now considered Foote St should not be used to provide such a connection.'
Graham St was closed at Foote St – stage one of the closure.
Thirty five later. To make more space for the new Albert Park Secondary College, the City of Port Phillip closed Foote St at Graham St to create a new park connecting the school with Gasworks Park. The small amount of local traffic has dispersed along other streets. It's hard to believe the Park hasn't always been there.
The former school building was inward looking whereas the new Albert Park College opens comfortably to its surroundings. The outdoor basketball court is well used in and out of school hours. The small park makes interaction between the school and its community easy.
So that is how several hundred people could gather on a former roadway while some people walked past with their dogs, and others stopped, pleased to have happened upon this story.
Added stature is now given to the Foote St Reserve by the presence of the Lemnos Gallipoli sculpture. Matron Grace Wilson with the bearing of a Greek goddess is now part of our daily lives.
This is also a story of two brave and determined women responding to the great challenges of their time.
More
Laura Barwick Briggs, Louise (1836 – 1925) Australian Dictionary of Biography
Janice McCarthy Wilson, Grace Margaret (1879 – 1957)
Great War Nurses Australian War Memorial, includes several photographs of Matron Grace Wilson.