Unease in the village
Over the last twenty years Albert Park shops became 'the village'. Albert Park has been the poster child of a successful neighbourhood shopping centre. It was the place to go for coffee long before other places developed their own coffee cultures.
Its anchors over all those years have been the Albert Park Deli, the Avenue Bookstore, Andrews Hamburgers and, of course, Bisbas. As one customer said of that hardware shop "the great thing is you don't need to hunt around for anything, just ask and they'll find what you need."
Albert Park has not always been so lively. In the 1970s, the Biltmore, now apartments, was a boarding house as were many of the mansions in St Vincents Place which had never recovered from the 1890s crash. St Vincents Gardens was fenced off.
It began to turn around when Greek and Italian migrants bought and renovated houses and young families bought (what were then) affordable houses.
Heritage protection came early to Albert Park thanks to far sighted South Melbourne Councillors. Contrary to apprehension that heritage listing leads to property values going down, they have just gone up and up.
Success begat success but now that success has over-reached itself. Landlords are now asking for rents that bear no relation to the reality of retail, according to one long standing shop owner. The Commonwealth Bank closed after a massive rent hike. Same with some cafes. The chairs and tables on the footpath have gone. The after walk, after gym, after work gathering routines that have brought friends together for years have to find a new home. The chains have moved in.
This has been the fate of nearby Fitzroy Street and Acland St, but until now Albert Park was spared.
The configuration of Albert Park leads to the clustering of retail around the heritage heart of the village between Montague and Merton Streets. It is as recognisable today as it was in the 1920s.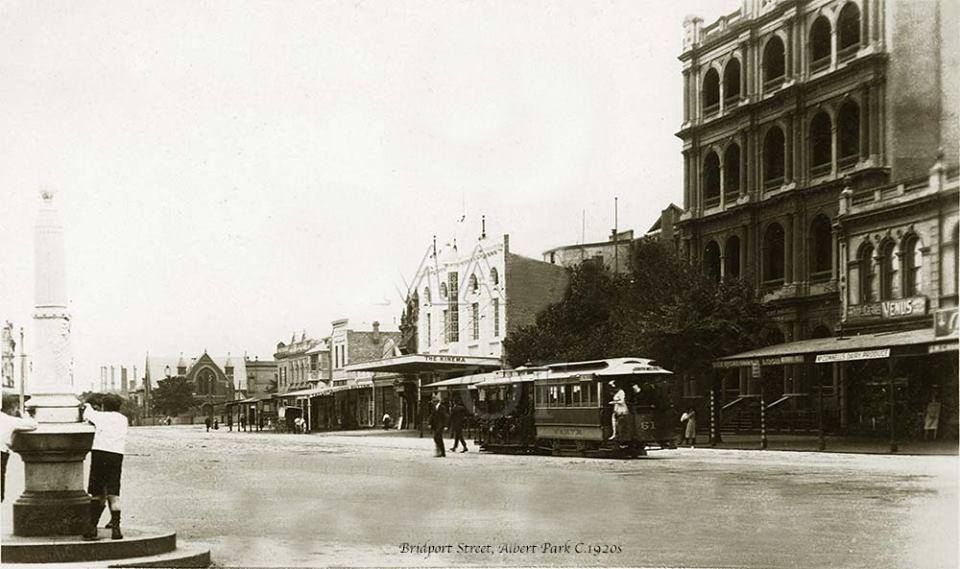 Real estate in Albert Park is now the most expensive of any other suburb across metropolitan Melbourne at $12,947 per  square metre.1
What little remains of affordable housing in Albert Park is being lost. A whole block of seventeen flats was recently sold for between $8 and $9m to make way for more efficient – but definitely less affordable apartments.
The final straw has been the planning application for the demolition of the house and offices associated with filmmaker Paul Cox at 1 Victoria Avenue. The way that characterful building curves around that corner so comfortably – it just fits.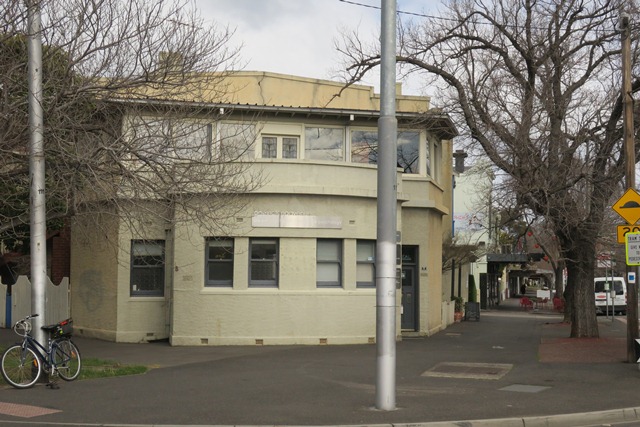 More
Read the fabulous homage to Bisbas Hardware – Est 1978 Tales of Bricks and Mortar, 10 November 2017
Sue Williams Albert Park residents fight to save iconic former home of Paul Cox, The Age, 28 July 2018
1Stephanie Chalkley-Rhoden Melbourne house prices: real estate data reveals most expensive suburbs by square metre ABC News 10 August 2017