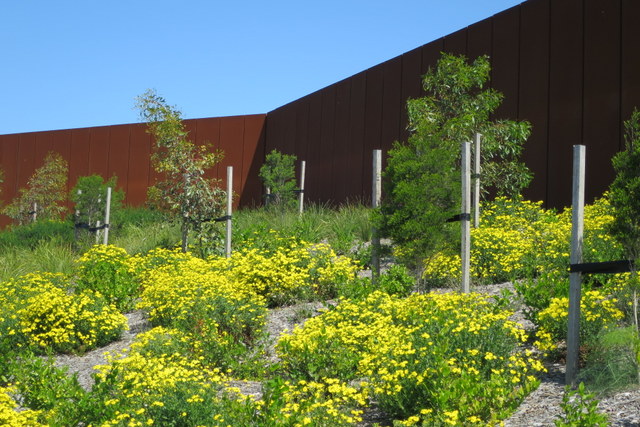 Unfinished Business
An update on the Port of Melbourne's progress in implementing amenity measures around an expanded Webb Dock
A year ago, all was upheaval on Todd Road – the boundary between Port Melbourne and the Port of Melbourne.
A wall was under construction to protect residents from the noise anticipated from an expanded Webb Dock.
The Port made several promises to the surrounding community to allay concerns about the massive Port project – including the noise wall and a landscaped linear park with pedestrian and bike links to connect the Bay with the Yarra River.
A year later, the section of the landscape between The Boulevard and Williamstown Road is finished. The corten noise wall is striking. It soaks up the sun into deep shades of rust. It is indifferent to the challenge of the weather and the coastal location. The landscape has settled in and the range of carefully chosen indigenous plants are having their first spring. Its yellow! Senecio pinnatifolius, lance-leaf groundsel, seems to be doing the best. Closer inspection suggests that a number of plants have been stolen.
The other sections? Not so good. Work seems to have stalled north of Williamstown Road.  It looks like when a new house is finished but the owners don't have enough money left to do the front garden.
The landscaping along the Webb Dock East path is very poor. Only a sparse smattering of grasses – unlikely to hold the soil, invite the birds or interest walkers. It's regretable that the revegetation on site wasn't pruned and tidied, rather than removed wholesale. Plants take a long time to establish in that harsh coastal environment.
The time for planting has now passed. (35.8 degrees maximum today)
The landscape vision put forward to the community in a series of meetings from 2012 has yet to be realised. The landscape seems to be lagging behind the delivery of the hard engineering for the Port Capacity project.
The linear park around the Port must be delivered to the standard promised to the community before the project is signed off.
Meanwhile, adjacent to the path, Webb Dock is being prepared for the containers it will soon house. Containers will be stacked 5 high in visually sensitive areas, and 7 further away. The Port of Melbourne Corporation website shows how Webb Dock will be configured.
More
To view the future layout of the container terminal at Webb Dock, visit the Port of Melbourne Corporation's Port Capacity page