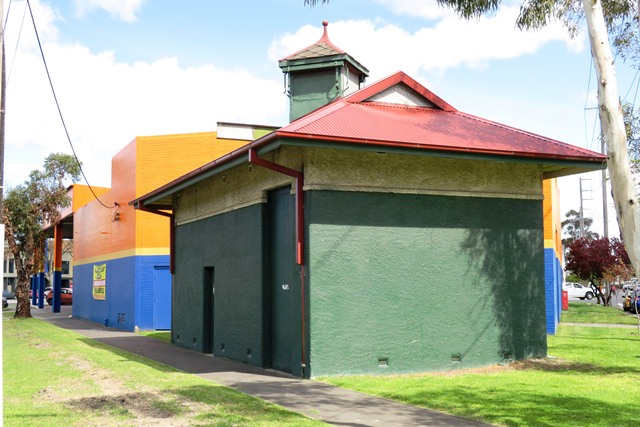 Utilities
The thread for this exploration in Port Places began in Johnson St in South Melbourne and ended (for the time being at least) off Spencer St at the Upper West Side development of the former Melbourne power station site.
The electricity substation in Johnson St is a moment of whimsy in a landscape of warehouses sold or for sale in the Fishermans Bend renewal precinct. Neglected and graffitied for many years, the City of Port Phillip recently initiated the process of giving it heritage protection following the recommendations of a heritage study of Fishermans Bend. The citation for the substation offers more context for understanding this building as well as introducing unfamiliar words which describe its charming features such as 'ogee' and 'gambrel'.
The sub-station was built between 1900 and 1910 before the formation of the State Electricity Commission in 1921. Port Melbourne was one of eleven Municipal Electricity Undertakings in inner Melbourne established to supply power to their municipalities under the Electric Light and Power Act (1896).
Next door to the Johnson St substation is the CitiPower substation which has been supplying the power needs of industries in the area since 1965. When Premier Kennett privatised electricity assets in 1994,  Michael Donovan, a director of real estate agency Fitzroys, bought the site for $575,000 and leased it to Citipower. With the site's value increased through Fishermans Bend's re-zoning, the annual rent of $490,000 increased to $1.1 million this year. It has recently been sold – now  apparently worth $10m following the capital city zoning.
In nearby Port Melbourne, as part of the recent upgrade of Centenary Reserve, the artwork on the substation (with its gambrel roof) brings all the energy of electricity to this centrepiece of the park.
The former City of Melbourne Power Station, one of the earliest in Melbourne, has been incorporated into the Upper Westside development of 4 apartment towers of 30 to 50 storeys fronting Lonsdale, Spencer and Little Bourke Streets. At ground level, you have no sense of the towers above. It's all laneways and street art and bold interpretation of the site's electricity history.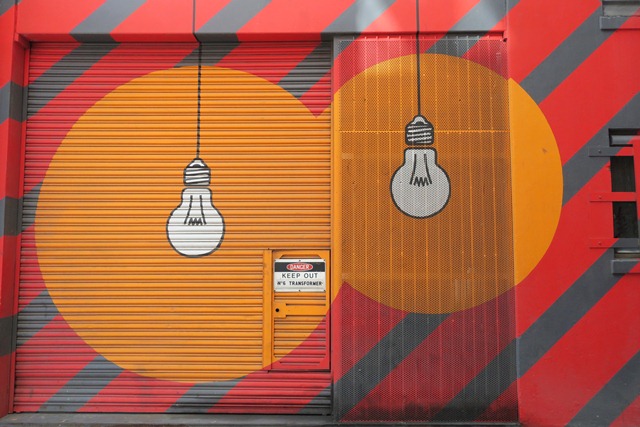 ps On the no 1 tram today, I spotted Johnson St's substation twin which suggests that the roof was originally made of wooden shingles, another interesting detail. (Perhaps there is an architectural term for them too).
Sources
Electricity substation, 98 Johnson Street, South Melbourne Citation No: 2364
Clay Lucas Power to South Melbourne landlord after rezoning of electricity substation 29 March 2016
Marcus Wong 'Powering inner Melbourne: the forgotten Municipal Electricity Undertakings' Waking Up in Geelong (blog)
ogee: a double curve, resembling the letter S, formed by the union of a concave and a convex line.
For a comprehensive exploration of the term 'gambrel', see The 'Gambrel or the Mansard?' Problem Chris Hall The Carpentry Way