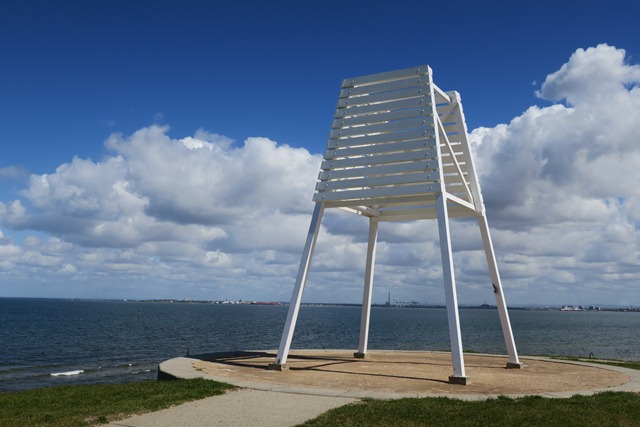 View from Point Ormond
There's something about Point Ormond that tells that it has always been a significant place.
The Yalukit Willam of the Boon Wurrung gathered here as middens discovered in 1974 confirmed.
Beacons were lit here to celebrate Separation and the Bicentenary.
Although milder in slope and elevation than when it was a steep and curving headland of red sandstone known as the 'Little Red Bluff', Point Ormond is a magnet for the exerciser in Port Phillip's flat landscape.
Rounding the corner, the city skyline appears. As it tapers towards the west the sculptural ribbon of the Westgate Bridge is revealed and a flash of red tells that the Spirit is at Station Pier.
There have been new insertions into that landscape this year – the three new ship-to-shore Neo-Panamax robotic cranes at Webb Dock.
I'd gone to Point Ormond hoping to witness a once in a generation event observed by naturalist Gio Fitzpatrick earlier in the week. He reported that
"Point Ormond is the epicentre of a huge bird migration fallout. Within a 50m radius of the hill I saw Rufous Whistler, Rose Robin, Brown Songlark, Australian Bushlark, Sacred Kingfisher, a White throated Gerygone and four Horsfield's Bronze Cuckoos."
but I only saw seagulls and cormorants.
Then out of left field, the next two cranes emerged on the horizon silently making their way to Webb Dock.
These massive visual intrusions (insertions) in the landscape signal the arrival of the most fully automated Port in Australia. Testing is underway before the VICT terminal becomes operational at the end of the year.
By December 2017, the terminal will have six cranes and an annual capacity of 1.4 million standard containers.
On Friday 28th October, you are invited to gather at Princes Pier at 6pm to commemorate the life and times of Allan Whittaker waterside worker, shot by police in 1928. It is also a time to remember and reflect on a time when work on the waterfront was both manual and menial.
All in less than one hundred years.
More
Meyer Eidelson's fabulous history of Elwood Flood, Fire and Fever draws deeply on his life in the place. It is available to read on his Melbourne Walks website
VICT entered into an agreement with the Port of Melbourne Corporation in May 2014 for the design, construction, commissioning, operation, maintenance and financing of the Port of Melbourne's new international container terminal and empty container park at Webb Dock. The lease extends to 2040