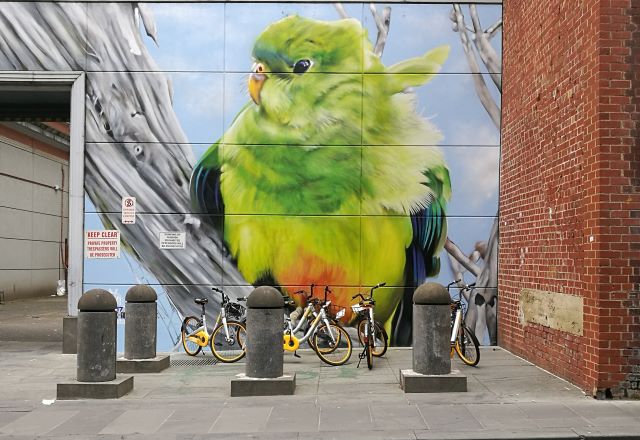 Vulnerable
On the first day of summer in 1990 a procession made its way from Albert Park through Gasworks Park to the beach at the end of Pickles St in South Melbourne. Children carrying hand made paper lanterns lit the way. Parrot puppets 'flew' above the procession. At the beach a ceremonial performance was staged to farewell the Orange-bellied parrot on its migration across Bass Strait to Tasmania.
The wondrous Wings of Summer community performance was to highlight the plight of the critically endangered Orange-bellied parrot. It was conceived by the late Meme McDonald and choreographed by Danceworks Helen Herbertson and Beth Shelton. The event coincided with the first release into the wild of captive birds.
The power of the visual imagery and being part of such a boldly conceived community arts project have stayed with me. Few images of the event survive from that pre-digital era. Every year since then, early summer is associated with the tenterhooks time of following their migration and breeding, now totally dependent on the captive bred population. (Compare and contrast for pondering our attention to this critically endangered bird with the attention that has been focused on the peregrine falcons breeding in Collins St.)
The first wild parrot to arrive at Melaleuca this year was was Silver Red M, the oldest wild-born bird in existence. It has been an exceptional year for this fragile species with 38 males and 38 female returning to Melaleuca at today's date. (And I have to say today's date deliberately, because the situation can change from day to day.) The balance between males and females is especially favourable for reproduction. In 2016, there were only 3 females out of 14 wild birds. Significant risks to successful breeding remain. The birds might be out competed by other birds for nest boxes, there is the risk of fire, disease or predation.
Thirty years after that Wings of Summer performace, the Orange-bellied parrot remains critically endangered. There are fewer than 50 individuals in the wild. Their breeding and survival as a species is entirely dependent on captive bred populations. The parrot overwinters on the southern coast of Victoria where it feeds on saltmarsh plants including beaded glasswort, shrubby glasswort and other saltmarsh species. From September onwards, the birds begin their migration to Melaleuca in Tasmania, now their only breeding place, stopping along the way. One pair of birds lost their way possibly having lost the instinct for their migration. Two Orange-bellied parrots declined to make the migration. They were observed in Swan Bay feeding on shrubby glasswort.
The orange-bellied parrot was once fairly common in the wetland saltmarsh that spread across the Yarra River estuary. The parrots were observed in Fishermans Bend and were relatively common, I am told, in Williamstown as recently as the 1980s1. Over time, the remaining saltmarsh has been removed from the Port Melbourne side of the River, though small patches can be found around the salt lake at Westgate Park.
Recovery plans for the Orange-bellied parrot have been in place since 1984. It has the dubious distinction of being the first species for which a recovery plan was written. Thirty five years and millions of dollars of investment later, the future of the orange-bellied parrot, while looking brighter than for many years, remains parlous and tenuous.
---
In 2018, wildlife photographer Doug Gimsey applied to have the platypus listed as vulnerable in Victoria. After examining the evidence, a Victorian Scientific Advisory Committee supported the nomination. The government has 60 days to respond to the recommendation.
The threats to this globally unique animal are 'multiple and synergistic2. They include habitat fragmentation which isolates populations, erosion of the river banks where they like to make their nests by the force of stormwater, nutrients and pollutants in stormwater , and lack of flows. The air breathing platypus also drown in opera house nets which are used to catch yabbies. (Opera House nets were banned for use in private and public waters on 1 July last year). It is estimated that the entire population of platypus in a sub-catchment was lost through the use of opera house nets.
Melbourne Water's Healthy Waterways strategy confirms the grim outlook.
"The length of waterways unable to support platypus will increase by around 1200 kilometres. This translates to a probable extinction of platypus across the entire Werribee, Maribyrnong and Dandenong catchments, with only the upper reaches of the Yarra and Bunyip rivers likely to sustain the species in the region."
---
Recent submissions to the review of the Environment Protection and Biodiversity Conservation Act highlighted that many threatened species do not have recovery plans, and those that do may not have funding secured, or funding comes in fits and starts which do not support the long term recovery of a species. Recovery plans can be years in the making and require the collaboration and investment of time and money by many partners.
The level of investment in recovery of a species is considerable. Zoos Victoria is committed to fighting extinction of a number of local species. They have committed $3m over 5 years to the captive Orange-bellied parrot breeding programme at Healesville. In a submission to a senate inquiry, Zoos Victoria observed that recovery teams were nearly always made up exclusively of scientists. They argued for more inter-disciplinary teams, including fundraisers. I'd suggest that artists should be added to that list. The collaboration and goodwill across multiple partners and agencies involved in the Orange-bellied parrot recovery programme is revealed in those listed on the Zoos Victoria website:
Birdlife Australia; Department of Agriculture, Water and the Environment; Department of Environment and Water; Department of Environment, Land, Water and Planning; Department of Primary Industries, Parks, Water and Environment; Moonlit Sanctuary; Orange-bellied Parrot Volunteer Groups; Priam; University Research Groups; Zoos South Australia and the Zoo and Aquarium Association.
Biodiversity is in severe decline across Australia, drastically exacerbated by the 2019/20 bushfires. In response to the thousand cuts to biodiversity, Dr Kyle Soanes suggested a thousand small acts of restoration. While not arguing for one moment that this is a substitute for, or equivalent to, large scale land clearing and logging, there are many ways of supporting urban biodiversity such as gardening with indigenous plants, supporting local organisations working in biodiversity restoration, and keeping litter out of our waterways and bays. Or just get to know a tree in your area – its moods and seasons and the life it supports.
Jimmy Dvate's portrait of an Orange-bellied parrot in Little Bourke St makes this exquisite bird known to us.
---
1 Jonathan Starks, now Hindmarsh Landcarecoordinator worked on the Orange-bellied parrot recovery programme for 20 years.
2synergistic: relating to the interaction or cooperation of two or more organizations, substances, or other agents to produce a combined effect greater than the sum of their separate effects.
Find out more about the Orange-bellied parrot Neophema chrysogaster and listen to its call, on Birdlife Australia website.