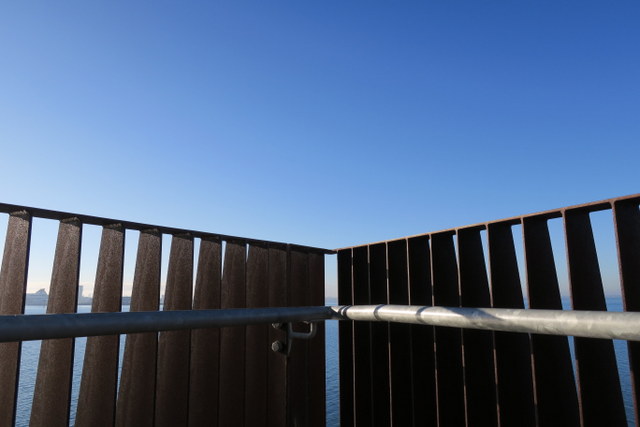 The Webb Trail
The easy 1.5km walk from Life Saving Headquarters at Sandridge opens up a different perspective on the city skyline. It's a pleasant walk at any time of day, but best just before sunset on a clear fine day when the low western sun illuminates the city buildings.
At the southern most point is an observation tower, mildly elevated.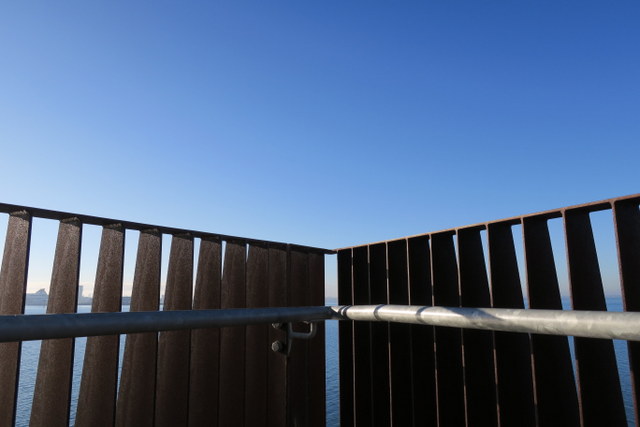 The observation deck, designed by Cox architects, has a surprising, accidental feature. The wind blowing through the corten slats creates sound.
This is the harsh sound of the north wind on a 35 degree day in December 2015 –  suggesting climate unease and presaging the fires in the Otways that were to follow a few days later.
The port has been expanding into the Bay at the mouth of the Yarra since the fifties. At first it was just a stub into the Bay, the River Entrance Dock. It was later re-named for John Percival Webb, a long serving commissioner of the Melbourne Harbour Trust.
Webb Dock's most dramatic expansion occurred in the 1990s when the construction of the Bolte Bridge and the development of Docklands meant ships could no longer make their way up the River. A pathway round Webb Dock was recommended by the Environmental Effects Study conducted at that time. Indigenous plants suited to the harsh coastal conditions were planted, creating a continuous landscape theme along the Sandridge foreshore.
For over twenty years the reclaimed land has been settling. Waiting. Now it's time has come to be a container terminal capable of handling over 1 million containers a year.
The observation deck at Webb Point, briefly the boldest structure in the landscape, is now dwarfed by the recently arrived Automated Stacking Cranes cranes that will unload and stack the containers.
The colour of the cranes is Seamist Grey – the choice made after consultation with stakeholders.
I demurred. On the day that Jeffrey Smart died, I wrote about why I love the strong colours associated with the Port.
More
Here is a map to the Webb Trail and some points of interest along the way