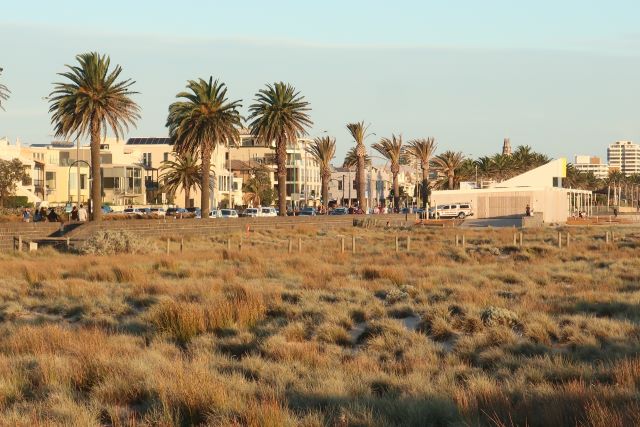 Wetlands
It rained heavily on Friday – 50mm according to a rain gauge in Port Melbourne. The rain fell quickly. It flushed the gutters which flowed towards Port Phillip Bay bearing whatever happened to be in its path – litter, cigarette butts, car residues. A trail of detritus marked the upper tide line on the beach. The force of the storm water popped the lid off a local drain on the beach, the water cleaving a river path to the Bay.
Port Melbourne beach is a dynamic environment. Since the late '90s and more recently with the protection of dune fencing, coastal vegetation has flourished. The dunes are shaping up as sand is trapped by the hairy leaves of the spinifex and the dense networks of roots and stems of the reeds and sedges.
Sometimes, when a high tide coincides with heavy rainfall, the sea flows up the pathways behind the dunes creating temporary wetlands where the clumping sedge, Ficinia nodosa (also known as knobby club-rush) thrives. The sedge thrusts up from long rhizomatous stems. Knobby club-rush doesn't mind spending time with its roots in water, and is equally is at ease during hot, dry weather. Looking down from Beaconsfield Parade, you can see a ribbon of these reeds and sedges in the damper areas near the blue stone wall.
Wetlands were once, of course, a defining feature of Port Melbourne and Fishermans Bend, particularly the tapered Sandridge Lagoon which ran from the beach towards Ingles St.  Cox's 1864 chart illustrates so clearly the distribution of wetlands  large and small. Now Port is largely covered with hard surfaces – roads, roofs and footpaths.
Appreciation of the critical role and functions of wetlands is growing even as they come under increasing threat from climate change and urban development pressures. Coastal wetlands protect shores lines from erosion, clean water and provide homes for birds, eels and fish. On 2 February 1971, Australia became a signatory to the Ramsar Convention on wetlands, which celebrated its 50th birthday this week. The western shoreline of Port Phillip Bay, including the Western Treatment Plant, Edithvale Seaford wetlands and Westernport Bay are Ramsar listed sites nearby.
Constructing wetlands in new housing estates to capture and treat storm water as well as provide places for recreation and biodiversity is now business as usual. Saltwater Coast Point Cook estate is a recent example. But in dense urban areas, the space is not available. Councils are now installing compact urban storm water treatment systems. The City of Melbourne is home to two flagship storm water capture projects – Fitzroy Gardens and Birrarung Marr. The Fitzroy Gardens project harvests water from a 67ha catchment to provide irrigation of 69 million litres for the heritage listed Fitzroy and Treasury Gardens. The water is stored in underground tanks and then pumped through a specially constructed planter containing a blended sand media and tolerant native plants.1
Rain gardens are being installed throughout Port Phillip. One of the plants frequently used in these rain gardens is Ficinia nodosa. They are the 'footsoldiers of stormwater' according to Marc Noyce, designer of the Fitzroy Gardens scheme. The Ficinia nodosa are planted in to fine, clean sand. When it rains heavily like it did last week, the storm water, with its load of nutrients and pollutants, filters through the root system where beneficial microbes and bacteria process the pollutants and render them inert. The water is cleansed and the plants thrive.
So I thought it was time to celebrate this hard working foot soldier of storm water.
Local artist Rosalind Price created these fine vessel vases which seem to be purposely made for a single stem of knobby club-rush, even though, like other things (and people) that work collectively, it doesn't seem quite right to isolate a single stem.
More 
1 Fitzroy Gardens stormwater harvesting project by Biofilta
Ramsar: water wetlands and life.
Here in Victoria, Westernport Bay is under threat from a proposal to create a gas import terminal