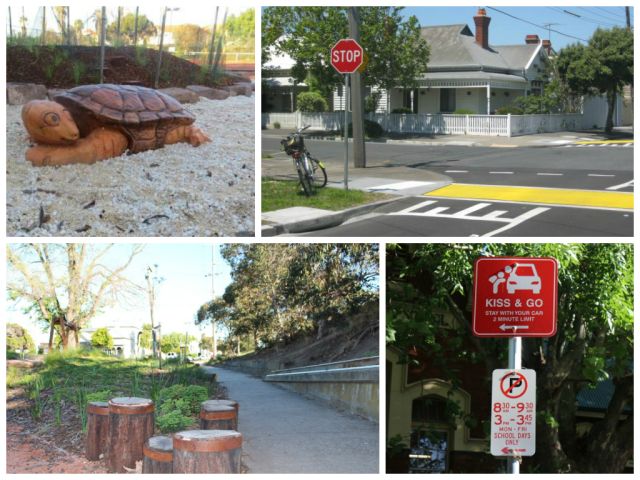 What does it take to get children walking to school?
Children are particularly encouraged to walk to school in October.
A range of supporting conditions need to be in place for parents to feel confident about letting their children walk to school.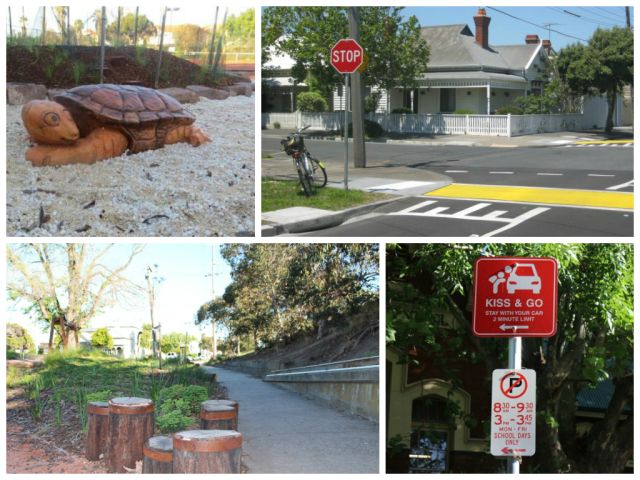 Each link in the journey needs to work. Each year, Port Phillip council adds more ingredients to make the walk to Port Melbourne Primary school easier, safer and more attractive.
A playground is upgraded next to a key walking route inviting play along the way
The traffic light changes quickly for walkers when the button is pressed
Landscaped garden beds buffer the footpath from the road
Yellow topped crossings highlight the presence of children and walkers
Narrow streets support lowered speeds around the school  (Arterial road Graham Street remains hostile, carrying heavy trucks. Flashing 40 kph and a supervised crossing assist)
A 'kiss and go' zone is installed for parents who must drive to school
This week children in pairs and some in groups made their way to school while other children with parents and grandparents chatted as they walked.
There are still parents who perform 'outrageous manoeuvres'* in the school area – one of the reasons why driving children to school is discouraged in Germany where it is normal for children as young as six to make their own way to school. Parents are also explicitly discouraged from driving children to school on the grounds that as it limits their personal development.
Hopefully ICM, Independent Children's Mobility, will soon be an anachronistic acronym as further ingredients are added, and links strengthened, to make walking to school the norm in Port Melbourne.
* This post was prompted by hearing a presentation at the University of Melbourne by Penelope Somers MIEAust CPEng about a recent study trip to Zurich and Munich