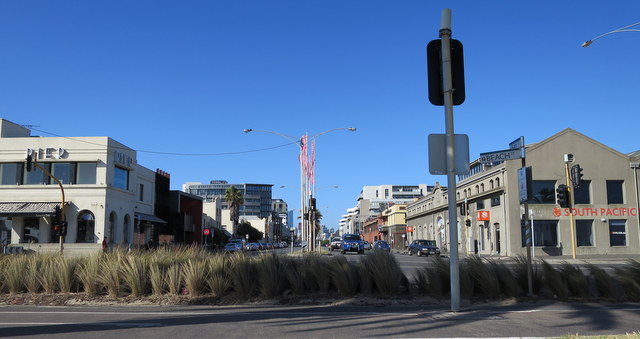 Where Beach meets Bay
The Pier Hotel and Morley's coal depot* are strong anchors at the entrance to Bay St. Each building embodies a strong story of Port Melbourne.  A hotel has been on this site since Wilbraham Frederick Evelyn Liardet established a hotel here in 1840. This week we mark his arrival.
It's easy at this spot to imagine Liardet and his sons hacking a road out of the scrub to get as directly as possible to the township of Melbourne – a route that continues to serve that role too well according to some.
The blue-stone solidity of Morley's Depot dating from 1872 speaks of the means and influence of William Morley, first mayor of the Borough of Sandridge.
Leading walking parties through this corner made me experience it from a visitor's point of view. The Pier Hotel now perches on the corner – unlike in its heyday when it was surrounded by stabling and outhouses. The corners for walkers to wait for the green light are mean. Walkers clung like limpets to the narrow footpath as trucks using their airbrakes rounded the corner. Only the recent (and belated) introduction of a 40 kph tempered the experience.
The walks supported the Waterfront Welcomers programme – a volunteer programme initiated by SHIP.**  The Welcomers aim to entice those cruise ship passengers who haven't planned their day in Melbourne up Bay St to  reveal that Port Melbourne is full of interest. However, negotiating the block between Beach and Graham  St is a challenge. This is well recognised in the City of Port Phillip's Bay Street Structure Plan which is strong on analysis of the issues. Solutions are harder to find.
History helps.  With our very own J J Clark designed Post Office on the corner of Rouse St, and the former Naval Drill Hall – possibly the first permanent building of the Royal Australian Navy, there are plenty of stories to sustain interest up the street.
This weekend marks the arrival on 'The Beach' of the Liardet family. Their flamboyant presence in Port Melbourne and their generosity, hospitality and flair are good reminders to re-kindle these qualities in Port Melbourne and at that intersection.
Liardet descendant Pamela Horsley's exhibition Adventuring with the Liardets is launched this Friday evening at Gasworks Arts Park with a floor talk at 1pm on Saturday, after the Gasworks Farmers Market. The exhibition is on until the 30 November.
* now South Pacific Health Club
** Social Health and Inclusion in Port