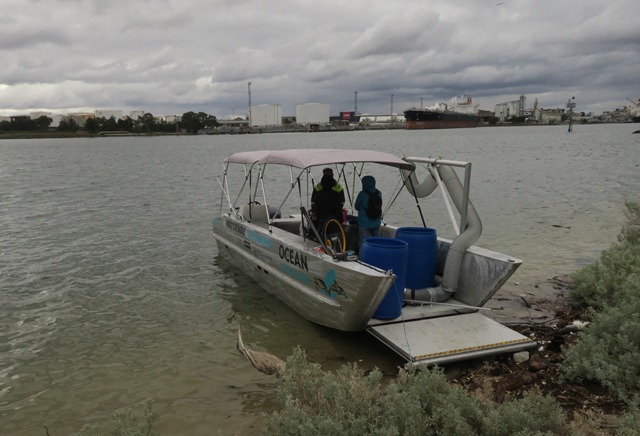 Yarra Blitz
On a (rare) cold, wet and squally day, waves lapped on the shore of the Yarra River at Westgate Park. Back and forth washed the post-storm familiar mix of plastic bottles, polystyrene and wrappers, tantalisingly out of reach of the Tangaroa Blue clean up volunteers because of the high tide.
It was all dismay and despondency at the volume of litter when down the River came the Ocean Crusaders  in their specially designed boat right on to the shore. These can-do Queenslanders and their partners Cleanwater were in Melbourne to show the effectiveness of their vacuum cleaner which guzzles litter from amongst the rocks and reed beds lining the River. The vacuum can get to places people can't reach, and can do more in five minutes than a person could do in weeks.
Ocean Crusaders founder Ian Johnson was shocked by what he saw of the lower Yarra. "The state of this River's left me speechless", he said, "we've got some work to do".
And get to work they did. The following week, Ocean Crusaders, the Yarra Riverkeeper Association, Melbourne Water and many community groups in a great collaboration removed 476 kg of rubbish,  2,635 plastic bottles, 690 cigarette butts, 396 straws, and 73 O bikes from a section of the Yarra River near the Power House. Here is Aaron from Cleanwater attempting a calculation on how many polystyrene beads were collected on that day.
That 476 kg collected from the River either never made it into a bin or escaped from one.
It's bin night in Port – the ritual habitual. The City of Port Phillip urges us to maintain confidence and to continue recycling in this statement.
We've been complacent too long in accepting the absurd proposition that recycling means sending our plastic waste to China rather than managing it at home.
While innovation in waste management, and stimulating local recycling industries is clearly necessary, avoiding single use plastic and picking up litter along the way are immediate actions to take.
Environment ministers meet on Friday 27th April with public expectation high that their meeting will result in a national approach to the present recycling crisis and the multi-faceted issue of managing the waste we generate.
For some ideas on how that could be done, read the Boomerang Alliance's letter sent to the Ministers in advance of the meeting.
More
A workshop next week on Waste-free Living – The Rogue Ginger Wednesday 2 May at Gasworks 6.30 to 7.30 pm
Tangaroa Blue founder Heidi Taylor established the Australian Marine Debris Database to enable volunteers and organisations running beach clean up events to also collect data with a consistent methodology to be collated into a standardised national database.