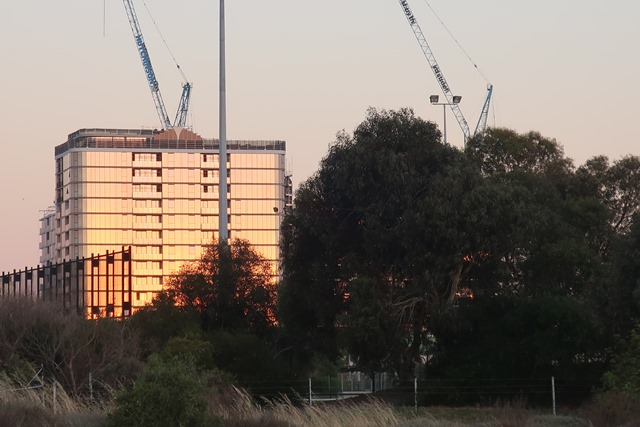 Year in Review 2019
This week Australia is painted red with extreme andd prolonged heat. Victoria anticipates its hottest December day ever. Bushfires have raged and ravaged drought stricken New South Wales, Queensland and Western Australia.
Climate Emergency was chosen by Oxford Languages as the word of the year. The winning word 'is judged to reflect the ethos, mood, or preoccupations of that particular year and to have lasting potential as a word of cultural significance'.
The City of Melbourne declared a climate emergency in July followed by Port Phillip Council in July.
An estimated 300,000 people attended the Global Climate Strike on September 20.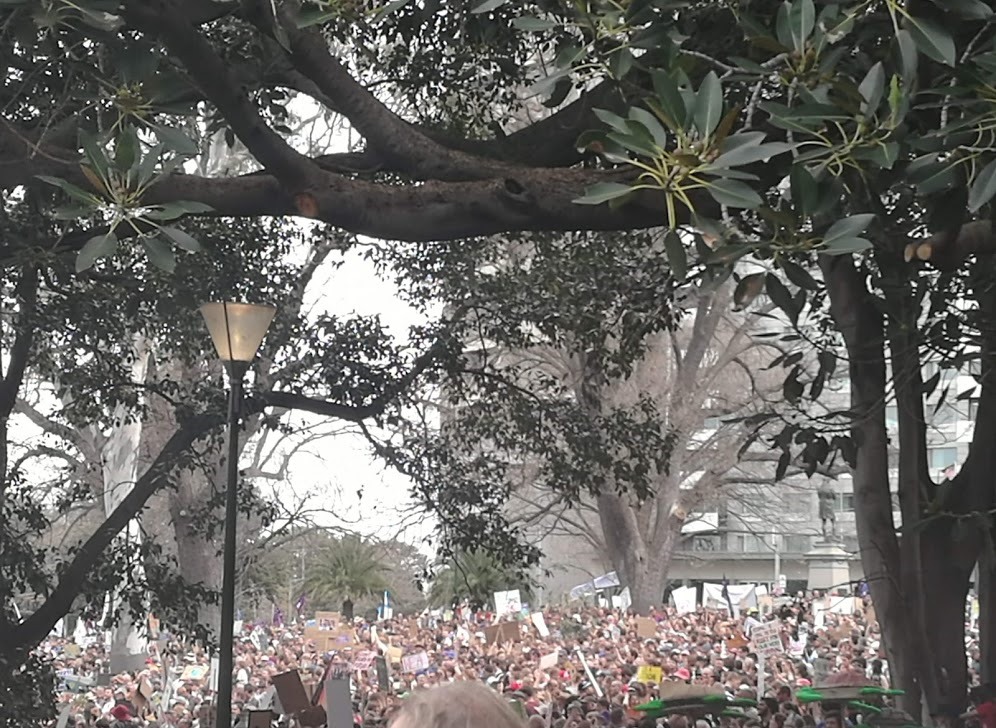 Fishermans Bend
It's not easy to sum up 485 hectares in a few paragraphs. Let's try.
Following the state election in November 2018 and the adoption of the Fishermans Bend planning framework, responsibility for Fishermans Bend within government moved from DELWP (Department of Land Water and Planning) to the Department of Jobs, Precincts and Regions. This led to a loss of momentum which coincided with a downturn in the market.
On the ground, it has been a year of demolitions: of the former Rootes factory, Oxford University Press building, the brick warehouse on Johnson St, and Carlins showroom on Buckhurst St. Delta and B R Demolitions have been hard at work.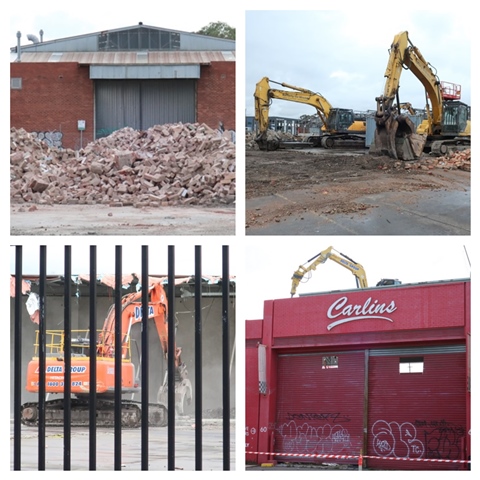 Each of the Fishermans Bend precincts has its on pattern.
Wirraway
The P.M. development has taken solid form and appears from every vantage point. The project is approaching completion – one of the early cabs off the rank with a permit first applied for in 2014.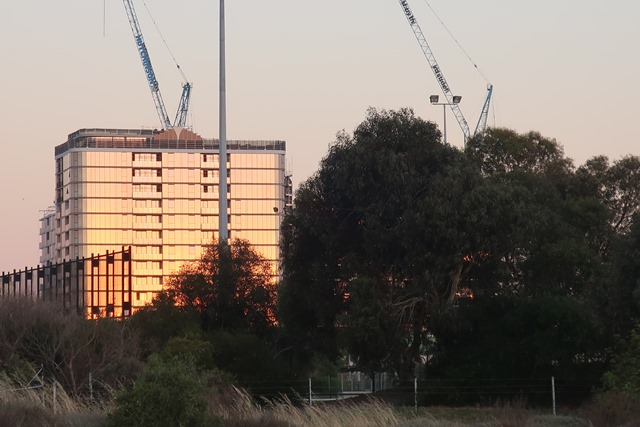 The site for the Fishermans Bend Secondary School, the former Citywide Depot, has been cleared. A builder has been appointed and construction on the school is due to begin in the second quarter of 2020.
Normanby Road
A few developments that secured permits early in 2013 and 2014 are under construction. Applications called in by the Minister in 2018 will go through further assessment by a Standing Advisory Committee which will provide advice to the Minister. The applications are for 203 – 205, 248 – 254, 264 – 270, 256 – 262 Normanby Road.
Montague
Instead of a tower, as permitted, a childcare centre will be built on the large site bounded by Buckhurst/Ferrars/Kerr and Gladstone Sts. The childcare centre is a project of Mike Wu and Shan Kuo, founders and owner-operators of the Little Lane early learning business. Construction is due to start in January 2020 with doors set to open in 2021.
In Thistlethwaite St, basements have been excavated for Rothelowman's South and Spec's Lilix.
South Melbourne Primary School has settled in and children play in Kirrip Park. The City of Port Phillip has completed streetscape works which include narrowing surrounding streets to create a safer and more pleasant environment. Regrettably drivers have not come to grips with the changed arrangements, cutting through from Montague St. Dogs like Kirrip Park too.
Waste and litter
E-waste was banned from landfill in July 2019.
On 1st November all lightweight plastic shopping bags with a thickness of 35 microns or less were banned by the Victorian government.
There are now eighteen Love our Streets groups from Cape Woolamai to Docklands, and thirty Beach Patrol groups from Warrnambool to Port Melbourne.
Beach Patrol picked up 37,000 containers in 2019 but a Container Deposit Scheme remains elusive. In response to an objection that no action could be taken because of inadequate data, BeachPatrol have developed the Litter Stopper app which enables any person picking up litter to ensure it is recorded on the Australian Marine Debris Initiative database.
Community composting bins were overloaded as people embraced composting. Lids had to be locked to allow the worms and other detritivores time to digest this largesse. Simply Living community compost reports receiving about 100kgs of vegetable scraps each week.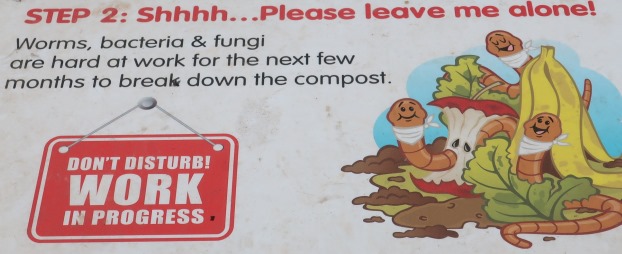 The South Melbourne Market continues to be a leader in waste reduction and recycling, adding plastic bottles to the many waste streams they are processing.
Federal election 18 May 2019
Josh Burns (ALP) became the first member for the newly named electorate of Macnamara with a swing of 6.62%.
Climate, and Adani, were important issues for voters in Macnamara. At a federal level Labor's climate and energy policy didn't go far enough for some and too far for others. The coalition government has failed dismally in taking climate action as demonstrated at the recent COP25 talks in Madrid.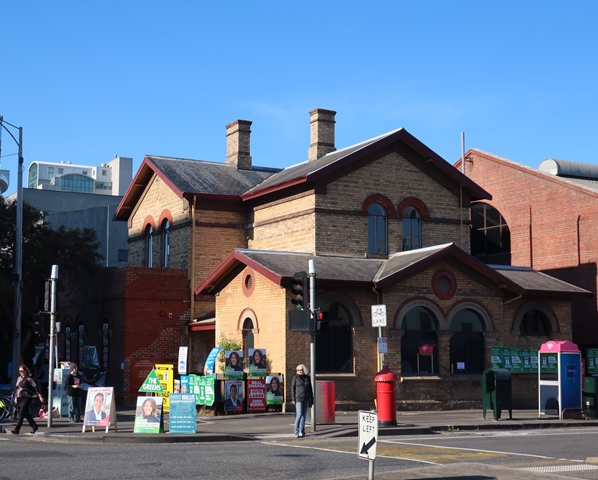 Urban nature
Householders took to their nature strips with enthusiasm and with all the individuality of expression of gardeners.
In June Albert Park had visitations from flocks of little corellas stripping the nature strip olive trees of their fruit. Yellow tailed black cockatoos ignored the traffic on Pickles St to go crazy for the pine cones. The birds were driven here by the drought further north.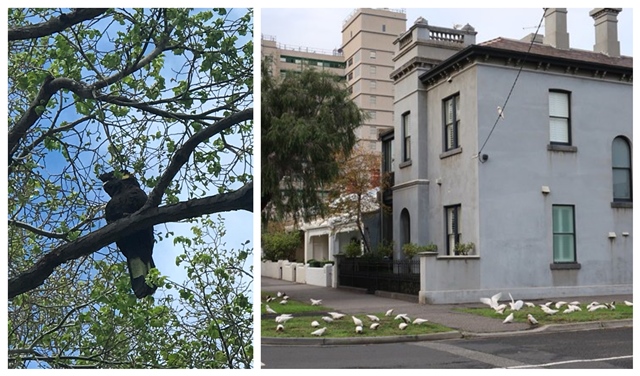 We lost some fine old trees this year: in Lyell Iffla Reserve and in Cruikshank St.
A passionate and effective City of Port Phillip arborist mobilised resources to transform Danks St from a neglected median strip to a beautiful nature corridor. Trees were re-planted in re-juvenated deep soil in Liardet St.
The Port
The Port of Melbourne released the Port Development Strategy 2050 in November. The plan proposes a freight rail line through Westgate Park along the existing Webb Dock rail alignment gradually ascending to make a river crossing south of the Bolte Bridge. For Webb Dock to continue to grow, and to function, moving more freight on rail is a necessity. However, the implications of the chosen route are unpalatable as it will sever Westgate Park in two.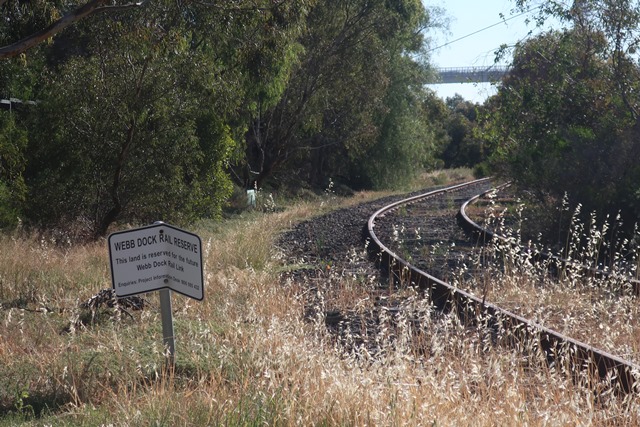 The Port is preparing for longer ships with greater capacity requiring highly skilled navigation and knowledge of Port Phillip Bay.
About 400,000 cars a year enter the Port of Melbourne at MIRRAT's Webb Dock terminal and find their way onto the road network.
More Australians bought Mercedes Benz than Holdens in November this year. Holden sales are down 48%. Holden will stop manufacturing the Commodore following plunging sales as motorists turn to SUVs – and smaller cars – though it seems more SUVs than smaller cars in Port places.
Port Houses in 2019
The median house price in Port was $1,295,000 compared to $1,475,000 in 2018.
The median unit price was $722,500.
(source: realestate.com.au accessed 17 December 2019)
Some of Port's oldest and most modest dwellings cling on while many contributory heritage buildings which enjoy scant protection in the planning scheme make way for three storey dwellings.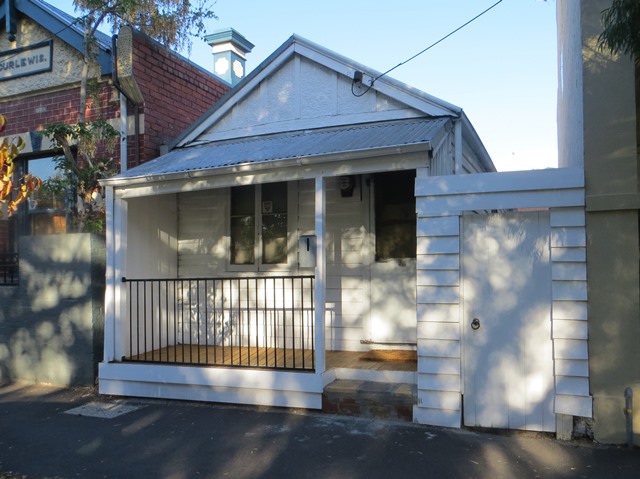 Waterfront Place and surrounds
1 – 7 Waterfront Place
A planning Advisory Committee appointed by Planning Minister Wynne convened in November to review the Council's refusal of this development back in July 2017. In a surprising move, the proponent for the development withdrew from the hearing. The Victorian Ports Corporation strongly challenged the development application as being incompatible with the 24/7 operation of Station Pier and the Spirit of Tasmania. It is unlikely that there will be a resolution of this troubling blight soon.
103 Beach St
A planning permit for a four level development at 103 Beach St (better known as the Beacon Cove Foodstore) was granted by Port Phillip Council in November. Wood Marsh are the new architects. Construction is due to begin in the first half of 2020.
NBN
Port Melbourne was connected to the NBN with fibre to the node connecting with the existing copper network to the premises. Teething troubles appear to have settled down.
Security roll out
Following several incidents in recent years where cars have been used as weapons and pedestrians have been the casualties, and in anticipation of future terrorism, temporary security measures have become permanent. The expressions this security takes are many and various: planter boxes, bench seats, jolly bollard covers and bicycle parking.
The critical importance of the Westgate Bridge to Melbourne is suggested by the level of security surrounding the pillars of the Bridge.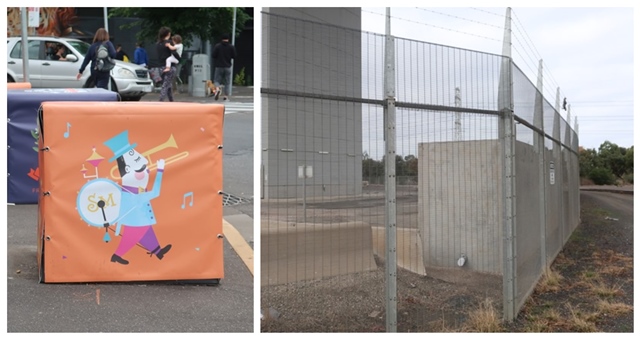 Come to an end
The St Kilda Cycling Club's Sunday races which have whirred around the City of Port Phillip waste transfer station for twenty years have come to an end. The Club has been unable to find an alternative course in spite of looking strenuously ever since the Fishermans Bend project was announced. When racing began in White St, it was an industrial area. Now with some residential development completed and occupied and much more to come, the uses are no longer compatible.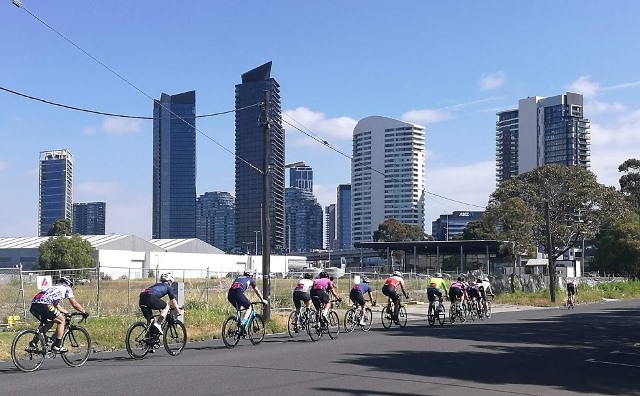 Joy
The great tulip giveaway in May – though even that had a sad undertow as it was the last tulip harvest from that farm.
Symbol of the year
While an artist in residence at the Australian Tapestry Workshop in South Melbourne, Deborah Prior worked on The Laconia Project. Laconia Woolen Mills once made blankets in Normanby Road (see above) and many people who lived in Montague worked there. Prior's work is many faceted. She reflects on domestic terrorism, when women are not safe at home which may lead them into homelessness. It is estimated that on average a woman is murdered by a partner or former partner each month. She counterposes this with the proliferation of security interventions in the public realm. In this image, the re-purposed Laconia blanket can be used by a homeless person, or to cover a security bollard. Homelessness and housing un-affordability were strongly present this year.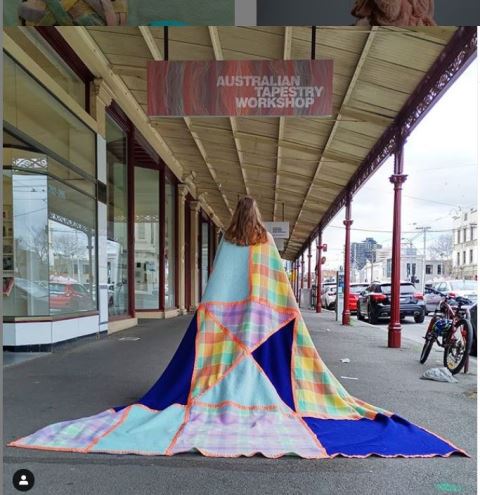 To look forward to
Low emissions fuel at Station Pier which will be required of all vessels from 1st January.
Brendan Condon and Biofilta will take the learnings of their productive two car park urban farm into the Melbourne Skyfarm on top of a carpark adjacent to the Mission to Seafarers.
Missed anything? Something important to you not included? Let me know.