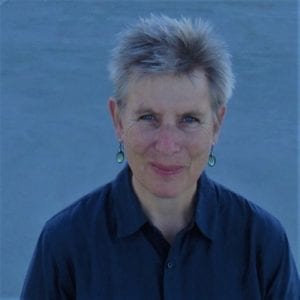 Janet Bolitho writes about changing Port Melbourne, Fishermans Bend, the Port of Melbourne and Port Phillip Bay – posting weekly here on Port Places.
Exploring by bike and on foot, she delves into the history, present and future of this part of Melbourne.
Port Places tells of urban transformation – from small projects to urban renewal.
Janet loves showing people around Port Places sharing what she has learned after 30 years of deep immersion in the area.
Janet is motivated by wanting cities to be great places to live, and a passion for urban nature.
She is inspired by people who make positive change in Port Places, and you will find their stories here.
The search function for Port Places is at the bottom of the page – a quirk of this website template.
Background
Janet Bolitho represented Port Melbourne on the Port Phillip Council from 2004 to 2012, and was Mayor of Port Phillip in 2006 and 2007.
She has a Masters in Social Science (Planning & Environment) from RMIT, and a background in history studies.
Membership of Friends of Westgate Park (now Westgate Biodiversity: Bili Nursery & Landcare), the Port Melbourne Historical and Preservation Society and the Yarra Riverkeeper Association  keep her close to these changing places.
Janet is a member of the Fishermans Bend Ministerial Advisory Committee.
All the photographs on Port Places are by Janet Bolitho unless otherwise attributed.