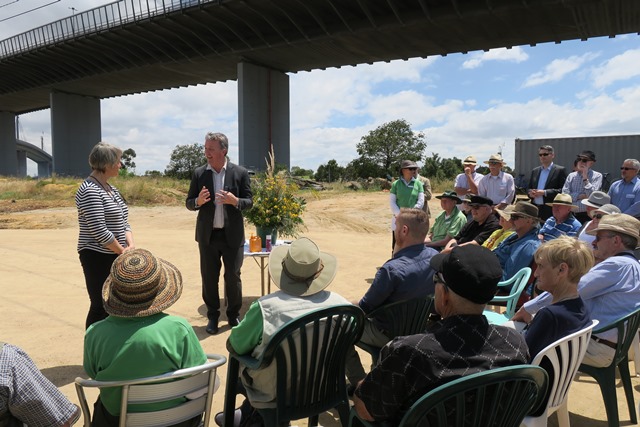 Election 2018
The Victorian election is on Saturday but the die may already be cast. A record 970,454 people had already voted by Wednesday 21 November – compared to 585,869 in 2014.1
The seat of Albert Park is held by Labor's Martin Foley on a margin of 3%. He first won the seat in 2007 at a by election held when John Thwaites resigned after Steve Bracks retired.
There are many reasons why I am voting Labor in this election. Here are a few.
Action on climate change
There is no more important issue to me than taking action on climate change. The Andrews government has a legislated, comprehensive Climate Change Framework that is driving investment in renewable energy and preparing Victoria for the changes already locked into the climate system. The Government had already committed to increase renewable energy generation to 25 per cent by 2020 and 40 per cent by 2040. An election commitment is to increase that proportion to 50%. That means there is a pipe line of ongoing investment in renewable energy projects. In this term, the Government has made record investments in renewable energy. On October, the first large scale battery in Victoria opened – the Ballarat Energy Storage System – in advance and in anticipation of  summer's peak energy demand.
Matthew Guy has pledged that within the first 100 days of being elected, he would revoke the renewable energy target and issue a tender to build a new 500 megawatt power station. The ban on fracking would be overturned.
Fishermans Bend 
Within 4 years, the Andrews Government planned, built and delivered the new South Melbourne Primary School, rebuilt the tram stop to serve the school and opened neighbouring Kirrip Park. This catalyst project was to show that community needs will be put front and centre in the Labor version of Fishermans Bend.
A way forward on planning for Fishermans Bend was finally resolved when the Fishermans Bend Framework was released in early October. The arrangements in the Framework were vigorously tested at a protracted planning panel hearing to which all interested parties had the opportunity to make representation. The planning controls are now bedded down in the planning scheme.
A new secondary school in Fishermans Bend – fully funded – is the forward commitment.
It is surely in no one's interest to re-open or re-visit planning for Fishermans Bend. As the Montague Community Alliance  tweeted at a candidates forum "we want a framework for Fisherman's Bend that a government will stick to. We are TIRED of all the iterations. Just get on with it."
Opposition planning spokesman David Davis declined to support the recommendations of the Planning Panel at a Montague Community Forum and it seems unlikely that the Framework would be respected by a Liberal National government.
Planning
Liberal candidate Andrew Bond says that he wants to bring overdevelopment under control. That is a cynical promise since it is contradicted by the actions and election announcements of his leader.
When Liberal Party leader Matthew Guy was Planning Minister he approved many of the developments in central Melbourne that have given rise to so much of the concern about overdevelopment. Several of the 200 metre high (plus) developments he approved in his term are still under construction (such as Australia 108 'the highest residences in the southern hemisphere'). You'd recognise his signature. These towers rise straight from the footpath, with no setbacks and minimal separations between towers – sometimes on small-ish sites that would not have accommodated towers had  setback controls been in place. A cluster of them dominate the skyline near the Queen Victoria Market. Guy wore the badge 'Mr Skyscraper' with pride.
Responding to concern about runaway development in the central city, the City of Melbourne prepared and Planning Minister Wynne supported and approved, Planning Amendment C270. This planning scheme amendment provides for setbacks, tower separations, and other matters.
Also in this term of government, Minister Wynne approved the Better Apartment Design Standards to ensure that new apartments are liveable – having access to natural light, for example, rather than relying on 'borrowed light'.
Matthew Guy has pledged to undo Amendment C270.
The commitment to women
There are 10 women out of the 22 members in the Andrews cabinet. Women also hold key portfolios: Jill Hennessy (Health), Lily d'Ambrosio (Envinonment, Energy and Climate Change) and Jacinta Allen (Transport).
Women now make up more than 50 per cent of new appointments to paid boards. The Labor Government recently extended this target to include Chair positions. A range of other initiatives are in place to support women who might not otherwise consider leadership positions, including the Joan Kirner Young and Emerging Leaders Programme.
The Government has also set up Respect Victoria, a family violence prevention agency as a statutory authority – a recommendation of the Royal Commission into Family Violence.
Martin Foley himself
Martin Foley holds the social justice portfolios of Housing, Disability, Mental Health and Ageing as well as Creative Industries. He is also the first ever Minister for Equality. Many doubted that it was possible to be effective across so many portfolios, yet he has managed to be a very active  champion in each and every one of them. He is also a deeply engaged and accessible local representative, at once easy going yet exceptionally hardworking. He is across the detail of  every local issue, comfortably present everywhere in the electorate.
He deeply knows that there is more to be done.
Conclusion
Yes, there have been disappointments along the way – the Apple Store and the planning approval  for 1 Queensbridge Square – (note that neither of these have built yet).
We can't afford to go backwards on climate or on planning. There's no time. We've got to build on the momentum or be dragged back into regressive social and climate ways.
I choose to get behind a Government that is optimistic, inclusive and fair and to be on their case if they stray from the commitments they've made.
And, and ..
It was in this term of Parliament that Wurrundjeri elders took to the floor of the Parliament for the first time when the Yarra River Protection (Wilip gin Birrarung Murron) Act was introduced. The Act, again for the first time, leads with a preamble in the Woi Wurrung language.  The Government is actively working towards a treaty with Aboriginal Victorians.
More
1 tweet @electionsvic 5.28pm, 21November 2018
Victoria's Renewable Action Plan
All about the Albert Park Electorate – candidates, how to vote cards, history at the Victorian Electoral Commission
Adam Carey Matthew Guy promises to 'hit the ground running' if elected premier Age, 21 November 2018