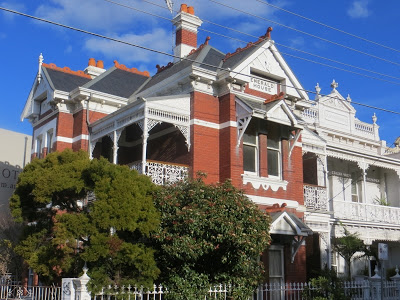 Emerald House, Port Melbourne
Occupying this prominent corner opposite North Port Station, this unusually large house with its distinctive design make it a local landmark. The house is notable for its transitional design, combining 19th century characteristics with Queen Anne influence seen particularly in the steep pitched hipped and gabled roof, the rendered and half timbered details and the window hoods.
Emerald House was constructed in 1901 for its first owner, Samuel Coulter, who already owned the two Victorian double storey balconied houses to the south – just visible in the photo above. (163 and 164 Station St).
Source: City of Port Phillip Heritage Review (709)