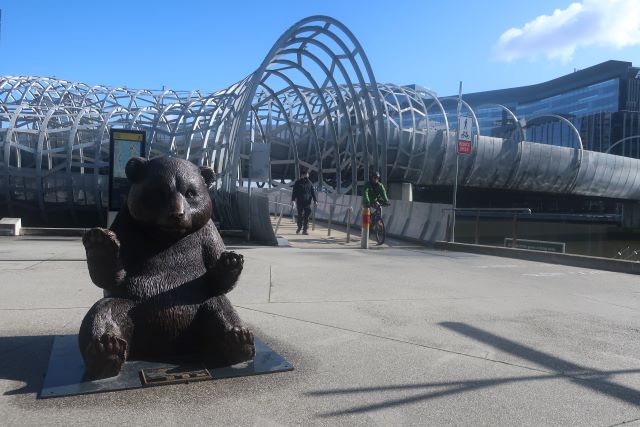 Can we become 'nature positive'* in Port Phillip
Walking along the promenade at Yarra's Edge in Docklands you come face to face with a bronze 7 month old Giant Panda, one of a trail of 20 sculptures, Wild About Babies. The sculpture trail is intended to raise awareness of the plight of endangered and vulnerable animals from around the world by focusing on their young. Each sculpture is accompanied by a plaque and QR code with information and the facility to make donations to the World Wildlife Fund. People are encouraged to interact with the sculptures and to suggest names for them.
The poignant trail of vulnerable animals may lead us to think that extinction and habitat loss is something that is happening elsewhere. The recently released State of the Environment Report 2021 confronts us with the reality of extinctions, threatened species and habitat loss right here at home.
In June 2021, 533 animal and 1,385 plant species were listed under the EPBC Act; and 53% of the listed species are Endangered or Critically Endangered.1 The report warned that we can expect further extinctions of Australian species over the next 2 decades unless current management effort and investment are substantially increased.
---
Although we may think of cities as bereft of biodiversity and nature, cities around the world, including Melbourne and Port Phillip, are embracing nature. A recently published paper looks at what needs to be done to make cities 'nature positive'2.
Instead of consigning nature to the edges of decision making, to the edges of buildings, like a decoration or a frill, and mostly as an afterthought, the authors argue that nature must be put front and centre in policy, decision making and implementation. Nature is an asset. It must be cared for and valued. It does not depreciate with care.
They argue that those who protect, care for and steward nature should be supported and empowered. And that barriers in the way of nature positive practices should be removed. Diverse communities should also be encouraged and supported to participate in nature positive activities.
These recommendations are topical as the City of Port Phillip re-presents its Nature Strip guidelines after a period of consultation. The revised guidelines are underpinned by three principles, the first of which is that "Nature strips are for greening and biodiversity, community connection and contribute to aesthetics and spirit of neighbourhoods".
Perhaps a further principle could have been added to highlight the value the City of Port Phillip attaches to its nature strip trees and why their health is prioritised in the guidelines. In a Q & A session hosted on 23 June, the value of trees is passionately articulated.
Trees deliver so many benefits. They provide shade, and cool an increasingly hot city. They filter storm water, provide habitat and neighbourhood amenity. It can take several attempts for a tree to become successfully established. Trees take a long time to reach their full potential – sometimes several decades. Trees have a tough time on our city streets. They are prone to vandalism, both deliberate and accidental3. Trees must be protected to realise these benefits.
Therefore the guidelines ask nature strip gardeners to keep a radius of 1.5 m or 3 times the trunk diameter (whichever is greater) free of planting surrounding the tree trunk. This means that small tree plots, pits and grates with a gravel surface will not be suitable for a nature strip garden.
Emma Cutting, founder of the Heart Gardening Project, is seeking community support for her ambitious project to create a Melbourne Pollinator Corridor from the Royal Botanic Gardens to Westgate Park, one native pollinator supporting patch at a time. Hilary Harper referred to it a 'hop scotch' of pollinator supporting patches in a discussion on the State of the Environment Report on Life Matters this week.
The updated nature strip guidelines seek to balance the benefits of street trees with the benefits of nature strip gardens.
The SoE report says that there are now known to be more introduced plant species (27,500) in Australia than native species4 These species are more likely than native species to become invasive and benefit from the warming climate.
Planting locally indigenous plants on your nature strip, backyard or balcony is a small way to redress this. There are also opportunities to support landcare type groups like Westgate Biodiversity: Bili Nursery and Landcare.
Creating favourable environments for insects, like native bees and butterflies, is a very small and easy contribution we all can make.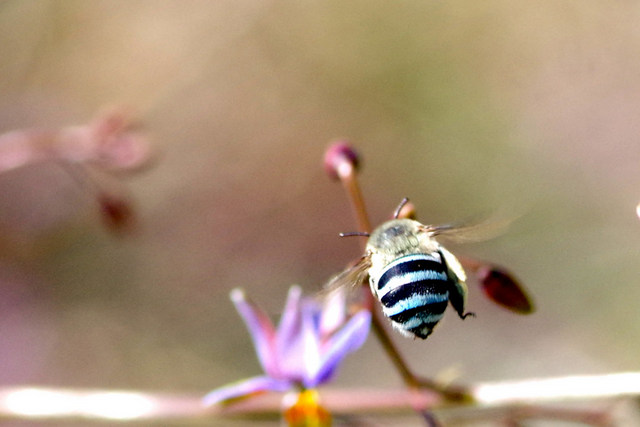 ---
Gillie and Marc Wild About Babies is at Yarra's Edge until 2023
1 Australia State of the Environment 2021 Flora and Fauna
*2 Frantzeskaki, N., Oke, C., Barnett, G. et al. A transformative mission for prioritising nature in Australian cities. Ambio 51, 1433–1445 (2022). https://doi.org/10.1007/s13280-022-01725-z
3 City of Port Phillip draft Nature Strip Guidelines June 2022
4 Australia State of the Environment 2021 Introduced and invasive species
Locally indigenous plants are available from Bili Nursery at 525 Williamstown Rd, open on Saturday
Janet Bolitho is on the committee of Westgate Biodiversity: Bili Nursery & Landcare