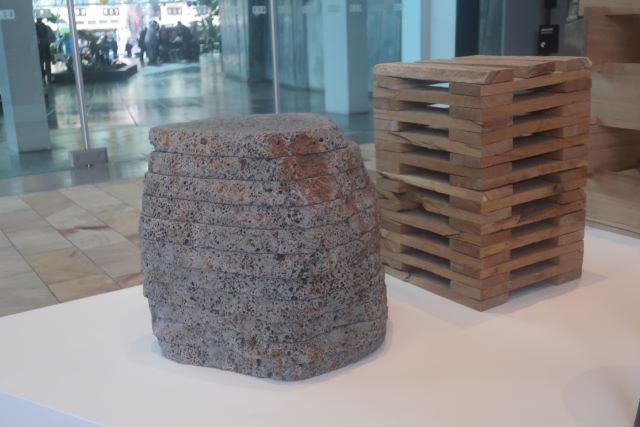 Bluestone, bricks and bell
What are we made of?
asks Maria Tumarkin. Her poetic response to that question is etched into the bluestone at Buluk Park in Docklands.
What is Melbourne made of?
Materials from which Melbourne's built environment is made are arrayed in the entrance to the Ian Potter Gallery at the NGV. The installation is Gathering Space: Ngargee Djeembana by N'Arweet Carolyn Briggs AM and Sarah Lynn Rees.
A map of that elongated triangle that is Victoria is a backdrop to the exhibit.  Fifty five materials from Victoria –  water and sand, bricks and bluestone, and many varieties and textures of timber – are formally assembled. A panel on the wall lists all the materials and where in Victoria they have come from.
It's part of the exhibition, Melbourne Now.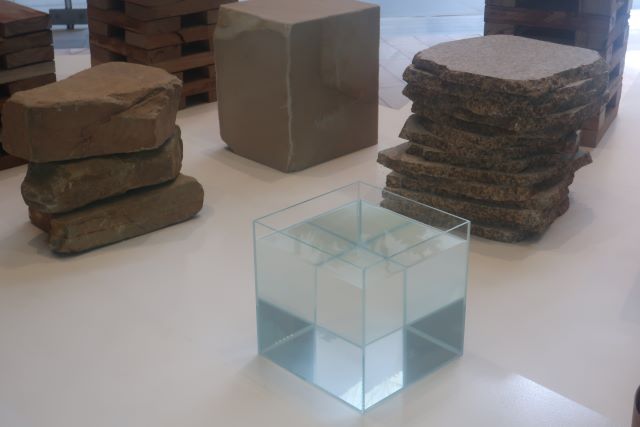 Another gallery celebrates Melbourne artists who have died recently.  Among them is Kate Daw who passed away during lockdown in September 2020. She was Head of Art at the VCA. Her most recent work is displayed along with a tribute from her long term collaborator Stewart Russell who writes: 'In her art she chose to highlight the achievements of others, to collaborate and teach us to undervalue the ego of the artist'. 
---
An earlier work, Civil Twilight End, a bell tower, asserts a civic and human scale presence in Bourke St in Docklands. Civil Twilight is when the sun has dipped below the horizon but the sky is still light. Or more technically, during civil twilight, the geometric center of the Sun's disk is at most 6 degrees below the horizon.
During lockdown, the bell tower became a kind of beacon for me. A destination, a world away across the River.
The bell tower is made of bricks from that part of Goods Shed No 1 that was removed to create the Collins St bridge. The bricks are richly textured in themselves, and skilfully configured in a bonded pattern.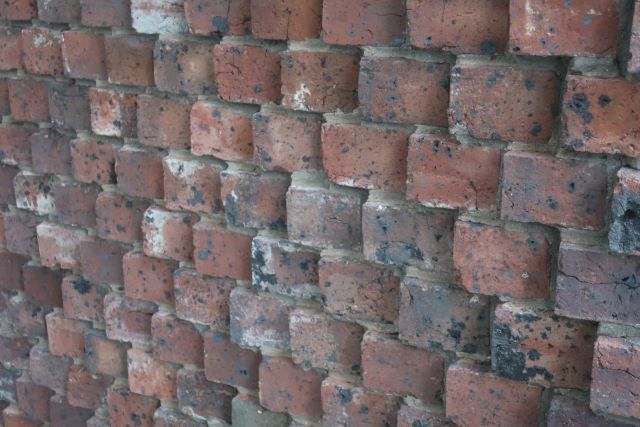 The bell that was 'made with love to celebrate place, connection and community'. was designed to strike three times at Civil Twilight End.
But at the time of Kate Daw's passing, it was silent.
---
It became a minor mission to get that bell ringing again to honour Kate Daw and her work. People remember her 'unbounded kindness'. She 'saw art as a social force deeply interwoven with everyday life'.
Councillor Rohan Leppert at the City of Melbourne took up the cause. As with many Council matters, it wasn't straightforward. Who was responsible for the work? What was the fault? The issue rose and fell from attention. There were false starts. But Cr Leppert kept an eye on it.
Now a year later, the bell rings.
More
Read and listen to N'Arweet Carolyn Briggs AM and Sarah Lynn Rees talk about the deep cultural meanings and purpose of this work.