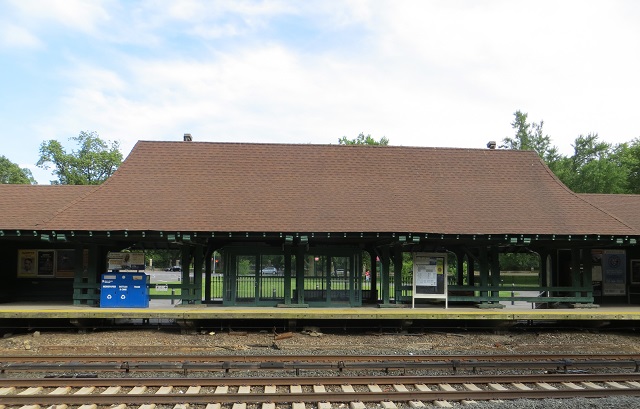 Botanic Garden
New York Botanical Garden
Where to begin? These gardens are so vast and various. They are also impossibly green to an Australian eye.
Perhaps at the station. Imagine a station not only called 'Botanic Gardens' but looking like it too.
At the heart of the Gardens is a 50 acre forest. It is the last remaining remnant of forest in New York City. There are some words you 'get' when you have the experience that calls them forth – such as 'glade.' We experienced a few glades in the forest.
The forest's health is minutely monitored and measured with the support of citizen scientists who keep a sensitive eye on seasonal changes. The citizen scientists at the Botanic Gardens in New York are among the largest groups to have adopted the protocols for data collection standards set by the National Phenology Network.*
Lyn Allison, of Friends of Westgate Park, is a committed citizen scientist bringing thoroughness and accuracy to her passion for the fungi, plants and animals of Westgate Park. She has made extensive contributions to the Atlas of Living Australia of her observations at Westgate Park which are searchable on the Atlas.
And sometimes you realise you have misunderstood words you have only read in books because you have never had the experience of them – 'vernal pool' is such a phrase. The helpful interpretation panel says 'in summer, the water may be gone but you can still see a depression in the forest floor.' That's what we might call an ephemeral wetland in Australia. The Sandridge Lagoon, which would have been an ephemeral wetland, is at the heart of my imaginings and enticed me into an interest in history and wetlands in equal measure.
Another outstanding feature of the garden was the native plant garden. It is highly designed, like the Royal Botanic Gardens at Cranbourne, though on a much smaller scale. At the centre of the garden is a rectangular pool. On either side, a 'mixed tapestry' of wildflowers rises on the banks.
* Phenology is the study of seasonal processes