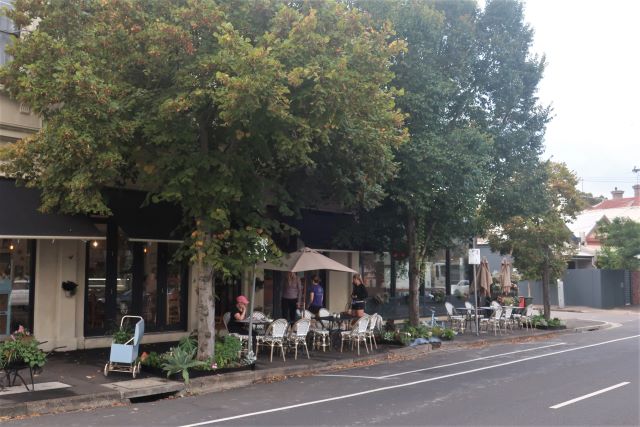 Charming a corner of Port Melbourne
It was often said that there was a pub on every corner in Port. Now it's more likely to be a café.
Brûlée, a patisserie, opened on the corner of Ingles and Crockford Sts in Port Melbourne during, and in defiance of, lockdown. It became a destination on the 5 km walk, with the prospect of impeccably crafted pastries as a treat. It sits at the entrance to Port Melbourne.
The business is thriving. In every detail and with every gesture, such as the choice of chairs, chef and owner Mariana Chedid seeks to create a little bit of Paris on this busy corner. She's determined to create some of the coffee and cafe culture in Paris 'where patrons sit for hours people watching, sipping on their coffee and talking about what's going on in the world.'1
The shapes, colours and array of the pastries within is complemented by the floral abundance outside. Mariana has not confined herself to the ground level. Flowers spill out of planter boxes, tea pots and jugs, hanging baskets, wheelbarrows and bicycles. Most recently the northern wall of the car park was planted with herbs and edible flowers. The street art in the car parking area reinforces the theme.
Brûlée is housed in the former Floodgate Hotel at the intersection of Ingles and Crockfords Sts at the northern tip of the former Sandridge Lagoon.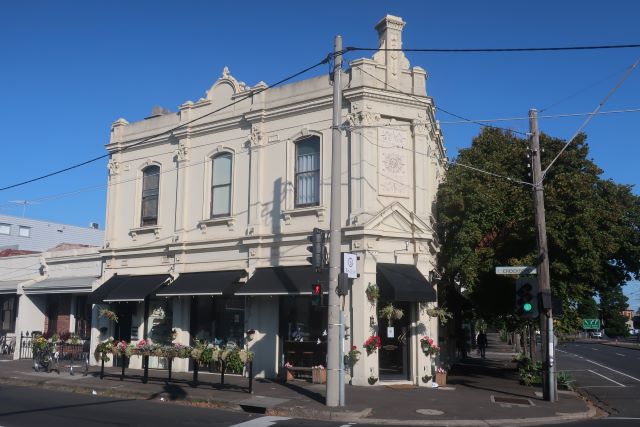 ---
Ingles St has always been a business like, working kind of road, a straight line from Crockford St to the Bay. It was strongly associated with the candle and soap makers J. Kitchen and Sons. Ingles St has gone from being known for the notorious odours of boiling animal fat to the delicious smell of hand crafted French pastries.
Ingles St is classified by VicRoads as an arterial road, as is Bay Street. The explicit purpose of arterial roads is to carry large volumes of traffic, to connect traffic to highways or freeways and to provide for freight movement and public transport. They may also provide a network for the movement of pedestrians and bike riders. Arterial roads are managed by VicRoads, and not by the Council. They are hard working roads that allow local roads to be protected from through traffic.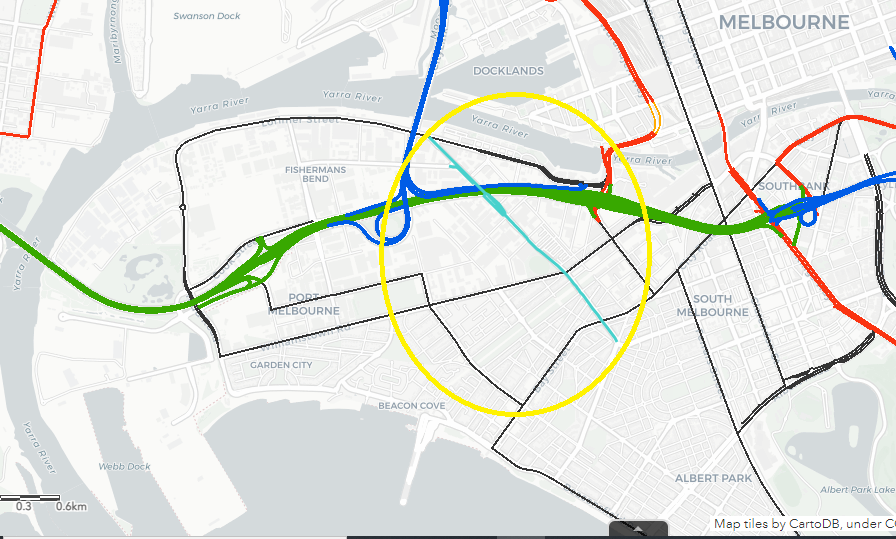 Ingles St carries a high volume of traffic including freight and concrete mixers from the plants at the River end of Ingles St.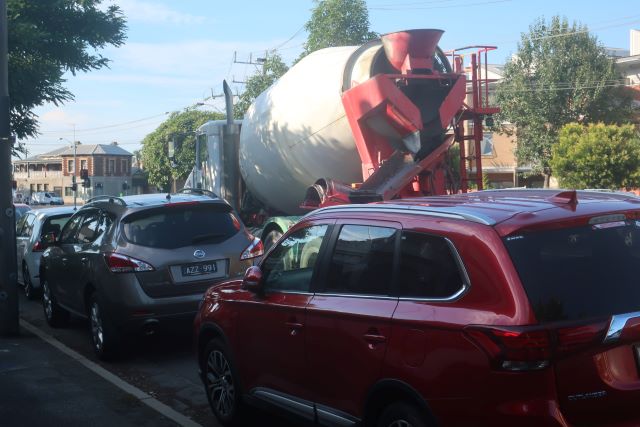 Meanwhile Paris, a city once notorious for its traffic, is changing. Mayor Anne Hidalgo, who has been elected for a second term, wants to make Paris a 100% cyclable city. She is building on an existing $174 million cycling plan, VELO 1, with further investment of $291 million in bike infrastructure.
Between 2021 and 2026, Paris will gain 180 kilometers of new permanent segregated bike lanes. As part of the new Bike Plan, the number of bike parking spots will more than triple, with 180,000 more added to the current total of 60,000. The city will pay particular attention to bike lanes and infrastructure around the connection points between the neighboring suburbs and the city to create better integration across the wider metro area. Paris now sees almost 1 million bike journeys daily2.
---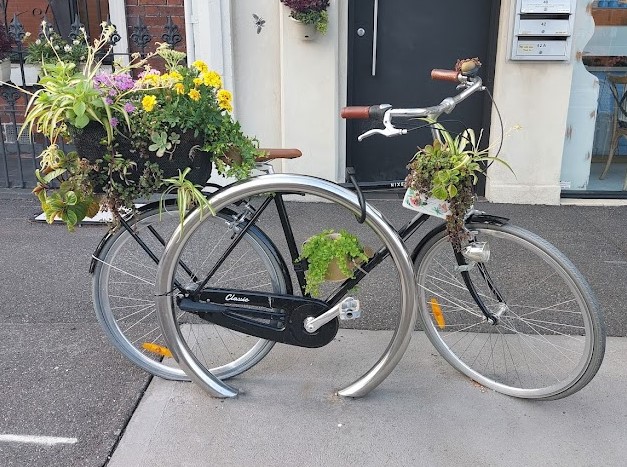 Edith Piaf raises her voice above the traffic from a speaker camouflaged in a bird feeder. The bicycle blooms. Happy customers enjoy a taste of Paris. Traffic flows past.
Bonne chance Mariana with your vision for your business and this place.
More
Visit Brûlée in person at 40 Crockford St, Port Melbourne or on instagram1
City of Port Phillip Road Management Plan June 2017
2Feargus O'Sullivan Inside the new plan to make Paris "100% cyclable" October 23, 2021 Bloomberg CityLab
Find out about the history of Ingles Street in David Radcliffe's article on the Port Melbourne Historical and Preservation Society website.