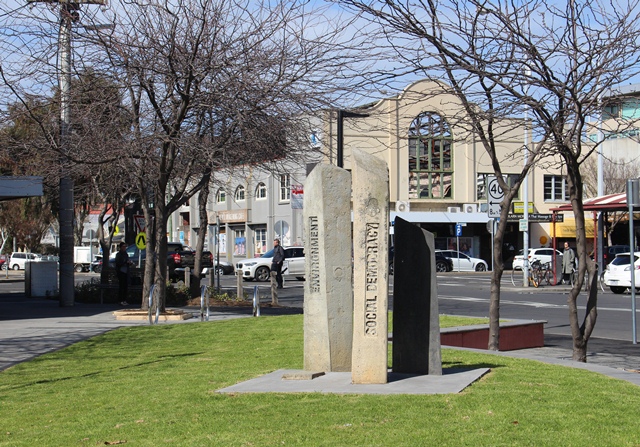 Convergence,
Last week, Fiona Richardson, Victoria's first Minister for Family Violence Prevention died from cancer. She was 50.
Last week in the US, statues and monuments commemorating slave owners came down and discussion ramped up in Australia about our monuments and the interpretation they make of our past. A growing unease surrounds Australia Day and seeps into Melbourne Day, 30 August, particularly in the light of John Batman's back story.
Also last week, fences came down on a small park in Port Melbourne after its refurbishment.
The small park is Olive's Corner. At its heart is a memorial to the life and values of Olive Zakharov, a resident of Port Melbourne and Labor Senator for Victoria.  It proclaims the values she lived by and for.  The monument, opened in 2002, was the first commemoration of a woman in Port.
The park-let has come about from the particularities of Port Melbourne's street layout creating a place where paths converge. Many more people walk past the sculpture than stop there, so this post will look at the monument more closely in the hope of persuading you to stop next time you pass.
The monument is made up of three pillars. One pillar is made up of books – the books that had influenced her and others of her generation as well as the well known oral history of Port Melbourne 'They can carry me out".
Another pillar proclaims 'NOT FOR SALE' – the bold statement painted on her roof that her house was not to be acquired to facilitate the Sandridge City Development Corporation's grand plan for the hinterland between Port Melbourne's piers. But perhaps that statement can now be read more broadly – that values are not commodities that can be bought and sold.
Yet another inscription bears that precious word PEACE.  The foundation of the monument acknowledges that it is placed on the land of the people of the Kulin nation.
Olive Zakharov died in 1995 a month after being hit by a car leaving Midsumma. Just a few years before she died Zakharov had publicly revealed that she had been a victim of domestic violence at the hands of her deceased husband for ten years prior to their separation.
She launched the government's Campaign to Stop Violence Against Women, and urged other victims and their neighbours to speak up.
The parallels with Fiona Richardson's political career and family experience of domestic violence are strong.
Rather than changing the nature of Olive's Corner, the refurbishment has stripped the park back to its most important elements – a park to walk through, a place to sit in the afternoon sun – favoured by elderly Greek men  –  and the memorial mildly elevated at its centre. The pathways have been widened and their connection to surrounding streets strengthened. Water fountains and bicycle hoops have been added.
As historian Bruce Scates, former resident of Port Melbourne, suggested in his article in the Conversation this week,  monuments located in civic spaces not only invite, but demand, civic engagement.
Fitting then, that this monument should express the values of social justice so strongly identified with the community and City of Port Phillip and remind us of the ongoing work that needs to be done on the prevention of family violence.
More
Olive Zakharov (19 March 1929 – 6 March 1995) Monument Australia There are 30,373 monuments on their database!
The Minister's Secret Australian Story 28 March 2016
Bruce Scates Monumental errors: how Australia can fix its racist statues in The Conversation 28 August 2017
Nicholas Clements The truth about John Batman: Melbourne's founder and 'murderer of the blacks' 13 May 2011