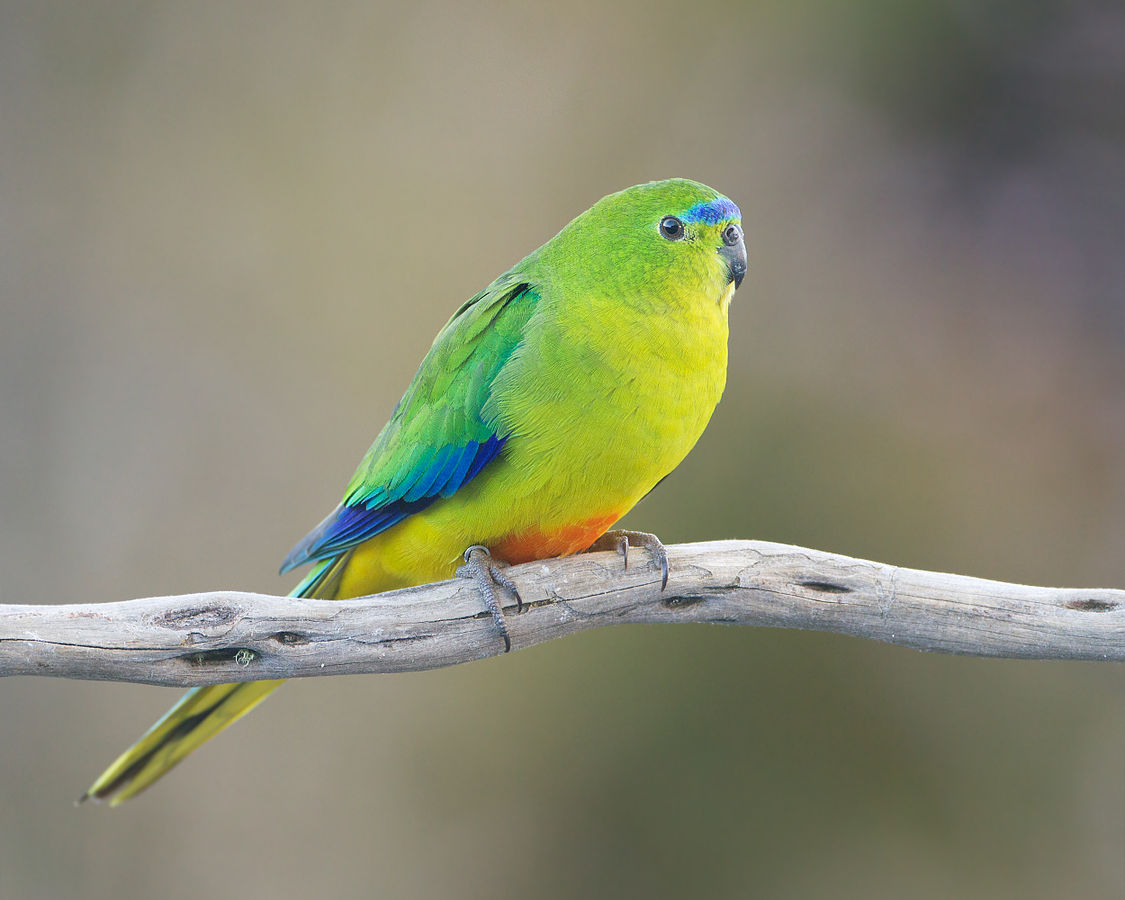 Hearts in our mouths, hands in our pockets
December 2017
Tom Hunt, ecologist writes:
An exquisite Orange-bellied Parrot, the world's rarest parrot in the wild and one of Australia's most critically endangered bird species. 
Seeing this parrot was the absolute highlight at the end of trekking for a week along Tasmania's epic 85km South Coast Track, but it was touched with melancholy too.
Overwintering on the coast of southern Australia, in spring the parrots fly to their only known breeding grounds at Melaleuca in south-west Tasmania. Here, they nest in the few trees scattered amongst the vast marshy plains and rugged ranges. Predation, habitat clearance, inbreeding, and the inherent risks in undertaking migrations have all coalesced to create an almost insurmountable hurdle to their recovery.
For researchers studying them it has been heartbreaking year on year to record their numbers first dwindling then positively plummeting.In 2010 there were only around 50 OBPs in the wild. Last year, 16 birds returned to breed at Melaleuca, and only four of the 20 first-year birds remain. This year, just 15 birds have survived the migration, and only two of these are females.The future of this species in the wild essentially rests on the breeding success of two birds. Anyone with a cursory understanding of population dynamics and genetic bottlenecks knows that this a species that's already functionally extinct in the wild.
It's a profoundly strange experience to be so excited to see a bird in the wild, and simultaneously overwhelmed with sorrow knowing that it is genuinely might be the last time you ever do so. Despite the high profile of this uniquely Australian bird, the current recovery effort is – like almost every other environmental project in our country – underfunded. The precipitous plight of OBPs is a searing indictment of the inaction and apathy of successive governments and the majority of Australian society to the biodiversity crisis.
The survival of these beautiful creatures depends on whether we can collectively rouse all of Australia – one of the most prosperous nations on earth – to care enough about our natural heritage to prevent this green, blue and orange-tinted light faltering, dimming, then snuffing out in the darkness.
24 November 2016
For every bird there is this last migration
So wrote poet A.D. Hope.
There are now only fourteen wild (not captive bred) Orange-bellied parrots left in the world. Or OBPs as those who are fighting for their survival refer to them.
Only these fourteen birds made the migration across Bass Strait back to Melaleuca in south west Tasmania after over wintering on the coast line of Victoria and South Australia. This is a serious reduction on the small but steady numbers that had made the journey in previous years. From September onwards, volunteers waited with 'their heart in their mouths' for the birds to return. This year, the number reached fourteen and stopped.
Of those fourteen wild birds, only three are female. This week another female, captive bred, made it back to the breeding grounds. It is uncertain whether she will pair up. The future of the whole species rests on these female birds. And on us.
This potential extinction crisis is unfolding from day to day.
A team of crowd funded scientists from ANU are heading down to Melaleuca to do everything they possibly can to give every nestling the best chance of surviving including hand feeding the chicks. Melaleuca is a very remote part of Tasmania so this is not easy.
In spite of significant investment in a captive breeding programme, its success has been limited, in the words of scientist Dr Dejan Stojanovic, because these 'fat, lazy birds are totally unfit for making a migration'1. That fourth female has challenged that characterisation.
This week a Dodo skeleton, 'an icon of extinction'2, was sold at auction in London for $580,000. Dodos lived in the Mare aux Songes swamp in Mauritius. A ground nesting bird, it was a victim of the introduction of rats, goats, pigs and deer and habitat loss. 'Dodo chicks and eggs were eaten, nests destroyed, and vegetation disturbed … the dodo never stood a chance'3. The last dodo was seen in the 17th Century but at the time the very idea of extinction had not really been contemplated. According to Barras, it was the French palaeontologist Georges Cuvier who is thought to have alerted the scientific world to the reality of its extinction  – almost a century later – in 1796. It was the dodo in Lewis Carroll's Alice in Wonderland that brought the 'dead as a dodo' phrase into familiarity.
Why should we care about this small bird?
The OBP lived here, right here in Fishermans Bend as recently as 1949. Not in China or in Africa and in the 20th Century, not the 17th.
The same threatening processes at work in Mauritius continue to contribute to the accelerated decline of many species. The impact of race horses on the ground nesting hooded plovers at Belfast Coastal Reserve has been in the news over the past few weeks.
The saltmarsh habitat on which the OBP depends that used to line the shores of Port Phillip Bay is drastically reduced in extent.
Don't let this be the last migration for the OBP. The ways you can help are given below.
More
Contribute to Operation OBP's Pozible campaign
follow Orange-bellied parrot on facebook and twitter @neophema99
 1 Calla Wahlquist (23 November 2016) Scientists scale trees in desperate attempt to save orange-bellied parrot The Guardian
2Colin Barras (9 April 2016) How humanity first killed the dodo then lost it as well BBC earth
 3 Hanneke Meijer (2 December 2015) Extinct thinking: was the hapless dodo really destined to die out? The Guardian
23 July 2015
So close to home
This weekend volunteers will head out along Victoria's coast to look for Orange-bellied Parrots, one of Australia's most critically endangered birds.
Less than 50 parrots are thought to exist in the wild today with a captive breeding population of about 320.
Each year these small birds fly from Melaleuca in south west Tasmania to over winter on the southern coast of Victoria and South Australia where they feed on coastal saltmarsh before returning to breed.
The Orange-bellied Parrot was still to be seen in our part of the world in 1949 when Len Robinson
 'walked a mile through the mixture of wasteland and remnant salt marsh known as Fishermans Bend. There, within sight of the Yarra, alongside the proving ground for General Motors Holden, he found what he had been looking for.'*
Last year, an area of saltmarsh at Webb Dock was filled in to make way for Port expansion. It was considered by experts to be too isolated a fragment to be worth preserving.
It was the last remaining area of saltmarsh at the northern end of Port Phillip Bay.
Skinc, with Friends of Westgate Park, rescued some of those plants to add to the existing saltmarsh plants around the pink lake. Conditions are not auspicious. The highly saline pink lake, with no connection to the sea, is not regularly flushed with saltwater. The shoreline is ringed with rubble. Nevertheless, the Friends have a sense of urgency about ensuring saltmarsh continues to grow in this area.
The Orange-bellied Parrot is protected by State and Commonwealth legislation throughout its range. Even though there is a recovery plan in place involving a cross disciplinary team,  funding for the recovery effort is not assured and depends on grants.
'Extinction is a choice' said Samantha Vine from BirdLife Australia at the Threatened Species Summit held in Melbourne last week.
That is not a choice that the committed people participating in this weekend's surveys are willing to make. 50 birds across the Victorian coast looking for birds evolved to blend with their habitat – like looking for a needle in a haystack.
On the first day of summer in 1991, I was one of 250 residents of South and Port Melbourne inspired by participating in the Wings of Summer, a celebration of the Orange-bellied Parrot produced by Meme McDonald. The event coincided with the first release into the wild of captive birds.
24 years on, and Orange-bellied Parrot still hangs on by a thread.
More on the Orange-bellied Parrot, Neophema chrysogaster 
Like Save the Orange-bellied Parrot on facebook to see how you can support the recovery effort
Birdlife – Orange-bellied Parrot 
*Dooley, Sean (2008) Orange-bellied Parrot, The Monthly April 2008
Garnett, Stephen (2015)  Don't give up on orange-bellied parrots yet, there's still hope The Conversation, June 10, 2015