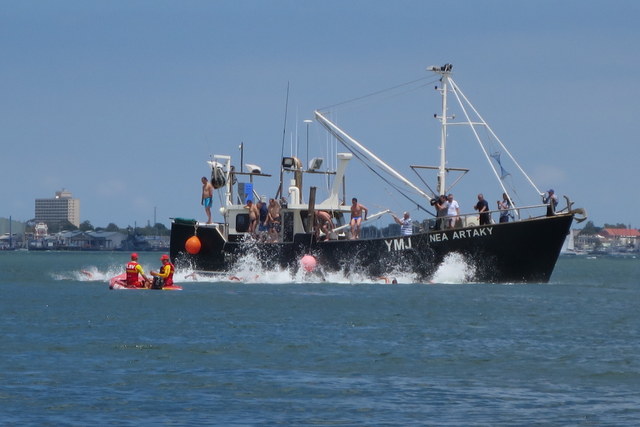 Theofania at Princes Pier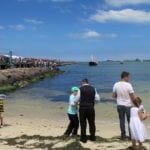 Port Melbourne's Princes Pier comes into its own in January each year with two festivals of a multicultural nature – Theofania and the Piers Festival.  Theofania marks the the baptism of Christ in the River Jordan. Young men dive into the water to retrieve a cross cast into the water.
Someone once said of Princes Pier that  'If a Pier can have a personality – be uncertain of itself, maybe suffer from an inferiority complex, then Princes Pier would qualify for such a distinction.'1 The Pier is stepping out of that uncertainty into a welcome assertion of a 21st century identity as a place for important celebrations and commemorations.
There was a time when Theofania was much less public. The only reason you knew it was on was by the procession of Greek people making their way down Port Melbourne's streets to Station Pier. Moving the event to Princes Pier and a new welcoming approach from the organisers has opened the event to the wider community. The Pier and the beach give many vantage points for watching that brief watery flurry for the cross.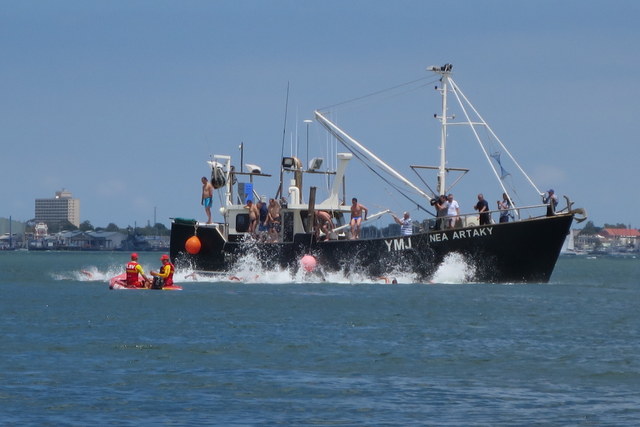 Solemn chanting set the tone for an event held in the shell shocked aftermath of the shootings in Paris.
The cross was retrieved quickly but the speeches took a lot longer. The importance attached to multiculturalism was shown by the presence of Premier Daniel Andrews, with Labor colleagues Jenny Mikakos, Martin Foley and Nick Staikos as well as the Leader of the Opposition, Matthew Guy.  Speaker after speaker told their migrant story. The strong bi-partisan commitment to multiculturalism, and multiculturalism in Victoria, was affirmed by every speaker.
Most enthusiastic of the speakers was the last – Mr Chin Tan, Chairman of the Victorian Multicultural Commission. He got into the spirit of Theofania wholeheartedly, professing to become a Chinese Greek for the day.  This is a time, he said, when we look to our leaders for assurance. He urged everyone to celebrate – yes, but also to reflect on the meaning of multiculturalism.
It felt as if we keep repeating the mantra of multiculturalism with sufficient faith and fervour, it will protect us like some magic spell  from terrorism.
At this troubled time, what better way to celebrate Australia Day through multiculturalism at the Piers Festival at Princes Pier on Sunday 25 January – to really celebrate it, to enjoy every way it enriches our lives, to give thanks for it, and to commit to upholding it in the face of future challenges.
1 Cook, A C Port of Melbourne Quarterly October to December 1951 p22