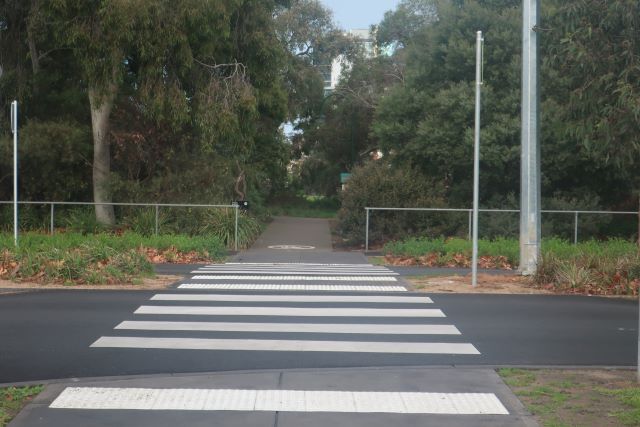 Safe Crossing in Port Melbourne
A raised pedestrian 'wombat' crossing was recently installed in Liardet St, Port Melbourne.
It is now pleasanter, and safer, to cross the street. The crossing connects two well used parks: Edwards Park and Lagoon Reserve. It buffers the Bubup Womindjeka Family and Childrens Centre from speeding traffic.
A petition from the Committee of Bubup Womindjeka to the Council about children's safety from speeding vehicles and u turns was was the impetus for the crossing. Investigations showed that while most drivers respected the speed limit, 15% travelled at 45.9 kph. Support from the Transport Accident Commission was sought.
Ben Rossiter, passionate walking advocate and CEO of Victoria Walks, often reminds people that walking is one of the first things children want to do and the very last thing we want to give up. Making streets safer for children and older people make comfortable walking streets for everybody.
---
The wombat crossing is only the most recent road safety intervention in Liardet St.
In 2005, traffic lights were installed at Pickles x Richardson x Liardet Sts.
A median strip narrowed the wide street some years later.
In 2016 speed limits were lowered to 40 kph.
---
The City of Port Phillip has installed many wombat crossings across the municipality. Several approaches to Albert Park Primary School feature these crossings which support students walking and riding to school.
These intersection treatments have multiple benefits: they make crossing the street safer by increasing pedestrian visibility to motorists, and encourage walking and riding. This treatment at Lyell x Iffla Sts in South Melbourne includes a rain garden fringed with rosemary.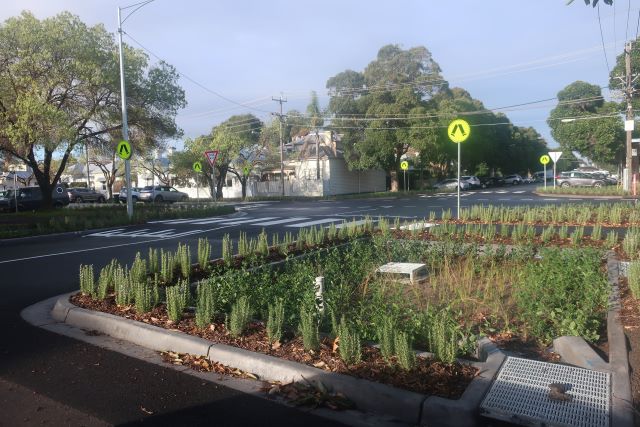 Safe System Solutions give wombat crossings a 5 star safety benefit.2 The downside?
They are expensive. A budget of $232,000 was allocated to the Liardet St crossing in the City of Port Phillip's Budget. The Transport Accident Commission also contributed.
But are the benefits of such interventions ever fully considered or quantified?
---
The City of Port Phillip is currently considering submissions to its 2023/24 Budget.
The City proposes a rate rise of 2.8% for 2023/24, lower than the State Government's recommended rate cap of 3.5%. The Essential Services Commission advises the Government each year on what the rate cap should be. The ESC recommended a rate increase of 4%, consistent with CPI. The ESC cautioned that "a rate cap that is lower than the CPI forecast may be beneficial for ratepayers in the short term. However, a lower rate cap could deepen financial sustainability issues for councils, which would ultimately be borne by ratepayers and the community in the long term."2
A 2.8% rate increase may seem attractive at first glance, but it is both financially irresponsible and unfair. It 'bakes' in a lower rate over all future years, The Budget papers show that the accumulated impact over 10 years will be $11 million less in rates collected. It is unfair since it benefits property owners rather than the many renters who live in Port Phillip.
Expectations of Council and demands on services are extremely unlikely to decrease over coming years but there will be less money to pay for them. The Council has also conducted an extensive cost review over the past year to come up with only one recommendation – to reduce arts grant funding by $80,000.
If we want nice things3 like wombat crossings, we will need to pay for them. Cheaper options, such as the speed cushions installed as part of the pop up bike lane trial, encouraged dangerous driver avoidance rather than slowing down. These more attractive crossings encourage walking, attract insects, flower cheerfully, absorb storm water and appear to be accepted in the community.
---
Road Safety Road Rule 81(2) A driver must give way to any pedestrian on or entering a pedestrian crossing.
1 Safe System Solutions Wombat crossing
2 Essential Services Commission Our advice on setting council rate caps
3 'nice things' was how Richard Dennis from the Australia Institute described how we translate the values we hold for a society or community into services and how we pay for them at a recent Progressive Port Phillip community conversation.