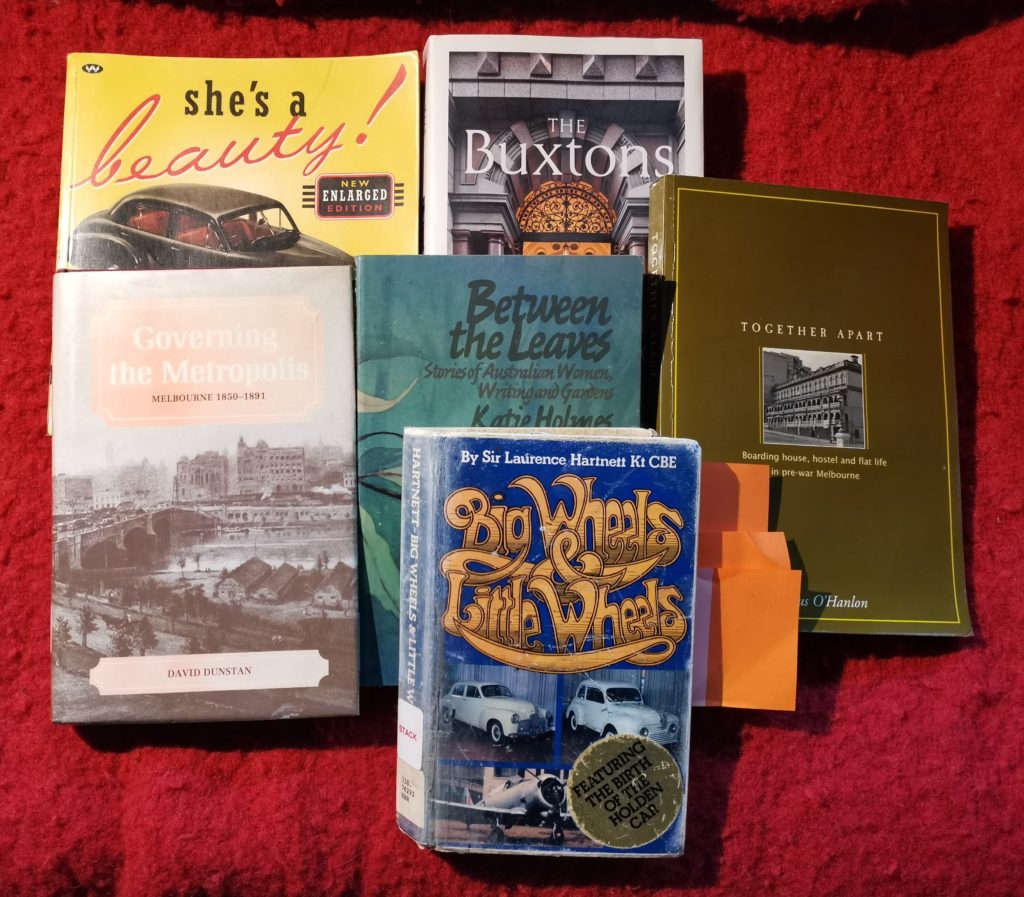 #Stayathome reading
Staying at home, the pile of library books is calling. They must be read before we are released from isolation, though that uncertain time undermines my determination to read them all.
Top of the pile? Sir Laurence Hartnett's Big Wheels and Little Wheels. I retrieve this chatty book quite regularly from the City of Port Phillip library stack to explore further aspects of this man's influential life – especially those that relate to Fishermans Bend. The tone is breezy, the pace energetic.
Whereas before I have been drawn to Hartnett's account of the establishment of the General Motors Holden factory at Fishermans Bend, this week I turned to the chapters covering his involvement in the formation of the Commonwealth Aircraft Corporation (CAC) and his war time role as the Director of Ordnance Production.
When Hartnett visited Germany in 1938, including a visit to the Opel factory, he observed how the country was putting its industry on a war footing. He returned to Australia troubled by its lack of preparedness. His apprehension of the imminence of war was shared by the Managing Director of BHP, Essington Lewis. Hartnett and Lewis initiated a syndicate of GMH, BHP and ICI to establish an aircraft industry in Australia. Its first task was to send Sir Lawrence Wackett and a team on a fact finding research trip around the world to recommend an aeroplane most suited to Australian needs and conditions. The criteria were to select a plane that could be readily manufactured using semi-skilled labour, made of local materials, and suited to Australia's geography ie could fly long distances. After thorough assessment Wackett recommended the American NA-33 training aircraft to be powered by a Pratt and Whitney engine. This was the plane that was to become the Wirraway.
The choice of an American plane did not go down well in Britain even though Britain had not been able to fulfill aircraft orders placed some years previously.
The first aircraft and its engine were were completed in March 1939, some 18 months after the factory started operating. 755 Wirraways were supplied to the RAAF during the war.
In 1940 Hartnett was appointed Director of Ordnance Production under Essington Lewis. They had, in many cases, to 'start from scratch' to make munitions that had never been made in Australia before. They had to source local raw materials anticipating that the supply from overseas would be cut off – as they were. He had to commission and coordinate complex networks of contractors to produce an array of different munitions. In some instances, there were no previous examples, no models to draw on. All the machines had to be set up.
A case in point was gun sights. Guns could be fabricated but without gun sights through which to aim they were useless. Britain was unwilling to supply the optical technology, fearing a post war competitor. Hartnett convened a group of physicists who had already expressed their eagerness to help with the war effort which became the Optical Munitions Panel. There was no local industry capable of producing optics of the level of accuracy required. Research began immediately, followed by testing, evaluation and further testing. The country was scoured for expertise and skilled people were brought out of internment camps. Within a short period of time Australia was producing the optical glass of the requisite level of accuracy and had recruited and trained a skilled work force. This fascinating story is told in an online exhibition. (see below)
It was a time for taking decisive action. There was a premium on inventiveness, cooperation and problem solving.
Over the past week as the COVID-19 pandemic accelerated in the US, President Donald Trump berated GMH for its tardiness in producing ventilators. 'START MAKING VENTILATORS, NOW', he tweeted. GM responded that they were working on the production night and day. At the start of the week Trump was insisting that the market would sort out supply problems but by the end of the week had invoked the Defence Production Act to compel GM to manufacture ventilators.
In response to a local inquiry, GMH said that it was not in a position to assist with the manufacture of emergency medical equipment to as they are in the final stages of dismantling their Australian operation.
The Australian Dictionary Biography entry cautions that Hartnett may have over-stated his role in the achievements described in his book. When his independence and initiative were challenged by General Motors headquarters in the United States, he resigned. After that he no longer enjoyed the same access to power and influence and became a voice from the margins.
It appears, however, that during the war he came into his own and made a huge contribution, thriving on the frenetic pace of work.
The way in which war time production in Australia was ramped up in such a short period of time is an interesting reference point in the COVID-19 pandemic.
The Industry Capability Network Limited is providing a portal 'to link suppliers, to collate and address needs and seek capabilities in anticipation of potential shortages for medical devices and PPE required to mitigate the impacts of COVID-19 in Australia and globally'. The Australian Government Department of Industry, Science, Energy and Resources has posted a 'Request for Information to obtain information in connection with gaining an understanding of Australian manufacturing of medical Personal Protective Equipment (PPE)'.
The Australian Competition and Consumer Commission has granted an interim authorisation to allow pharmaceutical wholesalers to co-operate to facilitate distribution of essential medication and pharmacy products.
The Advanced Manufacturing Growth Centre has launched a national Manufacturing Response Register to collate local expertise in the area of medical supplies and other essential items that could change their operations to Covid-19 related work.
Online portals and registers in the complex contemporary world are a far cry from the relatively more simple scene described in Hartnett's autobiography when the country's leading industrialists could meet after dinner and get things moving, and when Hartnett could initiate an aeronautical research facility after a conversation with the Prime Minister on the overnight train to Sydney.
More
Sir Laurence Hartnett (1964) Big Wheels and Little Wheels
Joe Rich (2007) Sir Laurence Hartnett Australian Dictionary of Biography
The Giant's Eye (1997) A bright sparcs exhibition on the work of the Optical Munitions Panel