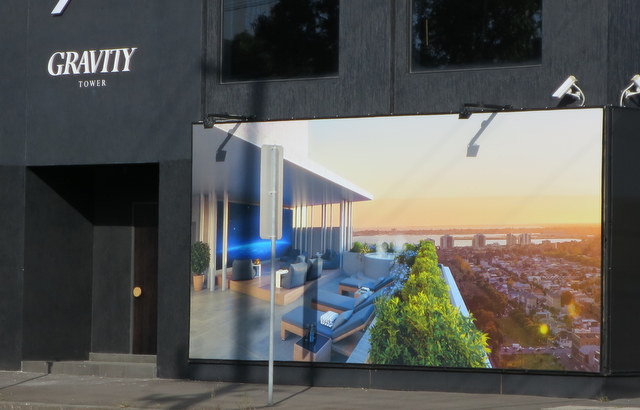 The Gravity Theme
The moon asserted her presence through her brief absence during the lunar eclipse. Watching that changing moon was to be reminded of the moon's influence in our lives – not least the gravitational pull exerted on the oceans that brings the tides.
There's some gravitational defiance going on in Montague at present.
Gravity is the name of the development currently being marketed at the south eastern corner of Gladstone and Montague Streets in Montague. The development is immediately adjacent to the Montague St Bridge, and Montague tram stop 126 on the Port Melbourne Light Rail service.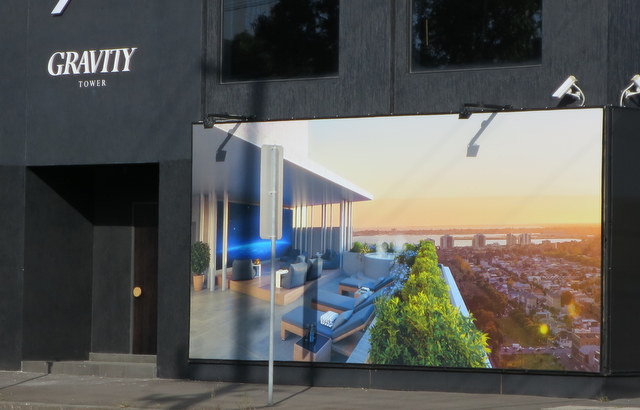 Traffic flows unrelentingly past the site on Montague Street to the M1 and Citylink to the MontagueSt M1 interchange. The single pedestrian crossing on Montague St yields its favors to pedestrians very sparingly.
Montague Street was not always thus. In living memory, people played in the street. The need to connect the Westgate Bridge with its hinterland transformed it from a local road to the freeway access road it is today.
How will Montague Street be conceived in the future Montague precinct of Fishermans Bend?
Will it become the new 'boundary' between a Montague become Southbank to the north, with a more moderate scale of development to the south?
How is Montague Street as it currently functions consistent with the walkable, bikeable future imagined for Fishermans Bend?
Or might new residential development tame Montague St in time?
On the southern side of Montague Street Baby Guerilla's whimsical artwork 'defies gravity, dances with gravity.'
The Gravity Tower 
| | |
| --- | --- |
| Architect | Plus Architecture |
| Height (m) | 97.55 |
| Levels | 30 |
| Apartments | 163 |
| Bike parking | 86 spaces |
| Car parking | 77 spaces |